Just in time for trick-or-treating season, NYC just got a sweet new piece of public art. Three blocks of Broadway have been taken over by Candy Nations, 20 colorful giant candies lining the pedestrian plazas from 36th to 39th streets.
The sculptures tower 9 feet tall, each weighing 1,450 pounds and wrapped in the colors of one of 20 countries: Japan, Mexico, the U.S., Australia, Brazil, Canada, South Korea, Argentina, South Africa, the European Union, Germany, France, Great Britain, India, Italy, Indonesia, China, Russia, Turkey and Saudi Arabia. Candy Nations was created in 2011 by French sculptor Laurence Jenkell to convey "an optimistic message of unity beneath external differences," and originally displayed during the G20 Summit in Cannes, France. 
"No city in the world matches New York City's power as an international magnet for culture, creativity, design and the arts," says Barbara A. Blair, president of the nonprofit Garment District Alliance that installed the giant candies. "Through her remarkable exhibit, Laurence Jenkell leverages both simple and universal imagery to remind New Yorkers of our global character, right at a moment when such reminders are so timely and valuable."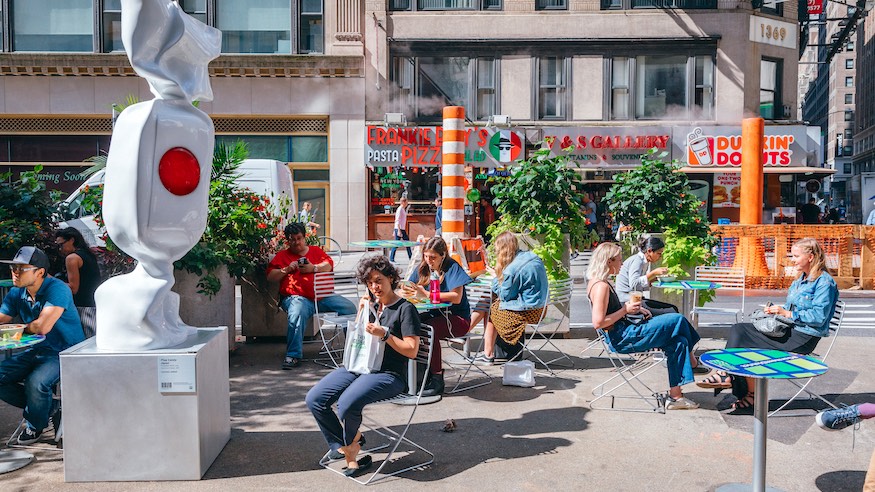 Why are there giant candies in the Garment District?
NYC's sweetest public art is a production of the Garment District Alliance, the nonprofit steward of the neighborhood that brings in programs to improve its economy and quality of life, including last winter's Tron-like light loops. The district itself is home to a large artistic community of actors and dancers, architects, photographers and designers working in over 100 theaters, galleries, performance spaces and studios — not to mention a new speakeasy cabaret.
Candy Nations arrives just ahead of the alliance's 15th annual Arts Festival, taking place Oct. 18-20. The free celebration brings public performances, art installations and meet-and-greets with artists to venues throughout the neighborhood.
The sculptures will be in place through Dec. 9, 2018. If you feel like taking a public art walk, further north on Broadway, on six pedestrian plazas between 64th and 157th streets, you'll also find whimsical fairytale sculptures created by Kathy Ruttenberg. Collectively known as Dreams Awake, the figures are based on cultural landmarks and businesses near each site, such as a dancing tree with her roots as a tutu across from Lincoln Center, and will be on display through February 2019.