Suddenly, all New Yorkers seem to want to do is go back to summer camp. But who wants to sleep on the dirt when all you really want is the tent aesthetic with campfire food and  — plus easy access to cocktails?
No need to head to the woods, because glamping has come to the city. The Arlo Soho hotel hit viral sensation status over the winter after Tentrr brought two large tents into its courtyard with a ski lodge theme. And because the rustic aesthetic of cabin living knows no seasons, the tents have rolled right into summer and became the heart of Camp Arlo.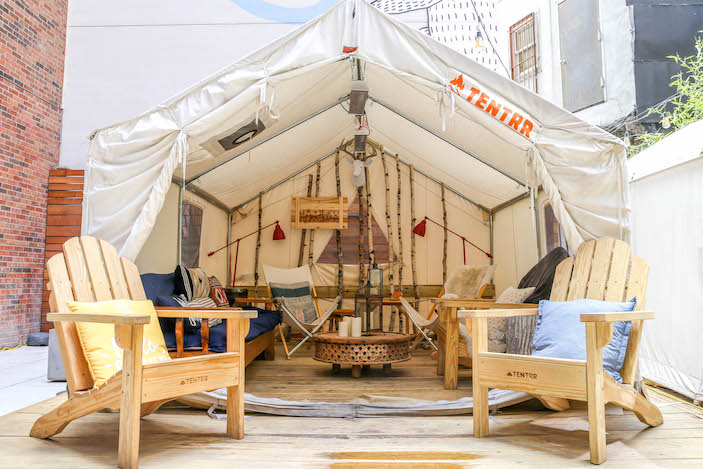 "We put the tents in there not really knowing what the response would be, and people absolutely just loved them," says Hannah Redfield, head of PR at Arlo Hotels.
Adult campers can relax at picnic tables under striped umbrellas or lounge in Adirondack chairs, and of course inside those tents, decked out with couches, canvas chairs, wood accents, blue plaid throws and paddles (and you can actually kayak and canoe in the city!) The "campsite" has its own themed menu of hot dogs named for famous national parks and cocktails like the Camp Fire (Fireball and cider) and Mosquito Bite (jalapeno mezcal margarita).
And because it's not summer without ice cream, Camp Arlo just added a cart by Tipsy Scoop serving six boozy flavors like Strawberry Rhubarb Bourbon. You can also satisfy your sweet tooth as a cocktail float courtesy of Muddling Memories.
Oh, there is one holdover from winter: shotskis. "It's been very popular since winter," says Redfield. "We couldn't get rid of them! There would've been an uproar."
The tents can't be reserved, so it's first come first camped — you can pass the time with the camp's giant versions of Jenga and Connect Four, or a round of Corn Hole. The tents can hold about six people if you're eating, or up to 10 if you're just hanging out. While temperatures are mild, the tents are comfortable, and Redfield says they're "looking into really fun ways to keep guests cool" before summer arrives for real.
Craving the real deal? While Camp Arlo may be just for stoking the envy of your citybound friends, Tentrr's actual business is "the Airbnb of glamping," as Redfield puts it. Book a tent at your destination of choice, and you arrive to a ready-made campsite with all the essentials.
Camp Arlo is in session through Sept. 30 at 231 Hudson St., weekdays 4-11 p.m. and weekends 10:30 a.m.-11 p.m.