For horror movie fan and bartender Eirikur Hallsson, every day is a good day for a scare.
Don't worry though — there are only treats on the new Halloween-inspired cocktail menu of 10 drinks served at the bar inside, appropriately, Hell's Kitchen restaurant Gloria.
"Horror movies have an amazing way of getting people together and excited," he explains. "They are incredibly evocative and force us out of our comfort zones to a point of vulnerability that fosters an amazing bonding connection between people.
"Alcohol also has that ability, so why not combine the two?"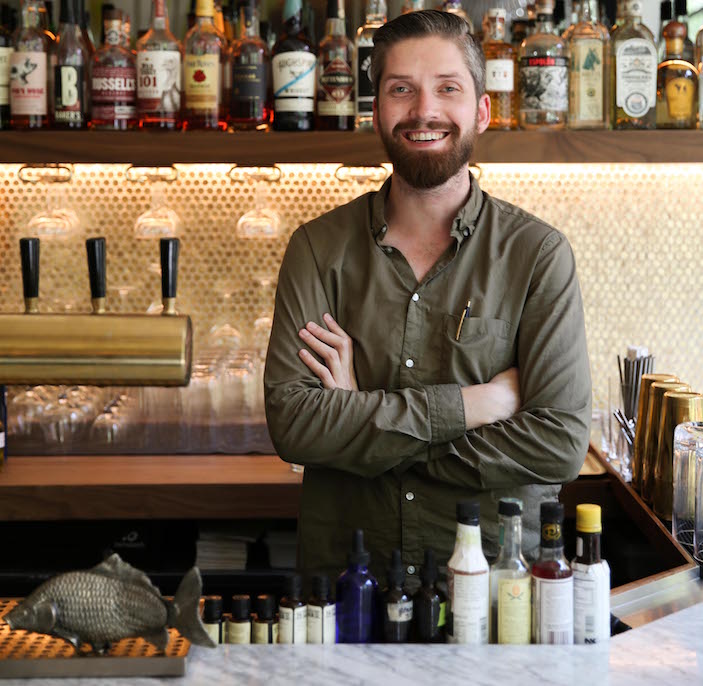 The hair-raising cocktails, which will stick around through the end of the year, invite imbibers on adventures like following Friday the 13th's Jason to his grave with Drowned in Crystal Lake (pineapple rum, Punt E Mes, fire bitters, grapefruit). Lost Boys fans can suck down a Bloodsucking Brady Brunch (tequila, Amaro di Angostura, concord grape, lemon, bitters). Or relive the thrill of "Texas Chainsaw Massacre" with Leather Dace (Rittenhouse rye, Lillet Rouge, rum, sherry).
"I specifically highlighted the '80s because a lot of people view the era as the cream of the crop for horror movies. New technology was coming out, new ways to make prosthetics; they had great visuals with an underlying sense of dread."
Hallson, who's originally from Iceland, got into horror films at age 4 at his grandmother's house. She and his mother would talk in the kitchen, "and I would be in the TV room, and she only had two cassettes: Predator and 48 Hours, which are both extremely violent, crazy movies," he recalls. "So I would just sit there, 4 years old, watching Predator on repeat all the time."
He'd watch bootlegs of American films that friends on trips to the U.S. recorded from television and brought back to Iceland. "That's how I got into Fright Night, Gremlins, all things like that. Once we moved to the States and I found out about Halloween, it was game over."
His mom was OK with it all because, in the late '80s and early '90s, anything American had a cachet to it, Hallsson explains. "America at the time had that very prosperous look and feel to it. There was a sense that there was something to gain from these movies."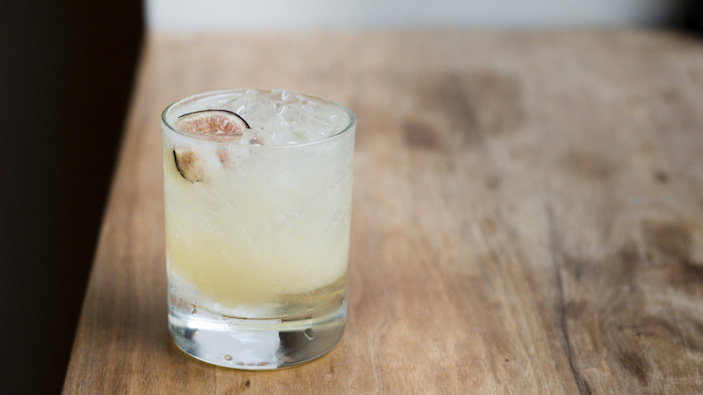 Naturom Demento, inspired by The Evil Dead.
To create the cocktails, Hallsson picked out elements that tied back to the films. For Naturom Demento, the Latin name for Book of the Dead from The Evil Dead, has a slice of fig because "the inside of it looks like torn muscles," plus a little smoky edge from mezcal.
The Poltergeist-inspired Come Into the Light has an opaque, ghostly appearance and a mean edge from green chartreuse.
"I'm always coming up with cocktails, there's not really a point when I'm not creating something," he says. "It keeps me up at night."
Insomnia: one man's horror story, another man's inspiration.
Gloria is located at 401 W. 53rd St., open Mon-Thurs from 5:30-10 p.m. and Fri-Sat from 5:30-10:30 p.m.