The Wall Street-inspired drama "Billions" returns to Showtime for its second season on Sunday, Feb. 19. The popular series explores the dark side of extreme wealth and pitches high finance heavy hitter Bobby "Axe" Axelrod (Damian Lewis) against U.S. Attorney Chuck Rhoades (Paul Giamatti). We got to chat with Toby Leonard Moore, who pins down corporate criminals alongside Giamatti's character as Chief Assistant U.S. Attorney Bryan Connerty. Moore tells us what we can expect from the new season, mastering the American accent and why money isn't everything.
Why does society look at breaking a law differently when it comes to high finance? What makes Axe different from someone who physically robs a bank, for example?
I think it's that idea of ultimate wealth. I guess there's some kind of glamor that we attach to it.
So many people dream of having a ton of money, but at a certain point, it can become quite a burden, as "Billions" has shown us.
It has to become a burden at a certain point. More money, more problems. It's that kind of idea. I heard a podcast or read an article or something the other day, I can't remember a source, but I think someone said, after about $300,000, there's no difference in happiness. If you have enough money to know that the rent's going to be paid on time, apparently there's no change to it. You don't need that yacht. If you choose to be happy, you'll be happy. It's pretty simple.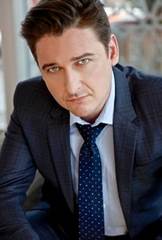 Bryan Connerty, who's an assistant attorney to Paul Giamatti's
Chuck Rhoades
. Assistant attorneys are kind of like real-life superheroes. They spend their lives working 20-hour days for not as much pay as they would get if they worked in the private sector. He's constantly questioning who's in the right and who's in the wrong. I think the audience is doing that as well from week to week.
What's it like working with Paul Giamatti so closely?
A joy, a delight. I loved coming to work. He's incredibly generous and hysterically funny. Days that I don't work, though everybody loves a day off work, sometimes I get a little depressed when I don't get to go to work. I wonder what shenanigans those guys are getting up to today. Every day is like being in a classroom. I've learned so much. It's a real privilege.
The trailer for Season 2 is intense. It's sizzling. What can we expect?
I think our show is so intricate and so detailed and it's such a specific world. Season 1 was great, but there was a lot to establish. So in Season 2, what you're going to see is all of the things set up, pay off. It's really exciting.
What do you do when you're not on set?
It's funny. I get asked this question a lot. I'm really lucky because my love is acting and I get paid to do what I love. It all sort of revolves around that. If I'm not shooting something, then I'll be writing something or watching something or reading something. It just all revolves around the thing I love to do most.
You're an Australian playing an American. Is our accent exotic to you?
I love the American accent. I really do. It's incredibly versatile. I'm not sure how many Americans consider that, to live in a country where you can drive 100 miles and find a different dialect. There are always slight differences and I love that. The other thing is that I think every Australian has an American accent that they are able to put on because we're surrounded by American television, movies and music since we were kids. The only reason why Americans aren't great at the Australian accent is because they're not exposed to it. I think if they were, it would be a different thing. We grow up with it.
The second season of "Billions" premieres on Sunday, Feb. 19 on Showtime.