Saturday Night Live cast member Pete Davidson's short-lived engagement to singer Ariana Grande has become the dominant news item as of late. The heavily publicized fallout was so pervasive that when he published (then deleted) an Instagram post that read like a suicide note right before the final episode of 2019, friends and concerned fans were quick to reach out. SNL issued a statement confirming his well being, while stating that fans would not be seeing Pete Davidson on SNL before the new year.
John Mulaney joins Pete Davidson on SNL
Thankfully, Davidson made his triumphant return in this past weekend's Rachel Brosnahan-hosted SNL episode, the first of 2019. Judging by his appearances in the cold open sketch and many other bits, it was clear that the 25-year-old comic is doing just fine. Yet the moment that really assured fans of this came during a Weekend Update segment that featured him and fellow comedian John Mulaney.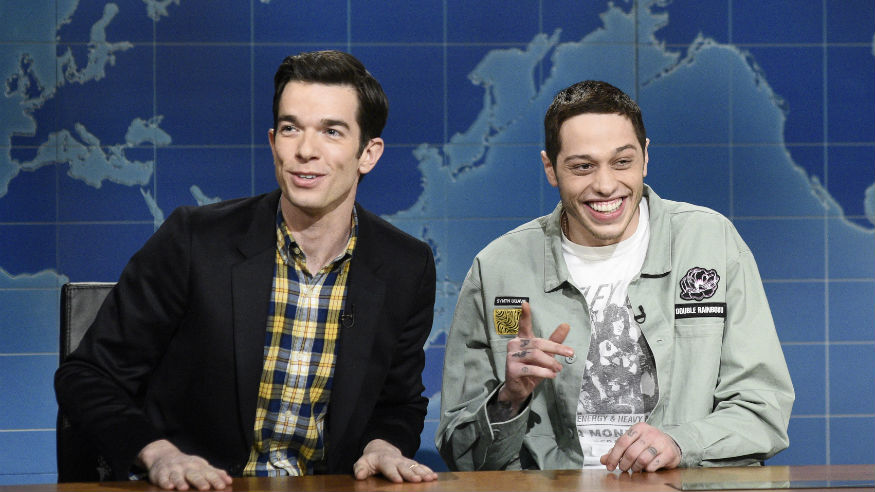 "We're so happy to have this next guy back," co-host Colin Jost told the audience. "Here to talk about a very important experience he had over the holidays is Pete Davidson."
Between Jost's introduction and Davidson's admitting that he'd had "a really crazy month," most viewers assumed that the young comedian would directly address his alleged suicide note and the public frenzy that ensued. Instead, he was joined by Mulaney during the Weekend Update segment to poke fun at the controversy while jokingly praising Clint Eastwood's new film The Mule.
"I've been spending time with Pete to try to show him that you can have a life in comedy that is not insane. A sober, domestic life," Mulaney explained. "Yeah, and after observing John's life, I publicly threatened suicide," Davidson joked, though not before adding a cautionary note. "I'm sorry. I know I shouldn't make that joke… but it is funny."
Watch Pete Davidson on SNL
"You are loved by many and we are glad you're okay," Mulaney told Davidson with equal parts hilarity and sincerity. Embarrassed by the moment, Davidson turned and giggled off the moment. Once these statements were made, however, the pair then launched into an uproarious review of Eastwood's latest film, which sees the 88-year-old director and actor playing an unsuspecting drug mule for a Mexican cartel.
"You remember when Clint Eastwood berated an empty chair at the Republican National Convention?" Mulaney asked the crowd. Davidson answered him: "It's like if that was a movie!"