An amazing story of heroism has emerged out of a deadly shooting inside a Lafayette, Louisiana movie theater, where a lone gunman killed two, injured nine and then took his own life, police said.
The Amy Schumer comedy "Trainwreck" was just starting Thursday night when the shooter, identified by cops as 59-year-old John R. Houser, stood up with handgun and started firing wildly.
Louisiana Gov. Bobby Jindal recounted a story of two friends — teachers — after visiting the pair, and the other wounded in the hospital.
The teachers were settling in for the movie inside Grand Theatre 16and when Houser aimed his .40 caliber handgun at the head of one of them, "one of the teachers jumped on top of the second teacher in an act of braveness."
"Both teachers got shot but the second one, the one who got saved, even though she got shot had the presence of mind to pull the fire alarm and save other lives," said Jindal, a Republican who is running for president.
The two victims were identified as Mayci Breaux, 21 from Franklin, La. and Jillian Johnson, 33, from Lafayette.
Schumer, Hollywood's new "it girl", took to Twitter to express her grief over the shooting.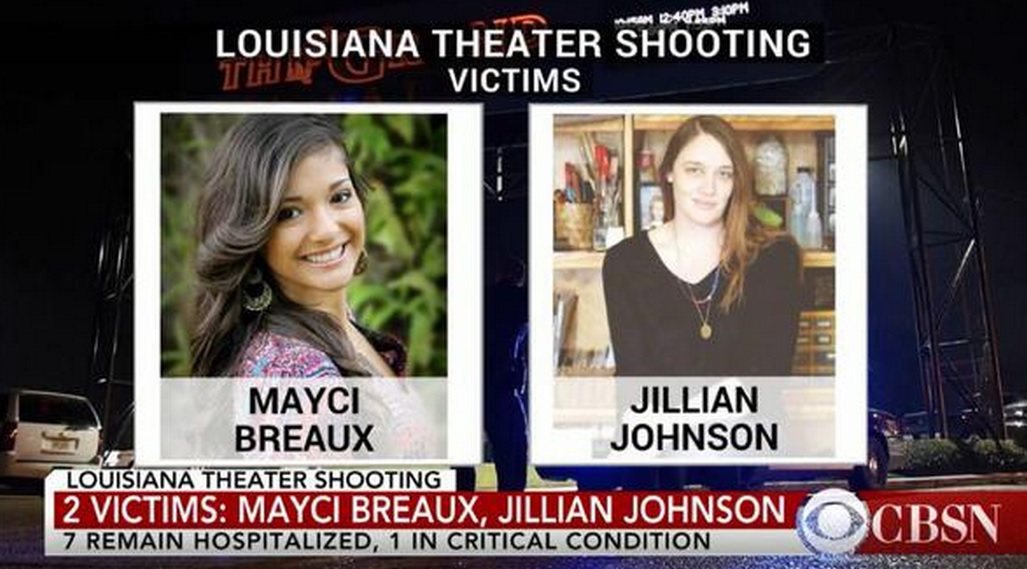 "My heart is broken and all my thoughts and prayers are with everyone in Louisiana,"she tweeted several hours after the shooting, which happened around 8:10 p.m. East Coast time (7:10 local).

Lafayette Police Chief Jim Craft said of the nine injured, three were critical.

One person underwent surgery and "was not doing well," Craft said.

President Barack Obama was briefed on the latest act of gun violence, the White House said, and has "offered his thoughts and prayers" to the people of Lafayette and to the families of the victims, AP reported.

 
My heart is broken and all my thoughts and prayers are with everyone in Louisiana.— Amy Schumer (@amyschumer) July 24, 2015
The shooting came three years after grad student James Holmes, armed to the teeth and dressed as the Joker, killed 12 and injured 70 during a midnight screening in Aurora, Colorado, of the Batman film, "The Dark Knight Rises."

Holmes was convicted last week on 165 counts of murder, attempted murder and explosives in the July 20, 2012, rampage. Jurors will decide whether he should get the death penalty or life in prison.

CNN reported that some in law enforcement believed the Lafayettre shooting is a copycat. Local law enforcement were at the Houser's motel room early Friday and said at a morning news confhave no known motive.

 
Unbelievable map of mass shootings just since Sandy Hook — and doesn't yet include Lafayette: http://t.co/QoFvW7aUCk pic.twitter.com/fpKqSJwuOw— Ezra Klein (@ezraklein) July 24, 2015
"The shooter is deceased. We may never know," Lafayette Police Chief Jim Craft said.

Cops do know that Houser was trying to get away and had parked his blue Lincoln Continental outside a theater exit.

"It is apparent that he was intent on shooting and escaping," and only shot himself as officers approached.

Craft described Houser as a "kind of a drifter" who last had a minor run-in with the law more than a decade ago.

He had moved to Lafayette only recently from Phenix City, Alabama and was staying at a motel, where authorities found disguises, including wigs and glasses, Craft added.

"We don't know why he chose to stop and stay in Lafayette."

"This is a normal movie theater in a normal part of a normal town. This is Anywhere, USA," said Jindal."This just shows these senseless acts of violence can literally happen anywhere."

TheUnited States has witnessed several mass shootingsin the last two months, Reuters notes:

A gunman is accused of a racially motivated shooting at a black church in South Carolina that killed nine church members in June. More recently, a gunman attacked military offices in Tennessee last week, killing five U.S. servicemen.

Jindal, who last month announced his candidacy for president, said he had ordered National Guard members at offices and other facilities to be armed in the wake of the Tennessee attack.

John A. Oswald is editor-at-large at Metro and can be found on Twitter@nyc_oz.
LikeMetro New York,Metro BostonorMetro Phillyon Facebook and join the conversation.

 
I can't belive the news today. #Lafayette #Chattanooga #Charleston. via @nyc_oz http://t.co/XJos3ZsV1I #usa #HowLong pic.twitter.com/yceRTsoRq5— John A. Oswald (@nyc_oz) July 24, 2015