Transportation Alternatives Executive Director Paul Steely White is leaving the nonprofit to join Bird, the company behind the electric scooters taking over cities across the country.
White has worked at Transportation Alternatives, known as TransAlt, for more than 14 years, according to the organization. Under his leadership, the nonprofit — which aims to "reclaim New York City's streets from the automobile and advocate for better bicycling, walking, and public transit for all New Yorkers" — has pushed for changes increased protected bike lanes, pedestrian plazas, a lower citywide speed limit and the banning of cars from Prospect Park, Central Park and Times Square.
White will remain with TransAlt until mid-November, after which he will assume his new role as director of safety policy and advocacy at Bird.
A push for Bird electric scooters in NYC
Bird currently does not operate in New York City as electric scooters overall are illegal here. However, lawmakers and advocates have been pushing to change that.
A few New York City Council members are leading the way, working on legislation to legalize electric scooters. They've brought attention to this effort with a few events in which they ride Bird scooters themselves.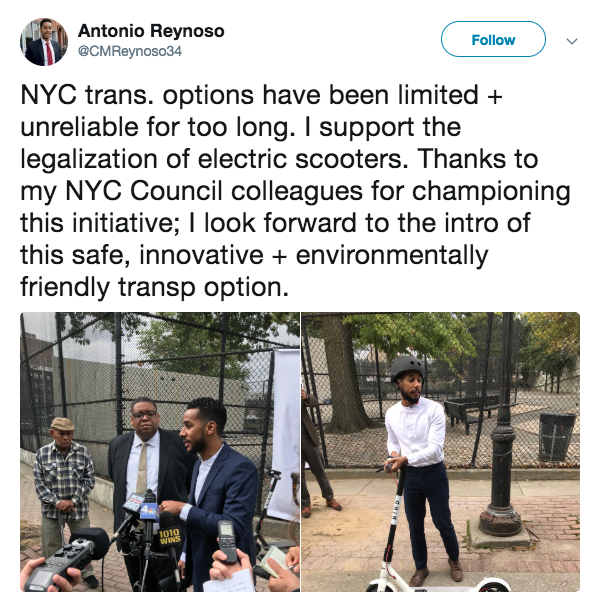 TransAlt supports electric scooters here as well, though the organization has noted that the city has to make sure to plan for the arrival of Bird scooters by finding a place for them to park and making space for them on city streets (not sidewalks).
"Small, shared vehicles like bike share and scooter share are in many ways the next frontier for urban transportation. These new modes have begun to bring people onto the streets in ways we couldn't have imagined when I came to the organization in 2004," White said in the statement announcing his TransAlt departure.
"It wasn't so long ago that streets in this town were little more than car sewers with narrow sidewalks. I'm proud to say that we helped change not only how streets are designed, but we also elevated the expectation of what city streets can and should be," he continued. "And even though I'm leaving Transportation Alternatives, I'm going to continue working every day toward that same goal: to make streets better for people."
A new TransAlt executive director has not yet been named. The organization's Board Chair Adam Mansky has appointed Vice Chair Steve Hindy to lead a search committee for a new executive director.