Brandless, the online store where everything is $3, knows you've been wondering what kind of quality you get for that price. So to persuade more people to try the #Brandlesslife, they're opening a Brandless NYC pop-up shop in October.
For just 12 days starting Oct. 24 in the Meatpacking District, the Brandless NYC Pop-Up with Purpose shop is "designed to activate all five senses" to see what life can be like without labels. You'll be able to sample, test and try out all 350-plus products in fun ways like tasting menus, a fair-trade coffee "experience," a beauty lounge stocked with the company's cruelty-free makeup and more. You'll also get the first look at the latest products.
The activations also extend to the brand's earth-friendly and practicing kindness ethos. Inside a bamboo forest, you'll see how paper goods can be made without trees. In addition to tastings, the coffee "experience" will focus on how fair wages support coffee-farming communities.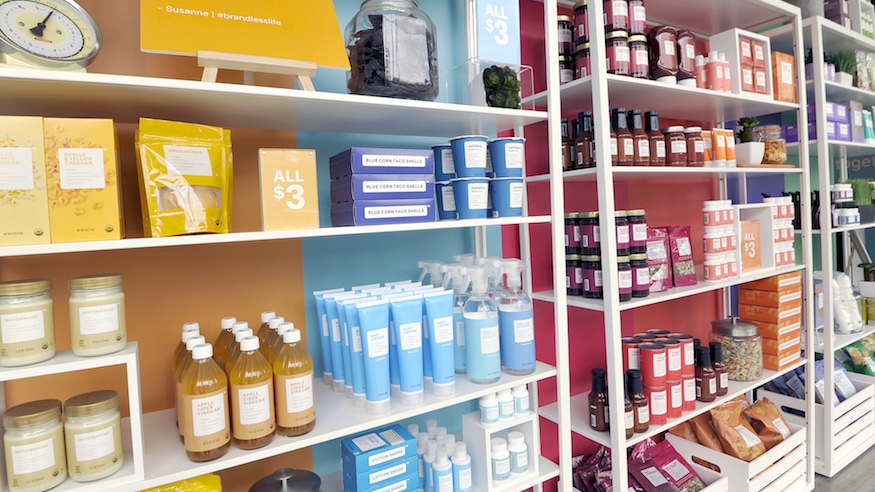 Where is Brandless NYC?
The Brandless NYC pop-up will be open daily from 9 a.m.-7 p.m. through Tuesday, Nov. 4 at The Milk Building, 459 W. 14th St. at 10th Avenue, across from Chelsea Market.
If you find yourself swayed to the #Brandlesslife, you won't even have to haul all your purchases home on the train — just place an online order from the pop-up and have it sent directly to your doorstep.
While $3 may not seem like much to you, Brandless also knows even that's not something everyone can afford. So for the length of the Brandless NYC pop-up, it's partnered with Feeding America to donate one meal for every social post using the hashtag #Brandlesslife. The company already donates one meal for every purchase made on its website.
How does Brandless compare?
Launched in July 2017, Brandless focuses on daily essentials — coconut oil, hand soap, notebooks — at a simple price. The products already tick some of the most important boxes for modern shoppers, like food items that are organic and non-GMO, non-toxic cleaners and cruelty-free beauty and hygiene products.
So how is everything $3? By not stocking brand-name products, the company avoids what it calls the "brand tax," or the markup you pay for recognizing the label on your cereal or cleaner. But is it accurate to say that companies who put their names on a product don't make a superior version? Reviews have been generally positive, though Insider found better deals at Trader Joe's on several products. That said, Brandless delivers and supports a charity to fight hunger, so your money is doing a little extra good work.