In the surprisingly excitable words of the New York Times, Shakespeare in the Park's musical adaptation of Twelfth Night is a "free-spirited, thoroughly delightful gloss" full of "madcap interpolations." Its initial run in 2016 was just three nights, but it's back in Central Park's Delacorte Theater starting July 17 for a full five-week run.
"Our approach to it has not been in any way to simplify it — there's no spoken dialogue that's not written by Shakespeare, all the dialogue is straight out of the play," says Andrew Kober, reprising his role as the villainous Malvolio plotting against all the joy swirling around him (though he does, of course, get two of his own jaunty numbers). 
What's new are the 23 original songs written and composed by Shaina Taub, with contemporary lyrics based on lines from a play that couldn't be more relevant to our cultural moment: At one point Viola, the shipwrecked refugee hiding as a man, sings, "Do these clothes conceal or reveal my soul?" "Shaina's work really is outstanding," says Kober. "These songs are incredible pop and rock and soul and musical theater songs that, beyond just being musically terrific songs, do an incredible job of storytelling."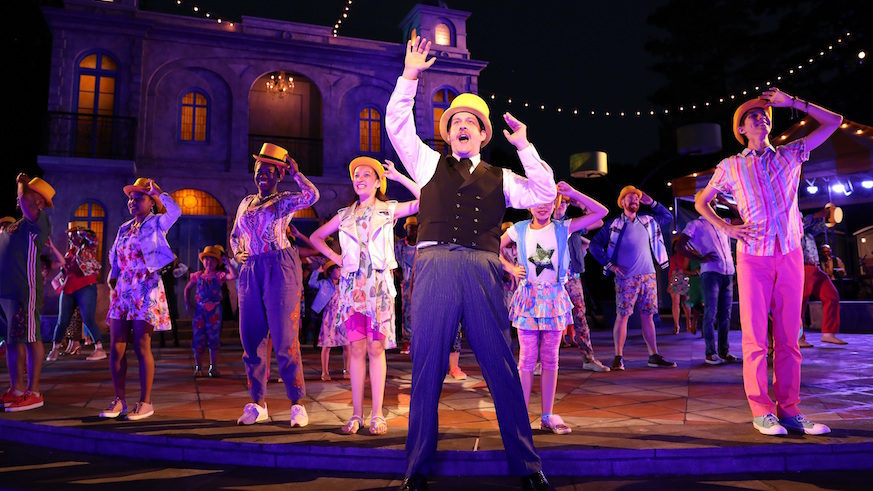 Andrew Kober as Malvolio in Shakespeare in the Park's Twelfth Night musical. Joan Marcus
And that's not nearly the most ambitious part of the production. Aside from a handful of professional actors, Twelfth Night stars two different ensemble casts of 50 amateurs from throughout the five boroughs — everyone from seniors to schoolkids taking part in a community theater program called Public Works run by The Public Theater, which puts on the annual free Shakespeare in the Park productions. "Everything we rehearse we have to rehearse twice, and because this isn't their full-time job we rehearsed a lot of weekends and evenings, which you normally wouldn't do," Kober explains.
"The ethos behind Public Works is there shouldn't be really any barrier to artistry, that it shouldn't be for the privileged and everyone should have ownership of it. Our directors and entire creative team are really treating everyone on that stage as equals, which I think is exactly the right philosophy."
Performing at the Delacorte Theater is a somewhat mixed blessing. The grand setting is a trade-off for enduring the heat and, sometimes, rain — not to mention interruptions from its year-round residents: the raccoons that live under the stage. "They're actually weirdly domesticated and would never hurt anybody, but they're very happy to stroll across the stage in the middle of your big song."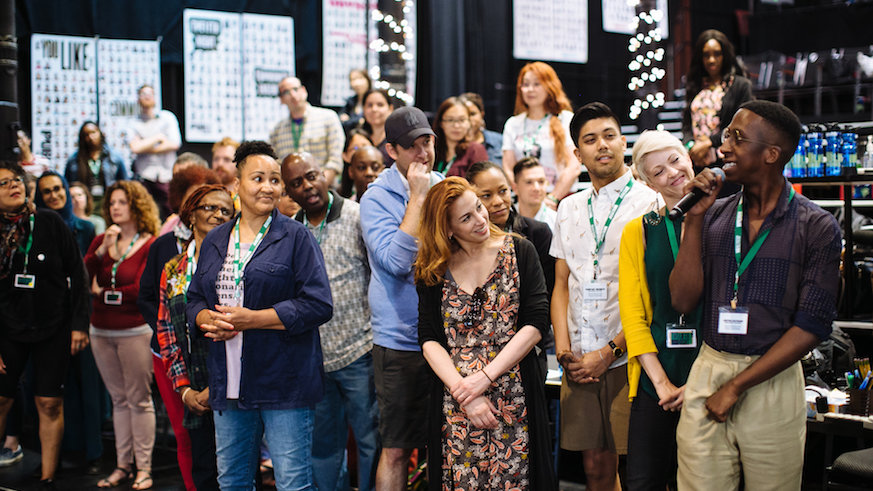 The cast of 2018's Twelfth Night musical rehearsing at the Public Theater ahead of their Shakespeare in the Park debut. Jennifer Young
Villains don't usually have much of an arc in Shakespeare's work, but Malvolio — based on the Puritan preachers who hounded London's theaters during the Elizabethan era — is a changed man by the end of the show. "In our version, we've come up with a way to redeem him by the end and have him be a character that everyone can go home feeling all right about," he says. "I'm also rocking a really nice Errol Flynn mustache for this show, much to my wife's chagrin."
Kober's connection to the Delacorte goes back much further than 2016 — his first job after arriving in New York in 2007 was a weekend concert of Hair at the same theater, and Twelfth Night is his fourth appearance there. He's actually on loan from Broadway's School of Rock for the summer, but getting the producers to sign his permission slip wasn't difficult.
"Everybody was very understanding about this great opportunity," he says. "I've got a long-standing relationship with the Delacorte and [Twelfth Night co-director] Oskar Eustis, and so there was no way that I wasn't going to be a part of this — anytime the Public calls, I jump."
Twelfth Night begins previews on July 17, and opens on July 23-Aug. 19 at the Delacorte Theater in Central Park. Tickets are free; see our guide to how to get Shakespeare in the Park tickets.