It's friggin' icon overload. A mind-blowing pairing of talent, brains and style.
Morrissey has announced an 18-show U.S. tour, including a New York performance at Madison Square Garden with post-punk pop pioneers, Blondie, as the opening act.
The show is Saturday, June 27, on the eve of New York City's annual Gay Pride March. Both Morrissey and Blondie legend Debbie Harry have a huge LGBT fan base (among various others), and that wasn't lost on fans.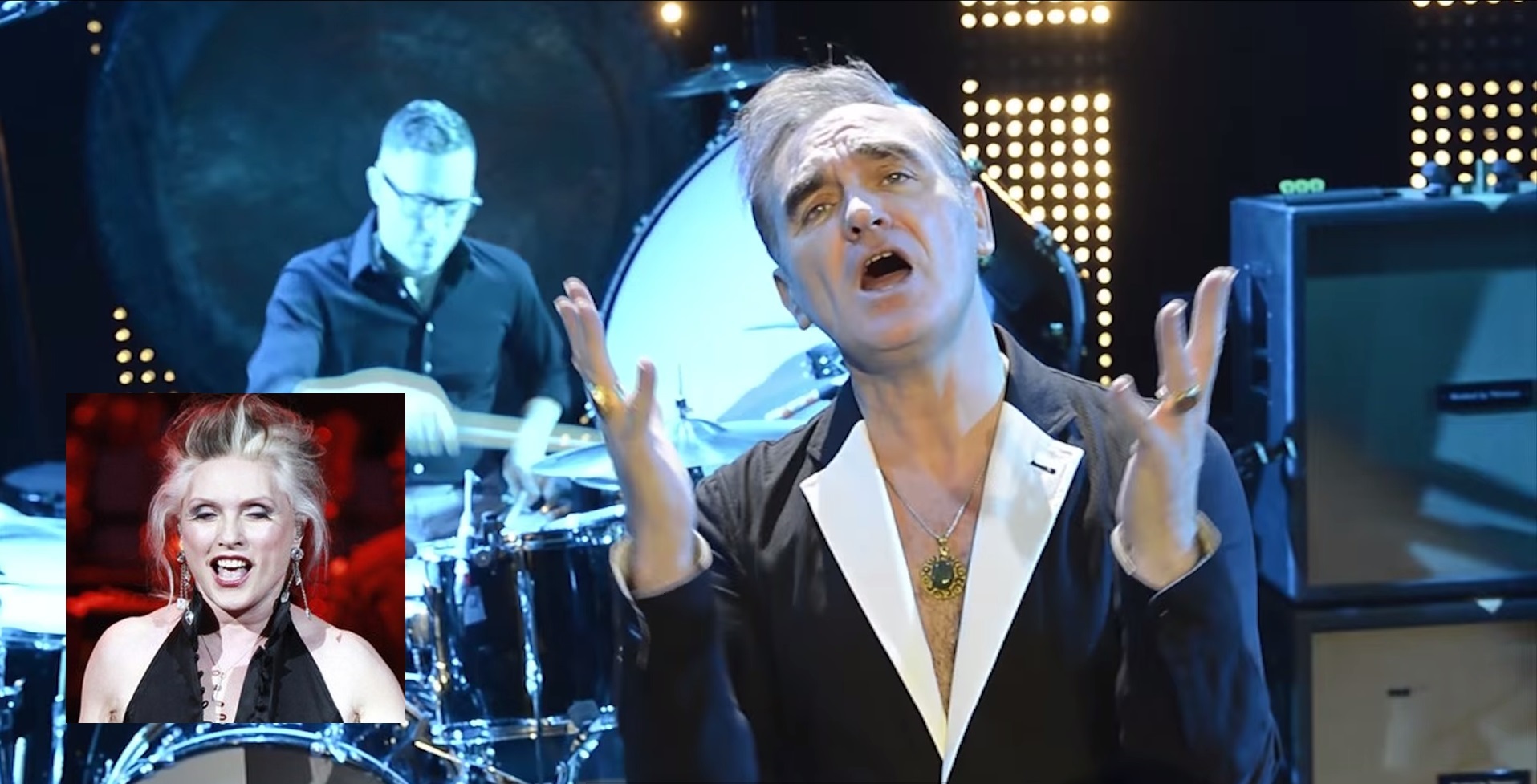 "I think it was totally calculated to help fill the large room," said longtime fan Andy Savva, of Jersey City. "That, and not doing any other shows anywhere in the area."
The only other East Coast shows are in suburban Boston, June 24; Atlanta, June 13; Durham, North Carolina, June 15; and the massive Firefly festival in Dover, Delaware, June 19.
The singer is skipping Philadelphia, where he has played the Tower Theater several times in the past three decades.
As far back as 1985, when Morrissey headed up the seminal Manchester band, The Smiths, the Tower was a favorite stop. That summer, folk/punk activist singer Billy Bragg opened for the band and amusingly berated the crowd for attending the trendy Tears for Fears' show the night before.
On Morrissey's new tour, he has mostly chosen larger, more regional venues.
"I would rather have seen him in a smaller venue or theater show," said Savva. "But if it has to be the Garden, then I will be there."
"Hopefully, he shows up too," Savva said.
The 56-year-old singer, a vegetarian and animal activist who is aligned with PETAand wrote "Meat is Murder," has a history of canceling dates due to illness.
New Yorkers were beside themselves when their idol canceled last June's sold-out show at Brooklyn's Barclays Center.
Months later, Morrissey revealed he is battling cancer; he has not said what kind.
"They have scraped cancerous tissues four times already, but whatever," Morrissey told El Mundo, according to The Guardian.
"If I die, then I die. And if I don't, then I don't. Right now I feel good. I am aware that in some of my recent photos I look somewhat unhealthy, but that's what illness can do. I'm not going to worry about that, I'll rest when I'm dead ."
He said his doctors want him to stop touring after bouts in recent years with pneumonia and an ulcer, "but it's difficult for me because it's very ingrained within me."
The Mozzer seems to have bounced back in recent months.
He just completed a successful tour of his native England, will be in Spain in April and May and is doing four nights, all sold-out, at the end of May at the Sydney Opera House in Australia.
"Good times, for a change," the singer wrote in a posting on hiswebsite, True to You.

The quote is from one of his more famous tunes, "Please, Please, Please, Let Me Get What I Want. "
And he's happy, says the man some call the "Pope of Mope" because of the sometimes depressing, yet somehow still fabulous, nature of his music.
His last album, "World Peace is None of Your Business," even features a track called, "Earth is the Loneliest Planet of All."
Maybe not that lonely. His newest single is the decidedly upbeat "Kiss Me A Lot," and the video, directed by Sam Esty Rayner, has something never before seen in a Moz video — vivacious, nude female models.
Morrissey is making clear that he appreciates the fans who have stuck with him.
After the British leg of his world tour ended, he posted on True to You: "Thank you for being there, and for showing such vigorous and loud support. … Is it illegal to be this happy?"
The inclusion of Blondie at The Garden gives the June 27 show a decidedly New York edge.
Blondie co-founder Chris Stein and Harry, who launched to fame in New York's East Village in the 1970s and early 80s with hits like "Heart of Glass" and "Call Me," recently celebrated the band's 40th anniversary.

They released a double album last year, called Blondie 4(0) Ever, a mixture of old, reinterpreted songs and new material.
Harry turns 70 on July 1, four days after the NYC show.
Tickets go on sale to the general public Friday at noon, at Ticketmaster and Bowery Presents. A pre-sale for Amex, Chase and MSGE customers begins Wednesday at noon.
Promo – Morrissey – Earth Is The Loneliest Planet ( 3° Single ) – Comunidad Morrissey Smiths Chile from Comunidad Morrissey Smiths Chile on Vimeo.