Domino Park in Brooklyn recently opened to New York parkgoers keen on escaping the chaos of city life to chill and take in the fresh air on the banks of the East River. A former sugar refinery, Domino Park has not always been a well-known tourist destination. But thanks to its opening on June 10, 2018, visitors can now add the park to the list of New York City's renowned green spaces. 
Here's what you need to know before you visit Domino Park in Brooklyn.
Where is Domino Park?
The newly renovated 6-acre outdoor park was once home to the Domino Sugar Refinery that closed its doors back in 2004. Sitting idle since then, the landscape has been transformed into a green space for the public to visit. The park was designed by James Corner Field Operations.
The park runs roughly a quarter mile long, extending from Grand Street to South 5th Street. The park is situated right on the waterfront in the Williamsburg neighborhood.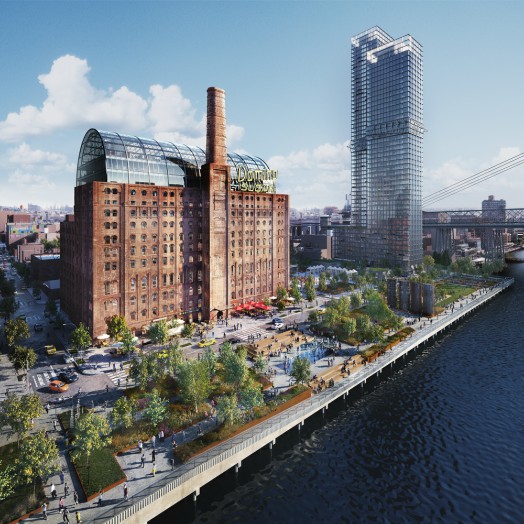 What can you do at Domino Park and what are the hours?
Domino Park boasts plenty to do and see. The space is now home to elevated walkways along the water, a playground, a taco stand, a volleyball court, areas to picnic, two bocce courts, dog runs and more.
 "We finally have a park of our own here we can be proud of," City Councilman Antonio Reynoso, whose district borders Domino Park said at a preview earlier this week. "My son gets to play in parks that have grass that are not abutted by highway on either side."
Maintaining the location's history, park designers incorporated some of the old factory's equipment such as signage, cranes and tanks into the landscape. Patrons can take stroll the Artifact Walkway to view the old memorabilia.  
"We were deeply inspired by community input and the site's rich history when creating Domino Park," said Lisa Switkin of James Corner Field Operations. "The design will reconnect New Yorkers to the East River waterfront and foster interest in the history of the site and the surrounding neighborhood."
The park will open daily at 6 a.m. and will close at 1 a.m.