After dropping an epic teaser to popular self-love/breakup anthem Thank U, Next and a behind-the-scenes look this week, Ariana Grande has finally graced us with the Thank U, Next music video.
Grande casually announced the release date for this project, which had been well under wraps, at the end of yesterday's YouTube preview with the lines: "Thank U, Next Tomorrow" and "Bye." 
Fans quickly took to social media to express their excitement.
The Thank U, Next music video places Grande in classic rom-coms Mean Girls, Legally Blonde, Bring It On and 13 Going on 30.
We see stars like Legally Blonde's Jennifer Coolidge and Mean Girls' Jonathan Bennett. Former Victorious actors Matt Bennett, Liz Gillies and Daniella Monet make cameos. Someone else with a spectacular cameo? Kris Jenner.
Grande portrays leading women like Regina George and Elle Woods (who, by the way, is reading an "Immigration and Refugee Law and Policy" textbook in the Thank U, Next music video). 
Without further adieu, let's get to it. 
Watch: Ariana Grande's Thank U, Next music video
Check out the Thank U, Next music video directed by Hannah Lux Davis below: 
Grande's song already topped the Billboard Hot 100 chart and is reportedly the first of her tracks to reach number-one in that ranking.
She released it less than a month after breaking off her engagement with Pete Davidson, whom she includes in the lyrics. Other former boyfriends she mentions are Big Sean, Ricky Alvarez and the late Mac Miller.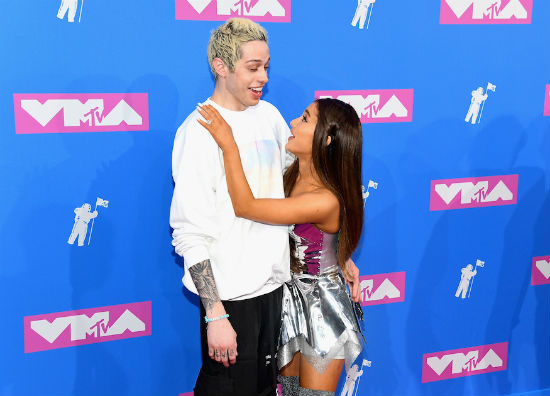 It's simple. Thank U, Next is about making the most out of relationships and learning from them even if they don't last.
Instead of focusing on the difficult parts of a breakup, like physically and mentally cutting ties with a loved one, she's reminding us that we should look at how we've grown from them. She wants us to remember that through tough times are life lessons waiting to be realized.
No relationship is perfect. Many, as it turns out, can be toxic or unfulfilling.
But even after, for whatever reason unique to our own situation, we've distanced ourselves from people we used to love, we're not alone. We're meeting new parts of ourselves for the first time. And that's all kinds of wonderful.