In case there aren't enough tragedies going on in the real world, this week you can experience the sinking of the Titanic.
The new virtual reality experience Surviving the Titanic puts eight people at a time into a replica lifeboat to watch the unsinkable ship meet its fate on a Samsung Gear VR headset, being rocked and sprayed by water as cold "wind" whips through your hair.
The four-minute film, which you can see through Oct. 8 at the Samsung 837 "experience store" in Manhattan, is made even more surreal by creator Trip Factory's immersive theater element: A scientist introduces it as a dream harvested from a survivor.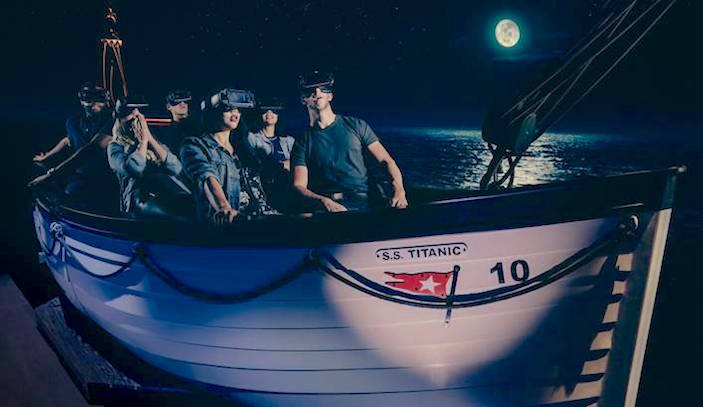 I get that the sinking of the Titanic happened so many movies, plays, and other artistic productions ago that it's practically a myth. We're so over the tragedy, in fact, that a billionaire is funding a replica of the ship that will actually sail between China and Dubai next year. Whether by design or coincidence, the route is not prone to icebergs.
As a piece of simple disaster porn, Surviving the Titanic undercuts virtual reality's potential to change humanity for the better. The extraordinary ability to place people inside historical events can be a powerful tool to cultivate compassion and understand what led to pivotal moments in history.
Last year, I got to try out a similar virtual reality experience about another deadly incident, but created with compassion and preserving the context of what really happened.
In Easter Rising: Voice of a Rebel, created by VRTOV and available on Oculus Rift, you join the band of armed dissidents who took over parts of Dublin in an effort to liberate Ireland from England in 1916. Guided by the journals of Willie McNeive, one of the would-be revolutionaries, you crouch around corners holding rifles and huddle with survivors inside a church as explosions ring outside.
Throughout, McNeive's words narrate the scene and provide context, explaining what was happening and why, what he felt and how things came to this extreme. The adrenaline rush was completely real, and it's a story I won't forget after the test in European History class.
Trip Factory itself sounds like it's on the right track. The next-gen entertainment company plans to open a hybrid virtual/augmented reality "immersive mini theme-park" in early 2018 at Chelsea Market, according to CNET.
One of the other confirmed VR experiences at its forthcoming theme park will be about bullying. There's untold societal value in placing anyone, but especially kids, literally in each other's shoes.
For so long, technology has been criticized for making us more antisocial and less compassionate. Let's hope virtual reality proves it can be a tool for good.