New York City has never been more popular. For eight years, the city has kept setting tourism records, with 62.8 million people visiting New York in 2017 — an increase of 2.3 million people from 2016. So what is the most popular attraction in New York City that they all have to see?
It's not the Statue of Liberty or the Empire State Building. You have to see a Broadway show of course, but that's not it either. The most popular attraction in New York City is everything you want: a classic building full of culture and "wow" moments, a rooftop bar and so much to see you'll keep coming back and finding something new.
You've probably guessed it by now, but the most popular attraction in New York City is the Metropolitan Museum of Art, which just set a new record of its own. The jewel of Museum Mile welcomed a record high 7.35 million visitors in its 2018 fiscal year that began on July 1, 2017. While international visitors made up 34% of The Met's attendees, it's not just for tourists: New Yorkers accounted for 32% of the total.
The Met has also been named Best Museum in the World by TripAdvisor members for a third year in a row, a first for any attraction ranked on the travel site.
What made The Met so successful in 2017-18?
The Met had its best year ever in 2017 thanks to its groundbreaking exhibit Michelangelo: Divine Draftsman and Designer. More than 200 of Italian master Michelangelo's works from over 50 collections worldwide were on display, bringing in 702,516 visitors from Nov 13, 2017 through Feb. 12, 2018. It's the 10th most popular show in The Met's history.
Attendance records will also surely be set by The Met's newest exhibition, Heavenly Bodies, which explores Catholicism's influence on fashion. Since opening on May 10, more than 500,000 people have seen the show, which spans four galleries at The Met's Fifth Avenue home as well as its medieval monastery and gardens The Met Cloisters.
Other noteworthy shows included fashion designer Rei Kawakubo/Comme des Garcons, Adrian Villar Rojas's rooftop sculpture exhibit, Mexican painter Cristobal de Villalpando and British pop artist David Hockney.
In addition to the record attendance, the Met also had one of its best recent years for other income: $250 million from donations, memberships and city funds.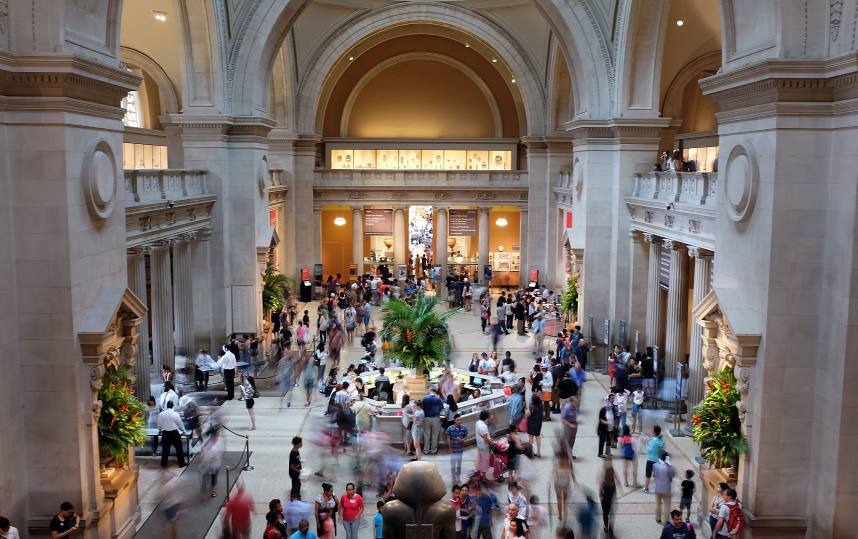 How to visit the Met
The Metropolitan Museum of Art is located at 1000 Fifth Ave. in Manhattan. You'll need a full day if you want to have any hope of seeing everything. The museum is open seven days a week, Sunday-Thursday 10 a.m.-5:30 p.m. and Friday/Saturday 10 a.m.-9 p.m., and closes only on Thanksgiving, Christmas Day and New Year's Day.
Tickets to The Met are $25; children under 12 are free. The Met had a longtime pay-what-you-wish ticket policy that was discontinued for tourists in March 2018. Admission remains free for New Yorkers, as the museum is partially funded by the city.