Last week, the 'What to watch' series dissected the importance of this year for New York Giants quarterback Eli Manning. But it is also an awfully big year for another Eli on this roster: Eli Apple.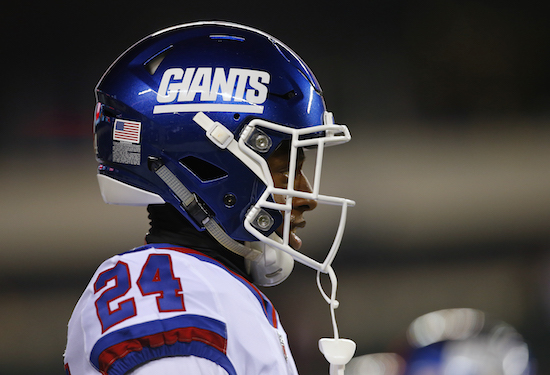 No matter that this other Eli is on the opposite end of the age spectrum and a different side of the ball than Manning.
Apple could be primed for a bounce-back year for the Giants as he enters his third year in the league. The former first-round pick had a really solid rookie year but saw things take a significant step back a year ago. It is unfair to blame the young cornerback for all the Giants woes on defense a year ago but there is no denying that Apple didn't take a step forward in his second year with the team.
No matter the reason, Apple simply didn't have the kind of year he was capable of in 2017. A team suspension, injuries and some poor play made a year ago forgettable for Apple. He'll be primed for a bounce-back year though this time around.
He is going into training camp as a starting cornerback and the potential is there for Apple. If he can stay healthy, he is a Pro Bowl-caliber cornerback with good length and tremendous footwork. Physically, he needs to do a better job of tackling and being better in run defense, but all the tools are there for Apple to rewind back to his rookie year and build on that.
He breaks to the ball well and has good instincts. He has a long stride and rarely during his rookie year got beat over the top. When he does get beat, very often he had the speed to recover. There are a lot of reasons to think that Apple can do better than what was a tough 2017 for him.
Last year was a dumpster fire for the entire organization, so perhaps Apple shouldn't shoulder too much of the blame.
Both head coach Pat Shurmur and general manager Dave Gettleman have spoken about the need for a "clean slate" for Apple. Given the changes to the Giants, in particular, their pass rush, being able to get Apple back on track will help solidify the secondary.
It is easy to forget that Apple, set for his third year in the NFL, will turn just 23 years old during training camp. He's surely been through a lot on his first two years with the Giants.
If he can remain undistracted off the field and continue to get bigger and better, then Apple could be primed for a return to prominence in 2018. All the pieces are there, now it is up to Shurmur and the player himself to begin the work on this talented puzzle.