Speaker Paul Ryan formally invited Trump to "report on the state of the union" back in November, and the country is waiting anxiously to hear what's going to happen during the upcoming Trump State of the Union.
It will be his first speech to the full Congress since February 2017, which wasn't a proper "State of the Union" so to speak — it came just a month after the inauguration, and traditionally, a newly-elected president's joint address isn't referred to as "State of the Union."
Trump discussed his aim of "bringing back millions of jobs," providing "massive tax relief for the middle class" and building a "great, great wall."
He concluded the address:
"I am asking all citizens to embrace this renewal of the American spirit. I am asking all members of Congress to join me in dreaming big, and bold, and daring things for our country. I am asking everyone watching tonight to seize this moment. Believe in yourselves, believe in your future, and believe, once more, in America."
You can view the full manuscript here.
Much like the blackout at the Golden Globes this month, some Democratic congresswomen are planning on wearing black to the Union address to protest sexual harassment.
House Speaker Nancy Pelosi said in a statement, "We are supporting the brave women in every industry and every corner of the country who are making their voices heard."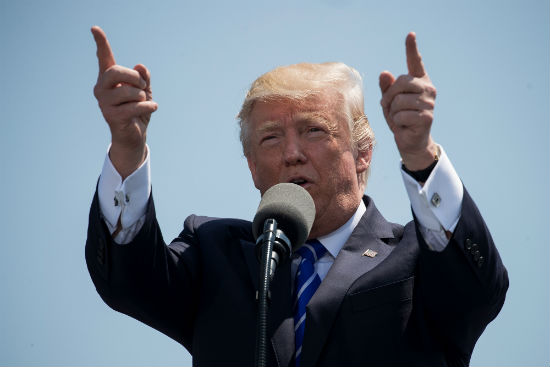 According to The Hill, Democratic Women's Working Group Chairwoman Rep. Lois Frankel (D-Fla.) plans to give her guest ticket to someone from the "Me Too" movement. 
"What we want," Frankel said, "is to really continue the conversation about sexual harassment in the workplace, about disparity of salaries where people work in the same job, and also getting paid for the value of your work."
So when is the Trump State of the Union? 
The Trump State of the Union will take place on Tuesday, Jan. 30, when he will reflect back on the past year and detail his plan for 2018. Check back to Metro later this week for TV channels, timing and live stream information so you can tune into the Trump State of the Union, which is sure to be yuge.