Who is Alexandria Ocasio-Cortez? After the primary elections in New York Tuesday night, the internet is abuzz with talk of this one particular New Yorker. Here's what you need to know.
Who is Alexandria Ocasio-Cortez?
Ocasio-Cortez is a 28-year-old New Yorker who was born in the Bronx to Puerto Rican parents — her mother was born in Puerto Rico and her father in the Bronx. She grew up in a working-class household, she notes on her website, where her father was a small business owner, her mother cleaned homes and everyone pitched in.
Ocasio-Cortez attended public school 40 minutes north of the Bronx in Yorktown. That 40-minute commute opened her eyes to the effects of income inequality. To her, the commute represented "a vastly different quality of available schooling, economic opportunity, and health outcomes."
In 2008, her father died of cancer and her family was thrown into a financial crisis. To support her mother, Ocasio-Cortez worked "two jobs and 18-hour shifts in restaurants to help her family keep their home."
Alexandria Ocasio-Cortez primary election win
Here's why everyone is talking about Alexandria Ocasio-Cortez: On Tuesday, she defeated incumbent Joseph Crowley in the New York congressional primary election.
Rep. Crowley, 56, is the fourth-highest ranking Democrat in the House, chair of the House Democratic Caucus and the Queens Democratic Party and was thought by many to be the next speaker of the House. He's served in Congress since 1999 and hasn't had a primary challenger in 14 years.
Enter Ocasio-Cortez: she beat out Crowley in the primary for New York's 14th District, which covers the eastern Bronx and north-central Queens. Ocasio-Cortez won with 57.5 percent of the vote. If she wins in November, she'll be the youngest person in Congress.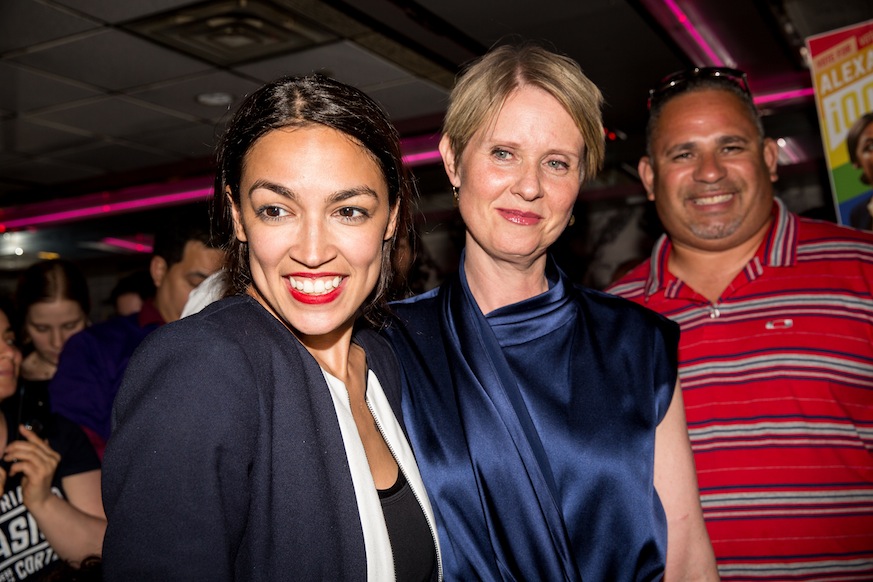 Alexandria Ocasio-Cortez political views
Ocasio-Cortez is a Democratic Socialist, and she campaigned on several progressive issues. She wants Medicare for all, a federal jobs guarantee program which would provide a baseline of $15-an-hour minimum wage and a benefits package, and tuition-free public college and trade schools.
She wants to abolish ICE, calling for immigration justice that provides a path to citizenship, she advocates for criminal justice reform and the end to for-profit prisons, an assault-weapons ban and more action against climate change.
Ocasio-Cortez also wants more solidarity with Puerto Rico. She laid out a plan on her website for actions like the cancellation of the island Wall Street debt, community-led recovery initiatives and a Marshall Plan to help Puerto Rico not just recover from Hurricane Maria but improve with modern infrastructure.
And, of course, she's fighting for women's rights — she's called out news articles that refused to put her name in headlines and ran a campaign video in which she says, "Women like me aren't supposed to run for office."
It's time for a New York that works for all of us.

On June 26th, we can make it happen – but only if we have the #CourageToChange.

It's time to get to work. Please retweet this video and sign up to knock doors + more at https://t.co/kacKFI9RtI to bring our movement to Congress. pic.twitter.com/aqKMjovEjZ

— Alexandria Ocasio-Cortez (@Ocasio2018) May 30, 2018
What did Alexandria Ocasio-Cortez do before her run for Congress?
Though a political newcomer, Ocasio-Cortez does have some experience in the political world. She organized for Sen. Bernie Sanders during his run for the 2016 presidential primary. She worked with high school students as an Educational Director with National Hispanic Institute and spearheaded projects to improve childhood literacy and writing in the Bronx.
On election day, she retweeted a photo that showed her working as a bartender — from one year ago, Nov. 2017.
This photo is from Nov. 14, 2017. Alexandria Ocasio-Cortez, 28, was then working as a bartender.

Less than a year later, she defeated the likely next Speaker of the House, and will almost certainly be the youngest woman ever elected to Congress pic.twitter.com/JgHjdQWAF6

— Jeff Stein (@JStein_WaPo) June 27, 2018