There's no calm before this storm! The lead up to the 2017 Emmys is all buzz.
There are award rumors running rampant. There are probably more than a couple early acceptance speeches being written. And there's news about everything from each of the award nominees to how the 2017 Emmys crowd will sit and dine at the post-show Governors Ball.
But the stars are just a list of Emmy award nominees  2017 without the show, and there's one crucial element to making the Emmys compelling: a dazzling host.
So, who's hosting the 2017 Emmys, anyway?
Although it should come as no surprise, given his wit, comfort with live audiences and recent runaway success in the late night show business, Stephen Colbert has been announced as the host of the 2017 Emmys.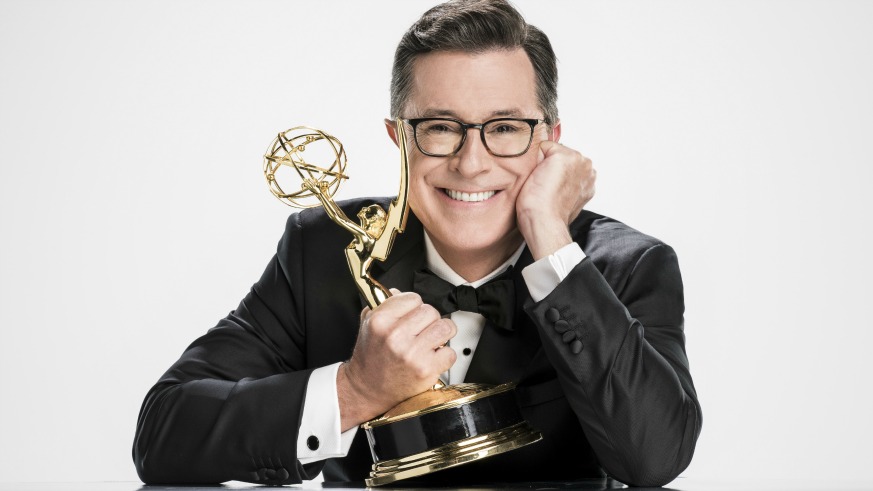 That's where things get interesting. Award shows have become increasingly political since the 2016 election, with celebrities pulling some punches in their acceptance speeches completely unrelated to the project that earned them the coveted trophy. And though Colbert parted ways with explicitly political comedy when he left The Colbert Report in 2014, his shows as main man on The Late Show with Stephen Colbert have, if possible, hit the political landscape even harder.
There's really no incentive for him to avoid taking jabs at Washington during the 2017 Emmys, either. After all, Colbert himself is nominated for one of those golden statues known as an Emmy award for his late night show under the category of Variety Talk Series.
So will Stephen Colbert come out, firsts swinging as he hosts the 2017 Emmys? We'll all have to wait and see until the 69th Annual Primetime Emmy Awards airs on Sunday, September 17, with all the who's who of Hollywood gathered together at the Microsoft Theatre in Downtown Los Angeles.
Let the will he or won't he rumors swirl until the 2017 Emmys!