Summer's hottest new playground is on the Brooklyn shore, and we don't mean Coney Island.
Once a shipping hub on the Sunset Park waterfront in the 1890s, the row of warehouses along Third Avenue between 32nd and 37th streets that is Industry City has grown into a must-do on every New Yorker's summer agenda.
Though it's been a low-key neighborhood favorite for a while, since last summer Industry City has tripled its public spaces and added tons of new attractions: games like mini golf, a concert series by Brooklyn Bowl and some of the city's hottest restaurants. Its industrial chic halls contrast with broad, leafy courtyards; there's even a slice of hipster beach paradise. It's easy and fast to get there from Manhattan, with the express N train getting you from Canal Street to IC's front door at 36th Street in three stops — let us convince you to take the trip.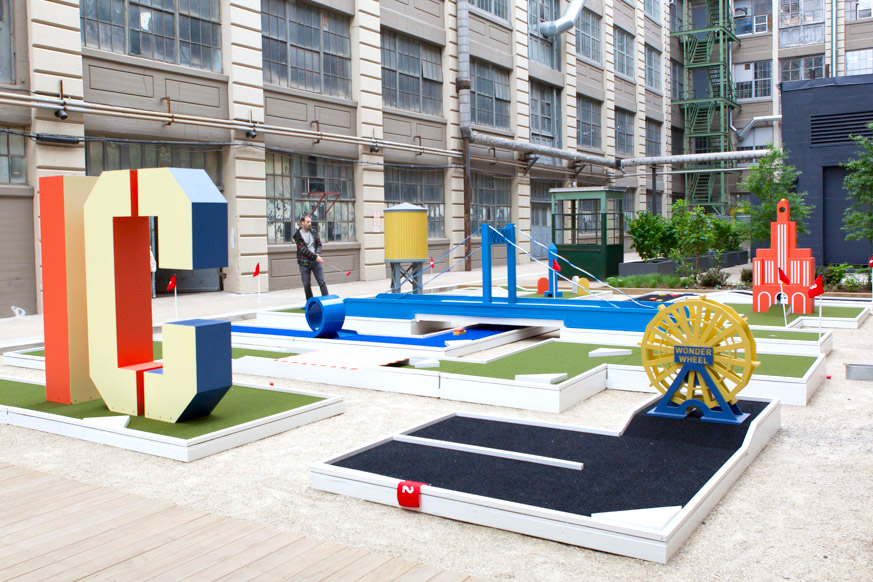 Play a round of mini golf
Don't settle for bars with backyard games when Industry City has tons of space dedicated to outdoor fun. When not booked for a band, the pit in front of the new concert stage turns into a cornhole tournament (Courtyard 1-2). An indoor ping-pong hall (Building 5) boasts seven tables to keep waits short; and then there's the new jewel of a mini golf course, with nine holes of Brooklyn-themed fun featuring landmarks like the BQE and Deno's Wonder Wheel at Coney Island (yes, it rotates). Courtyards 5-6, $10 per round for adults, $5 for kids up to age 10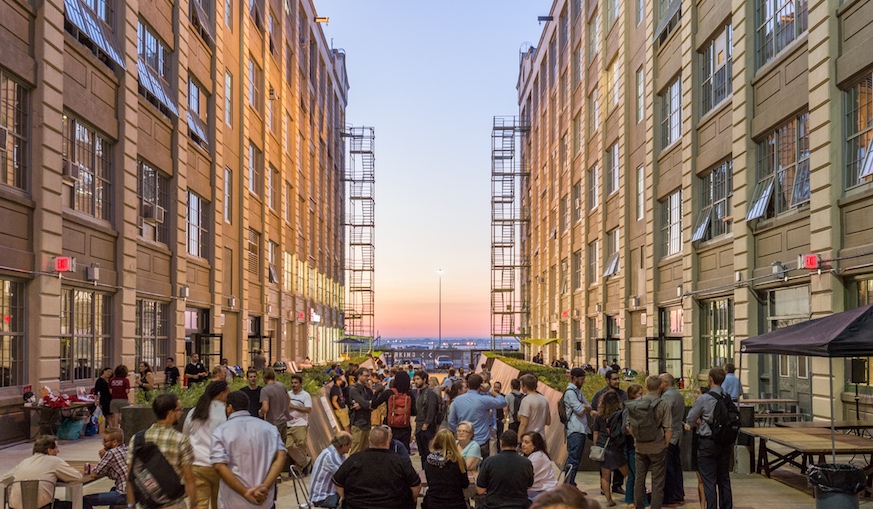 Movies under the stars
Beginning June 10, Industry City joins Rooftop Films' roster of venues showing a mix of indie, art house and short films, plus pre-show live music and afterparties. It's not on a rooftop, but the acoustics are bound to be amazing. Free-$15, entertainment begins at 8 p.m., Courtyards 3-4
Visit a beach bar
Chelsea's Frying Pan floating bar brought the beach to Industry City, opening a bar called The Wheelhouse (forged from an old tugboat) serving cocktails, plus an adjacent sailing-themed bar called The Helm where you'll find a compact menu of seafood favorites (including three flavors of lobster roll) plus more cocktails, beers (tap and can) and lots of wine, served until 8 p.m. during the week and 9 p.m. on weekends. Courtyard 5-6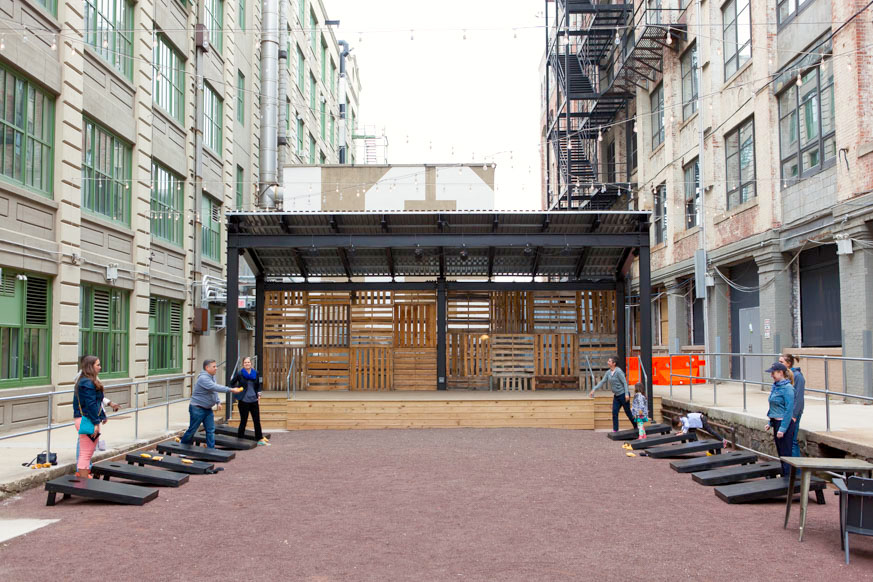 Concerts for adults and kids
Looking to rock out? Williamsburg's Brooklyn Bowl is curating a whole summer's worth of free and ticketed shows through Labor Day. On Wednesdays (5:30-7:30 p.m.) and Saturdays (12:30-2:30 p.m.), family-friendly acts curated by The Rock and Roll Playhouse take the stage; Thursdays (7-9 p.m.) feature local acts hand-picked by the Bowl, while select Sundays (5-7 p.m.) are for world music. Also on Sunday, prepare for a full day (1-6 p.m.) of Salsa Sunset Dancing on select nights beginning June 18. Courtyards 1-2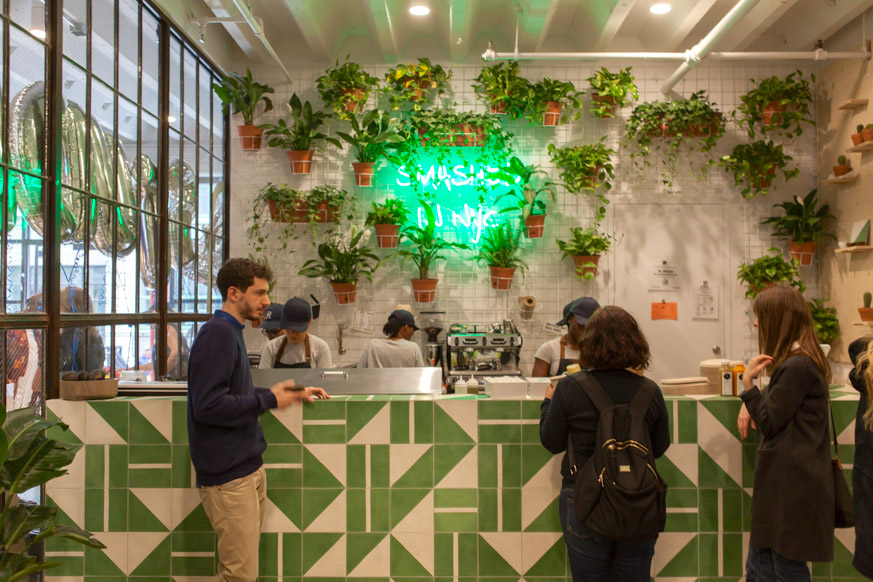 Discover one of the city's best food halls
All of Industry City's food manufacturers must offer a retail counter, but your food options have expanded into a bustling food hall. New tenants include one of our Smorgasburg favorites from 2016, Kotti Berliner Doner Kebabs; the internet punchline that is avocado bar Avocaderia (joke's on you, they do good work); and an outpost of Le Parker Meridien's hidden Burger Joint with a great selection of craft beers on tap. Building 2
After your meal, head to Moore Brothers Wine Company, where free tastings of several bottles are held almost daily. Sip coffee in One Girl Cookies' chic cafe, or a cocktail at summer pop-up bar and restaurant Filament. Or watch sweet treats roll off the assembly line at the picture windows of Li-Lac Chocolates. And because we know you're itching to find out what an $18 cup of coffee tastes like, the friendly baristas at The Extraction Lab will be happy to pull you a cup (it's drip only — for now). And coming soon: classes by Brooklyn Kitchen. Note that many of the shops and restaurants close at 6 p.m., even on weekends. Various locations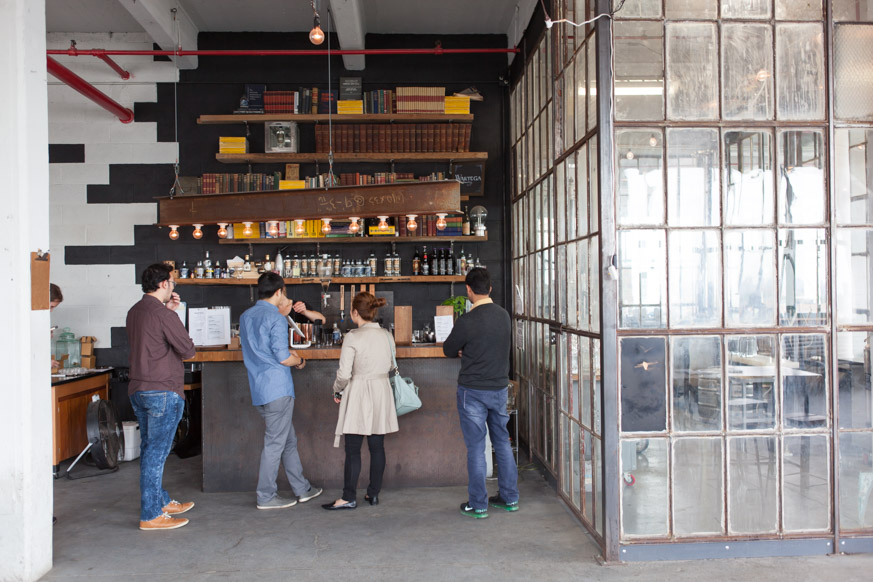 Sip a totally unique vodka
Taste the only vodka made within city limits atop Building 6, where Industry City Distillery is perched. Grab a cocktail (they also brew one beer, served on tap) and take in the Statue of Liberty views of the harbor. The airy tasting room also holds events like stargazing and concerts, with distillery tours and tastings on Saturdays at 3 p.m. Friday-Saturday, 4-10 p.m.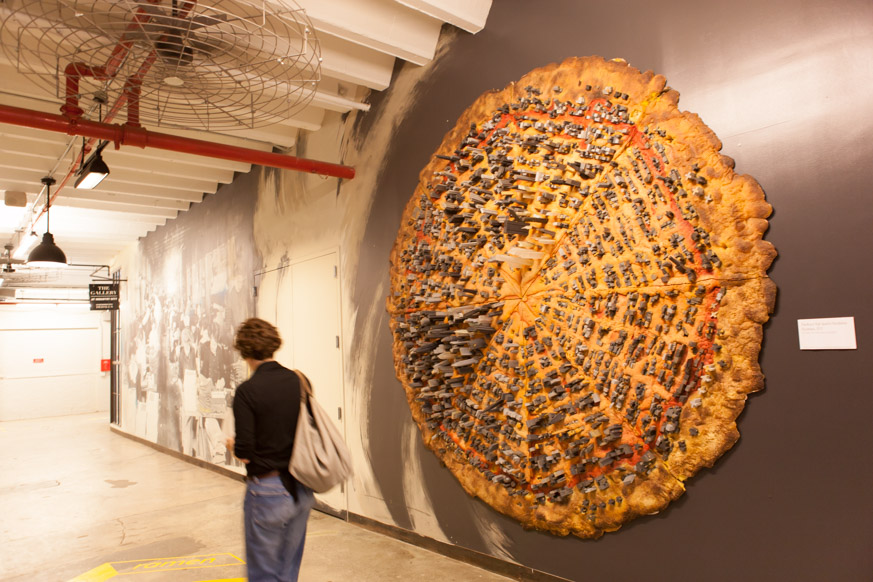 Art lives here
Though rents are increasingly out of reach for many of the artists who work in Industry City's upper floors, there's still a strong creative presence. The Gallery (Building 2) hosts rotating works by local artists with free admission, while a much larger hall in Building 1 called The Factory Floor welcomes pop-up exhibits year-round. Find American-made gifts at WantedDesign (Building 2), featuring many of the fashion and interior designers at Industry City — it's lobbying to become the new hub of Fashion Week, too. And twice a year during Open Studios weekends, get a peek behind it all when many of the artists and designers welcome visitors into their workspaces.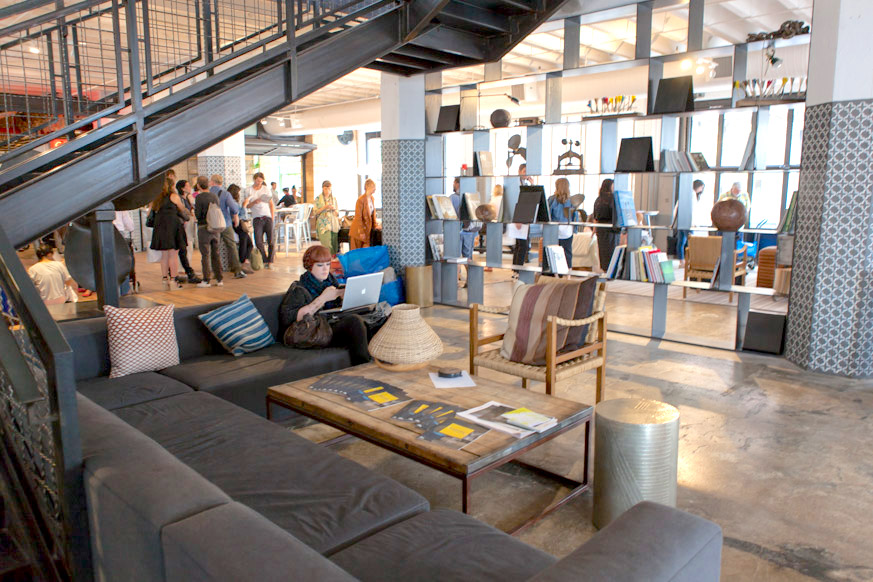 Your new co-working hub
Break out of your coffeeshop routine by getting to work on any of the couches, chairs or pouffs scattered across The Landing (Building 2, weekends only), where you can also network over a game of pool or table hockey. If you're looking for a bit more comfort, try the new co-working startup Camp David (Building 4) with lux couches, a courtyard, gym access and tons of other amenities for its community of creative freelancers.