From a historic basilica to hip new bars and even Brooklyn's catacombs, this year's New York Opera Fest is taking the lofty art form into some distinctly non-traditional settings.
"We are experiencing and driving a rebirth of what opera can be," says Peter Szep, festival chairman and co-founder of the New York Opera Alliance. "Opera can speak directly to us. The festival shows that opera is big and messy and not limited to a proscenium. It's also where you live."
While it's a tactic sure to get the attention of some new fans, these unconventional venues won't diminish the vocal performances, either. "Smaller venues are not a problem — they're an asset," he explains. "In a little venue, you are next to the opera singer. The voice is much more present. The singer can be more subtle and you hear a full dynamic range. It can hit you in a much more emotional way."
A new opera by Douglas Knehans and Juanita Rockwell, with live music and multiple video streams—a woman's inflections on love, nature, emotion and memory. #nyoperafest #thisisopera https://t.co/TDI0Az44mO

— NY Opera Alliance (@NYOperaAlliance) May 25, 2018
The New York Opera Fest presents 45 productions throughout the month of June, including 14 world premieres. That's more than 150 performances by 30 of the city's independent opera companies.
Highlights include the Angel's Share series in the vaults of Green-Wood Cemetery, a new food-themed show by Opera On Tap, and a reimagined "Don Giovanni in New York" at the Basilica of St. Patrick's Old Cathedral.
That production pairs Mozart's opera with the real story of his librettist, Lorenzo da Ponte, moving to the city and putting on one of the first "Don Giovanni" performances at the church. "A script of that story is combined with the opera, so it weaves in a documentary with the production," says Szep.
The main difference between the usual opera festival and an indie production like this, says Szep, is a broader, inclusive vision: "No one gets left out: women, people of color, everyone is included. The big kahuna is part of the conversation to get opera out to a larger audience."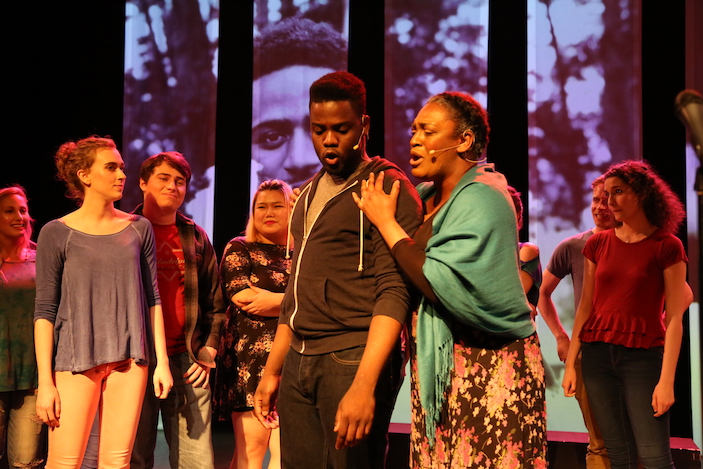 About 100 small companies are creating and performing new operas around the city. Hunter Opera Theater
The New York Opera Alliance formed in 2011 to promote the city's indie performance groups and to show that opera is not an elitist, outdated artform but a contemporary medium that's changing to suit its audience.
Part of the reason the festival has broadened its choice of venues is that opera companies are actually multiplying in the city. "The New York Opera Alliance brought everyone together to talk about what they're doing," says Szep about organizing this year's third annual Opera Fest.
"We realized there are around 100 small opera companies in New York City. Right now we have 50 members, and it just keeps growing. There's a huge wave of new artists producing new works and they have things to say that are relevant to so many people. Opera is a living thing."
The third annual New York Opera Fest runs through the end of June; the Angel's Share series continues through October. For more information, visit nyoperafest.com.