Update 3:00 p.m. EST Friday, September 29 — That's all, folks! Perfect Bar took to Instagram to let everyone know that the money they put on their card to gift a lucky few free Starbucks has officially run out. We hope you snagged a cup of coffee while the offer was still going and paired it with one of their tasty bars.
Original story Friday, September 29 — National Coffee Day 2017 is shaping up well, and we trust that you're all adequately caffeinated this morning, but you might have been dismayed by reports of no free Starbucks this year. Guess those places just didn't know where to look, because we found a way.
Fans of the mermaid-clad 'bucks brand don't have to turn to a different coffee chain to get a free cup of joe this year. In fact, you don't have to do much work at all, thanks to Perfect Bar.
Do this for free Starbucks to celebrate National Coffee Day 2017
We'll keep this short and sweet because you might have gone without your morning joe in protest after reading those headlines about Starbucks and National Coffee Day 2017. Follow these five easy steps, and free Starbucks will be yours in a matter of minutes.
— First, log onto your Instagram account. We know, we know, you already checked your feed this morning and didn't see anything. Stick with us.
— Go follow Perfect Bar's Instagram account, @perfectbar.
— Click on their profile photo to pull up their Instagram stories.
— When you see a warning to screenshot the next frame, get ready.
— Screenshot the next frame that features a barcode.
— Go to your nearest Starbucks and show them this screenshot to scan.
— Voila! Savor every drop of that strong cup of goodness.
Ideally you also have a Perfect Bar on hand to nibble while you sip your caffeine. (We're big fans of Dark Chocolate Chip Peanut Butter and Dark Chocolate Almond, but there are fruity and tropical flavors available, too.)
For reference, the picture you screenshotted off of their Instagram story should look like the image below: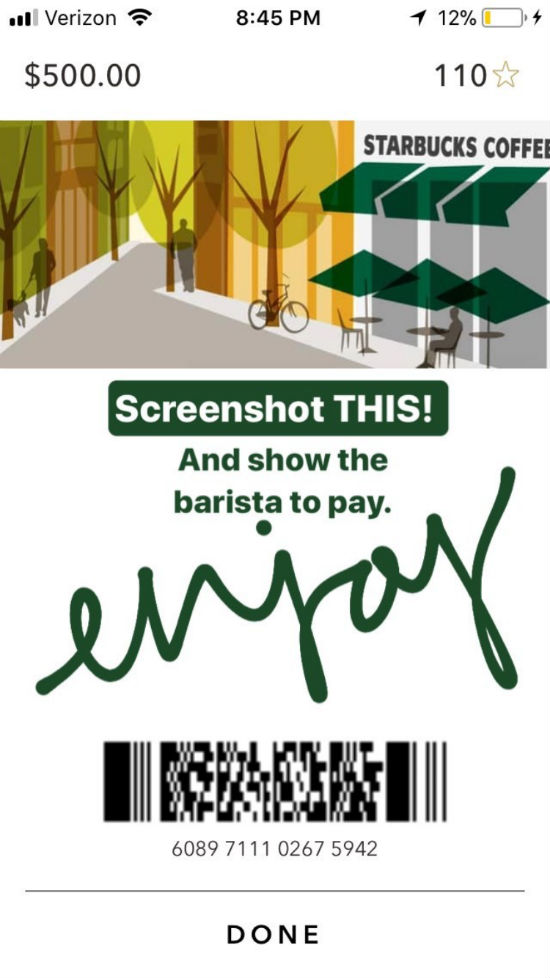 Hurry up and get there. We've confirmed through Instagram that multiple people have already redeemed this free Starbucks offer from the whole food bar brand, so you can get in line knowing coffee's coming your way and that the screenshot really works. After all, what would National Coffee Day 2017 really be without free Starbucks?