Well, if finally happened: President Donald Trump blocked long-time troll and Sports Illustrated swimsuit model Chriss Teigen on Twitter.
The famously thin-skinned president has made a habit of blocking people who criticize him on the Internet, but Teigen has been throwing shade at Trump for years without consequence.
Until Tuesday.
Teigen said she's been hating on the president for nine years, but all it took to get blocked were five little words.
In response to a post, Trump wrote on Sunday saying, "It's very sad that Republicans, even some that were carried over the line on my back, do very little to protect their President."
Teigen's response? "Lolllllll no one likes you."
After 9 years of hating Donald J Trump, telling him "lol no one likes you" was the straw pic.twitter.com/MhZ6bXT1Dp

— christine teigen (@chrissyteigen) July 25, 2017
Here's the full exchange between President Trump and the first lady of Sports Illustrated: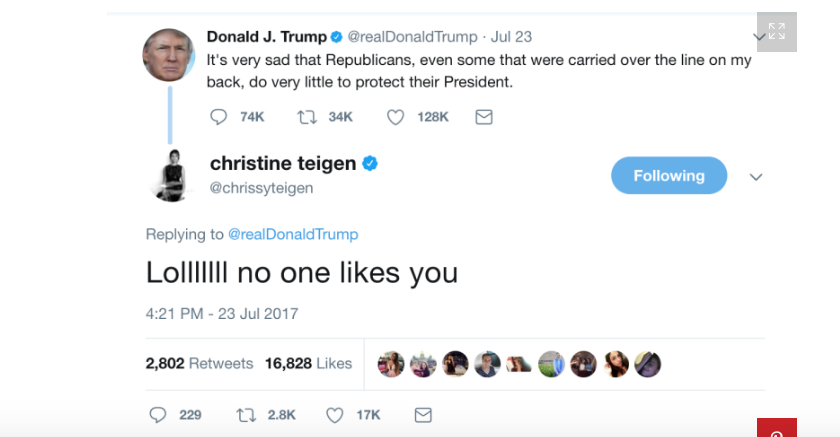 This is far from the first time Teigen has trolled Trump — she told the president to "grow up" on June 8 after he (once again) tweeted The New York Times was "fake news."
Actually what she said was, "You are 71 f—ing years old," the Sports Illustrated model and "Lip Sync Battle" host said. "Grow. The f—. Up."
You are 71 fucking years old. Grow. The fuck. Up.

— christine teigen (@chrissyteigen) June 28, 2017
Apparently that didn't get to the president quite as much as telling him "no one like" him.
Her fans were pretty pleased with the development.
"Today was the day Chrissy finally became President," Twitter user @Lennyjacobson wrote.
Today was the day Chrissy finally became President.

— Lenny Jacobson (@Lennyjacobson) July 25, 2017
One fan even offered to send Teigen a button he made featuring a screen shot of the Twitter page when @realDonaldTrump blocks you.
Welcome to the club! Lemme know if you want a button pic.twitter.com/ZFhZ23ZOPW

— Mike Denison (@mikd33) July 25, 2017
Teigen is hardly the first Trump critic to get blocked — even before taking the presidency, Trump frequently blocked people whose messages he didn't like, including more than a few high profile critics.
He's pushed the block button on VoteVets.org, a progressive veterans group, actress Marina Sirtis, "Jimmy Kimmel Live" writer Bess Kalb, journalist Mike Elgan and the creator of the viral "Honest Trailer's" videos on YouTube, Andy Signore, just to name a few.
The Commander in Chief can block @VoteVets, the voice of 500k military veterans and families, but we will NOT be silenced. pic.twitter.com/SaCN5hKU9R

— VoteVets (@votevets) June 13, 2017
Stephen King also got the block last month.
Trump has blocked me from reading his tweets. I may have to kill myself.

— Stephen King (@StephenKing) June 13, 2017
But now that Trump is president, his habit of blocking critics has transformed from petty into a First Amendment nightmare.
First Amendment advocates have threatened to sue Trump over his continued blocking of people on Twitter, demanding all accounts be unblocked or "face legal action" over impeding the owners' right to free speech.
One group, the Knight First Amendment Institute, argues Trump's Twitter account is a "designated public forum" and as such should not be exclusionary.  It's impossible to know just how many people and groups Trump has blocked.