We're nearing the depths of winter, and just when you start feeling like you'll never be warm again, along comes the biggest mug of hot cocoa you've ever seen. On National Hot Chocolate Day, forget freebies and best-of lists — when it's this cold out, all you want is quantity, and that's where PHD Terrace at Dream Midtown comes in.
Starting on Jan. 31, wrap your hands around the rooftop bar's 20 Pound Spiked Hot Cocoa: that's 320 ounces of winter-busting, soul-warming liquid chocolate — with booze, of course. The hot chocolate that ate all the other hot chocolates is the work of pastry chef Paola Marocchi, who drew on hot cocoa variations created in Mexico and Europe in the 17th century.
The globally-inspired drink is made with Valrhona Extra Bitter 61% chocolate, Jivara chocolate, charred giant marshmallows, cinnamon sticks, housemade whipped cream and spicy cocoa powder. Get it spiked with your choice of Casamigos Añejo tequila, Ilegal Reposado mezcal, Hennessy VS cognac or Woodford Reserve whiskey.
Get the 20 Pound Spiked Hot Cocoa beginning Thursday, Jan. 31 through Thursday, Feb. 14 — management requests you preorder two days in advance. The price of this behemoth is $375, which works out to $17 per person split into its intended 22 servings. When you think about it that way, it's cheaper than everyone in your crew getting their own cocktail at a rooftop bar! Just maybe don't save it for a Valentine's Day treat unless your relationship includes way more than two people.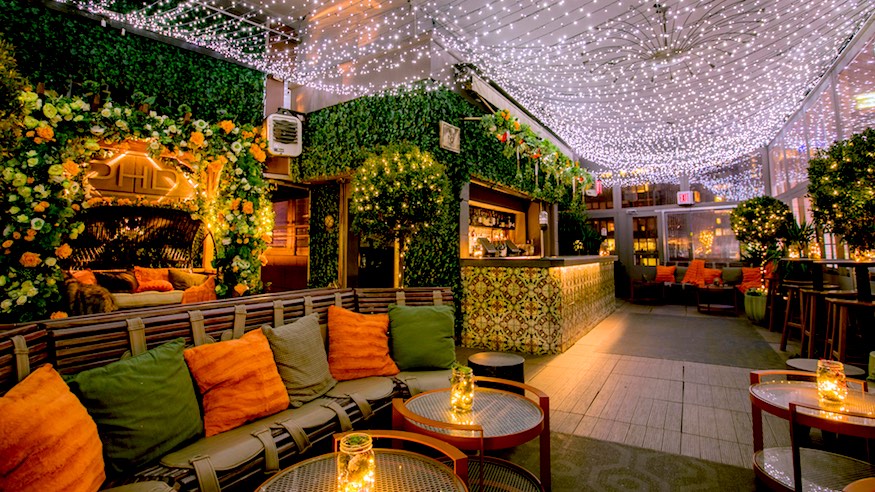 If you haven't checked it out this winter, PHD Terrace is leaning into the season with a Shakespeare-inspired transformation. Through the end of winter, step into a Midwinter Night's Dream-themed enchanted garden including a floor-to-ceiling swing, floral installations and tunnels flooded with twinkling lights. Proving that winter doesn't have to be miserable if you do it right.