If you're bringing home a real Christmas tree this year — which the National Christmas Tree Association says is a must — you could also be bringing unwanted insects into your home…by the thousands.
According to a report from pest control company Safer Brand, your Christmas tree can hold up to 25,000 bugs, AOL reports. Norwegian pines are known for having the most.
Though many Christmas tree farms may use pesticides and other tactics to ward off bugs, they still may be living in your tree. There are seven types: aphids, spiders/mites, adelgids, scale insects, sawfly, praying mantises and bark beetles. Safer Brand notes, however, that they are "mostly harmless and won't destroy your home" (though they caution not to squish the bugs since doing so may leave marks). Learn more about them on Safer Brand. 
The company also notes that your home's environment "isn't suitable" for most of these tree insects "so they will dry out and die before ever venturing out."
And even if some do venture out, spokespeople from Penn State University's Department of Entomology's Cooperative Extension, tell Mother Nature Network that these bugs — most of which are microscopic — are not a threat to "your home, its contents or occupants."
Safer Brand suggests that you take preventative measures before you post up in your living room to decorate away: Let your tree sit in your garage for a minimum of 24 hours, and when doing so, spray it with End All neem oil. In case your tree really is infested and you don't want to trade it in for a new one, Safer Brand says to use their Diatomaceous Earth product, which will kill these bugs within 48 hours of ingestion.
If you're overwhelmed by this news, you're in luck. Safer Brand created a handy graphic detailing how to take preventative measures.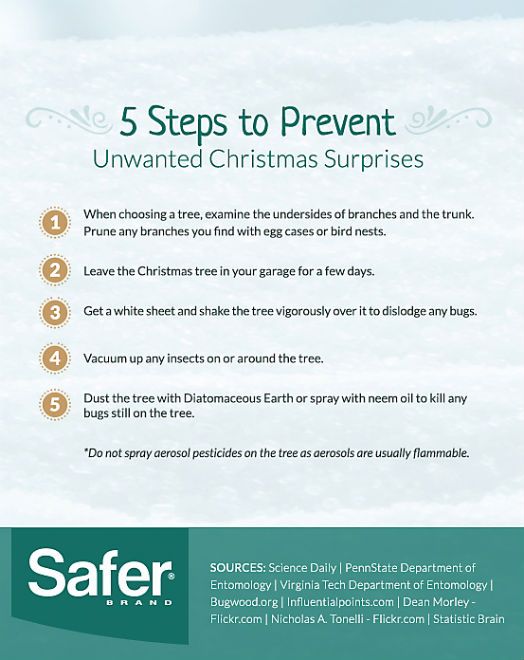 Word to the wise: If you do see bugs, don't panic, especially since they won't put you or your home in any danger. "Don't let a few bugs scare you into not enjoying a freshly-cut evergreen," Safer Brand says.
More importantly, don't let it take away your Christmas spirit.