No one would blame the New York Mets for basically just going through the motions as they wait to be put out of their misery. 
Once favored to make the postseason for a third-straight season, which would have set a franchise record, the Mets broke down, plummeted to Earth and broke into a billion different pieces.
I'm not just talking about the win-loss column, either.  An important contributor went down almost every week (that's not too far of an exaggeration) with an injury that further called the team's training staff into question.
In about four weeks though, this bitterly disappointing 2017 season will finally come to an end and usher in an offseason that allows the team to relock, reload and most importantly, get healthy. 
The last men standing in orange and blue though still have something to play for as there is plenty on the line; just not for this year. 
Here are a few things Mets fans should watch out for while trudging through the end of the season:
The battle for center field
The corner outfield spots for the Mets next season are pretty set with Yoenis Cespedes in left and Michael Conforto in right, should his dislocated shoulder heal without a hitch. 
The same can't be said for center field as New York has two top-of-the-order men that will look make a good impression before the offseason begins: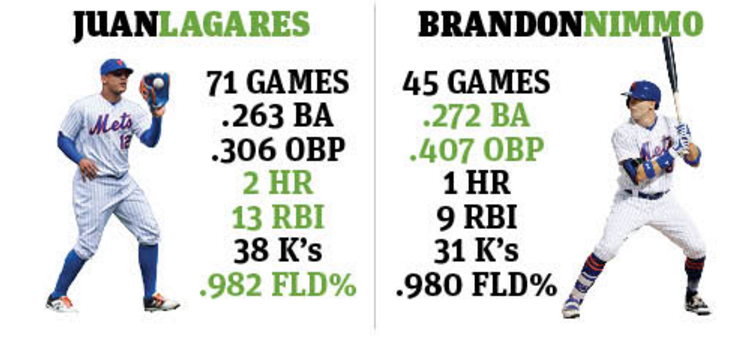 Familia's quest for the closer role
Reliever Jeurys Familia might have had the most difficult 2017 of any Met. 
After being suspended for the first 15 games for violating the league's domestic violence policy, Familia had to undergo surgery to remove a blood clot in his throwing shoulder, sidelining him for more than three months. 
Since his return, he's struggled mightily: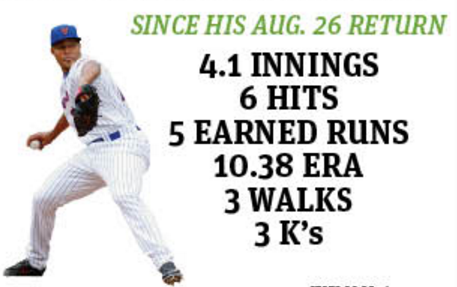 Can the kids cut it?
A lack of production from the left side of the infield along with a large turnover within the roster allowed the Mets to call up their top two prospects, shortstop Amed Rosario and first baseman Dominic Smith. 
Tabbed as the future given their offensive abilities, the two have had their fair share of growing pains since their big-league debuts.
If Mets fans want any consolation though, Aaron Judge struggled when he was called up to the Yankees last season. Granted, good things rarely happen to the Mets: