On Monday night, Lady Gaga thanked her "fiancé" Christian Carino during a speech at Elle's 25th Annual Women in Hollywood Celebration. She's reportedly been engaged for over a year — but this marked the first time she's confirmed the news in the public eye.  
The Star Is Born star discussed sexual assault and mental health on stage, stating via Elle.com: "As a sexual assault survivor by someone in the entertainment industry, as a woman who is still not brave enough to say his name, as a woman who lives with chronic pain, as a woman who was conditioned at a very young age to listen to what men told me to do, I decided today I wanted to take the power back. Today I wear the pants."
Watch Lady Gaga confirm her engagement to Christian Carino
In her closing remarks at the Women in Hollywood event, Gaga thanked a slew of people, Carino included. "Thank you, Nina Garcia," she began. "Thank you Stephen Gan. I was an outcast and you believed in me, and I wouldn't be here without you. Thank you, ELLE. Thank you all the loved ones in my life. … My fiancé Christian. All the loved ones in my life who take care of me every day."
Watch this play out below: 
Lady Gaga confirms her engagement to Christian Carino last night as she thanks him as her "fiance" during her Women in Hollywood speech! pic.twitter.com/u0Kqy6zN0k

— Lady Gaga Media ⭐️ (@GagaMediaDotNet) October 16, 2018
Gaga and ex Taylor Kinney broke off their year-long engagement in July 2016 after over half a decade together.  
"My love life has just imploded," Gaga reveals in her tell-all Netflix documentary Gaga: Five Foot Two. "I sold 10 million [records] and lost Matt [Williams]. I sold 30 million and lost Luke. I did a movie and lost Taylor. It's like a turnover. This is the third time I've had my heart broken like this."
The 32-year-old started dating Carino, 49, around February 2017. Rumors about Gaga's engagement to Carino then leaked that fall when US Weekly reported they'd secretly gotten engaged during the summer of 2017.
Also, she's been spotted with a pink diamond ever since news of their rumored engagement broke:
An inside source told PEOPLE, "Christian is a good, grounding force and understands her career. She's in a great place now." There's no reported wedding date set at this time.
Here's everything to know about Christian Carino.
Christian Carino is a Hollywood agent
Carino works for talent agency Creative Arts Agency (or CAA), which represents Gaga.
Over the years, he's represented A-list clients such as Justin Bieber, Jennifer Lopez, Christina Aguilera, Simon Cowell and Miley Cyrus.
Christian Carino was previously married 
Carino married a woman by the name of Brooke Baldwin (not to be confused with the CNN anchor) in 1997. They reportedly have two daughters together (according to divorce papers) and their split was finalized in 2015.
After his marriage to Baldwin, pre-Gaga, Carino was linked to The Walking Dead's Lauren Cohan, who was reportedly another one of his clients.
Christian Carino is close with Tommy Hilfiger
The Daily Mail reports that Carino is "longtime" friends with designer Hilfiger.
Here they are at one of Hilfiger's events back in 2014: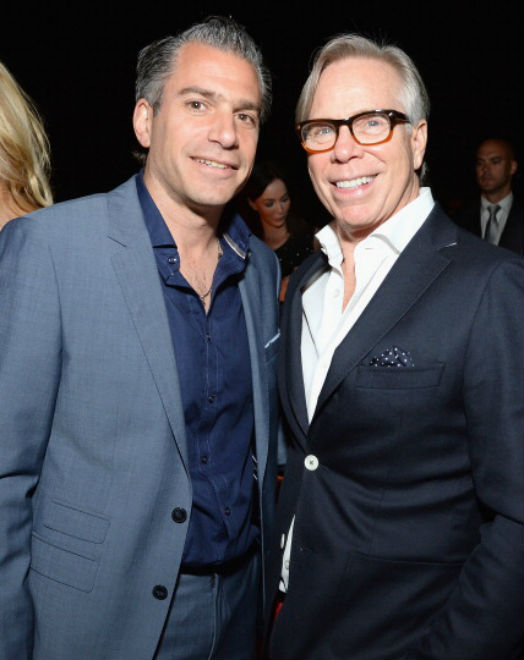 Christian Carino has a giant Lady Gaga tattoo
Carino and Gaga were first linked together when they were spotted at her 2017 Super Bowl performance, then again at a Kings of Leon concert, reports Vogue.
Carino is not shy about his love for the singer/actress on Instagram. And, he even got a tattoo of her (in pigtails) on his arm.
Carino and Gaga's romance, though much more private than previous relationships, seems to be genuine and undeniably thriving. 
"When I went backstage, Christian was by the stairs making sure I was OK," Gaga said of Carino during a Citi Field performance in late August 2017. "The best part about being in love with someone is having them there to catch you if you fall."