Though the environmental impact of plastic straws isn't truly known, most people still agree that we should try to limit single-use plastics in general. A plastic straw ban seems like an easy start, with companies like Starbucks and McDonald's announcing initiatives — and now, Alamo Drafthouse Brooklyn.
When you order a soda or water from your seat at Alamo Drafthouse Brooklyn (if you haven't been, there's no concession stand; staff takes orders off of menu cards right at your movie seat throughout the film), you will no longer be given a plastic straw.
The movie theater company announced the change in a recent blog post, writing that "You might've noticed that our servers are no longer bringing you straws for sodas, teas and waters."
But what if you need a straw at Alamo Drafthouse Brooklyn?
If you still want a straw or need one because of a physical disability, don't worry — there's not a complete straw ban at Alamo Drafthouse Brooklyn, just a plastic straw ban. The theater will be offering biodegradable straws so you can sip your drink without any eco guilt.
"At more than half of our 35 locations across the country, we'll be switching entirely to a corn-based biodegradable straw," the company said. "We're expecting this to be ready at most locations by the end of this month."
All locations seeing the plastic straw ban are company-owned, including Alamo Drafthouse Brooklyn. The company will urge its franchise owners to follow suit, and a number have already agreed to do so, Alamo CEO Tim League told The Hollywood Reporter.
Plastic Straw Ban Backlash
Starbucks made waves when it announced it would go plastic-straw free by 2020 on both sides of the aisle. The coffee company introduced a new (plastic) lid that basically looks like a sippy cup for adults, pleasing people who want to curb their straw use but aggravating disability rights activists.
Some people with disabilities need to use straws as they can't lift drinks, but straw alternatives like metal risk injury or simply don't meet their needs, activists explained. Starbucks has since clarified it will still offer straws to customers who need or request them.
One common straw alternative is paper, but activists say these tend to dissolve, and this straw alternative may not work for movie goers, either. Cineplex in Canada ruled out paper straws as a plastic alternative, THR reports, because they couldn't stand up to all the sips through a two- or three-hour movie.
Alamo Drafthouse hopes that by not giving everyone a straw right off the bat, people who don't need straws will use them less. Alamo Drafthouse started the environmental initiative at its Denver location a few months ago, according to the company, and has already seen a 75 percent reduction in straw usage.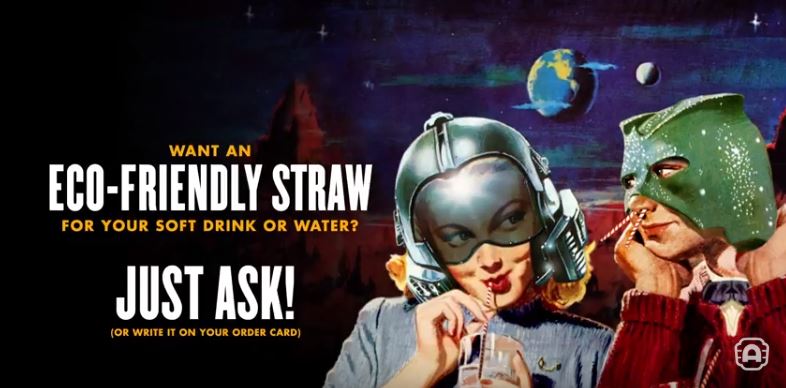 You'll see this new clip running at Alamo Drafthouse Brooklyn. Photo: Alamo Drafthouse/Youtube