You've seen it with chains like McDonald's, Burger King and Panera Bread for years, but starting today under the final implementations of the 2010 Affordable Care Act (known as Obamacare), all chains with at least 20 stores will have to provide calorie counts on food boards and menus. Information will also include fat and sodium levels, reported CNN.
Not only does the rule apply to fast food joints and restaurants, but it also applies to convenience and grocery stores, pizza delivery places and even vending machines.
Food and Drug Administration (FDA) Commissioner Scott Gottlieb said that providing calorie counts on food consumed by Americans will improve public health. He told The Washington Post, it's "important for consumers to make informed choices about their diet," pointing to studies that show food labeling can reduce how much people eat.
The National Restaurant Association is on board — an executive vice president said requiring calorie counts on food boards and menus is "long overdue." But grocery and convenience stores, as well as some pizza delivery services, aren't so pleased. They say regulations are strict.
What do those opposing calorie counts on food menus have to say?
Convenience and grocery stores are requesting more flexibility.
"We are trying to make lemonade out of the lemons FDA presented — working to implement a law that was poorly designed for the businesses we represent and poses liability challenges at the state and local levels with regard to enforcement," Jennifer Hatcher, chief public policy officer and senior vice president of government relations at the Food Marketing Institute (FMI), said in a statement.
"That said," she continued, "our members have exerted an extraordinary effort in analyzing and labeling hundreds and in some cases, more than 1,000 items, thus enabling customers to identify more clearly the wide array of healthy options available in a grocery store."
Pizza delivery stores also want more flexibility and think complying with new rules to put calorie counts on food boards and menus will be too costly, since most of their customers order online.
Jim Gerety, owner of 18 Domino's stores in Texas and chairman of the Domino's Franchisee Association, broke down how much menu boards would cost. "Domino's customers do 90 percent of their ordering remotely — either online (web and app) or by phone," Gerety wrote. "I estimate that I will have to spend approximately $5,000 annually per store to put up compliant menu boards. I'm talking possibly $90,000 to invest in signage that less than 10 percent of my customers actually will see, and less than that actually will use."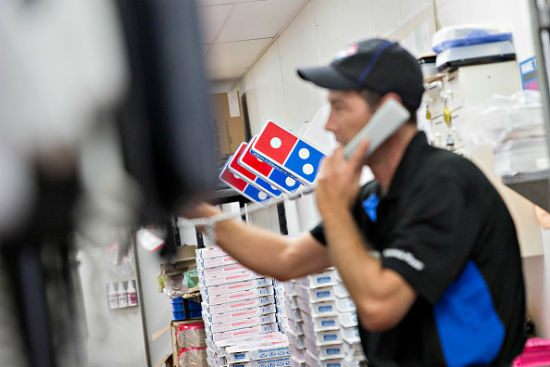 "All we are asking for is common-sense approach to put this information where people are … and we believe the internet is where people are going to go to get this information," a company spokesperson told CNN.
Under "FDA guidance," if pizza delivery stores don't have menu boards, they aren't required by law to add them.
To those who oppose making calorie counts on food menus mandatory, or to those who want more flexibility, Gottlieb said it's a must: "If there isn't a uniform standard for how this information is disclosed, and the presentation is different from restaurant to restaurant, then it becomes less valuable to consumers because they can't make consistent comparisons."
As these provisions go into effect, the FDA says it will focus on educating restaurants and stores on these rules rather than enforcing them, and pages of guidance have already been posted on its website.