Foodies rejoiced when Chipotle joined forces with DoorDash and introduced a delivery option for over 1,500 of its 2,500 locations on April 30. And, in honor of this launch and Cinco de Mayo, customers got their food delivered for free. In terms of picking up burrito bowls and extra guac, there's a mobile app for that, which has been around since 2009, Fortune reports — and now, the chain is making pick-ups from select locations even easier with a new Chipotle drive-thru lane.
We repeat: a Chipotle drive-thru exists. It's not what you think, but it still cuts down on your wait.
What's that? A Chipotle drive-thru? Tell me more
This Chipotle drive-thru option is only for digital orders, so it's not your typical drive-thru where customers request their meals on the spot and risk muscle damage from reaching through car windows to pay.
Only five stores so far have this Chipotle drive-thru, according to CNBC: two in Ohio, and one each in Tennessee, Texas and Massachusetts. Curt Garner, Chipotle's chief digital and information officer, told the site that more are coming, though there's no telling when a national rollout will occur. A location in Virginia is reportedly next in line.
Want more of an explanation? Watch a video from NowThis below:
Chipotle is testing drive thru windows — but you'll have to order on the app first pic.twitter.com/Hbozau8zqU

— NowThis (@nowthisnews) May 26, 2018
The company announced back in the summer of 2017 that it would start testing this lane at an Ohio location. They called it a "vehicular pickup window," but we like Chipotle drive-thru better.
"We still only have 2,500 locations. There are plenty of places and occasions for us to continue to grow into," Garner told CNBC. "But as we've looked at access, we've also looked at it in terms of different restaurant formats and these mobile drive-thru pick-up restaurants are part of that."
"As we are looking at our real estate pipeline, part of the criteria that has been introduced is to understand how many of those sites might lend themselves to that experience, even if we don't open them immediately with [the mobile lane] enabled," he continued.
How the Chipotle drive-thru works
On your desktop or mobile app, you'll order Chipotle like you normally would: Set a pick-up time and — if you're ordering from one of these select locations — drive through the designated lane. Basically, it will save you time since you won't be getting out of your car to mosey on into the store.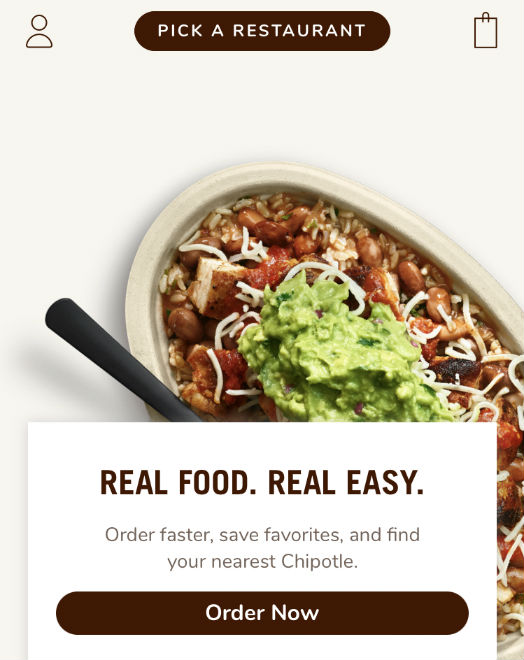 A Chipotle spokesperson told Metro in a statement, "All digital orders (orders placed either online or via the app) are automatically directed to be picked up at the Pick Up Window. Those are the instructions that are sent when you place your order via the app or online at that specific restaurant." The spokesperson went on to say that, if someone chose to go into the restaurant instead, an employee would give them their order upon arrival.
Whether or not this new pick-up option will be at a location near you soon is unknown. Until then, patience, young guac lover.