With mobile pickup orders and drive-thrus, Starbucks has made it incredibly easy to get your morning, mid-day or evening fix. And, we've now learned that Starbucks delivery is coming to Uber Eats.
This Uber Eats Starbucks delivery is only being tested in 100 Florida stores right now, specifically in the Miami-Dade and Broward County areas of the Sunshine State, according to Nation's Restaurant News.
Through the app, you can order your favorite Starbucks drinks, such as the caramel Frappuccino, which Uber Eats says is the most popular delivery item so far.  
When Metro contacted the coffee chain to inquire about this Uber Eats Starbucks service expanding nationwide, they said they're in the "initial stages of testing."
They continued, "We're always testing new products and experiences for our customers and look forward to hearing their feedback – and we look forward to sharing more details at a later date." 
For those who can't order Starbucks delivery through Uber Eats, a burning question remains: Does Starbucks deliver any other way?
Does Starbucks deliver?
Though Starbucks Uber Eats delivery is currently limited to select areas of Florida, you can get Starbucks delivered through other services. 
By the time many of you find out if you can get your hands on a latte without leaving the house, you could have already moseyed on down (or driven) to the nearest Starbucks location.  
Starbucks delivery isn't hard to come by — you just have to be willing to do your research first. And that, dear readers, is where we come in.  
Starbucks Delivery: Postmates
Starbucks teamed up with Postmates in 2015. It launched in the Seattle area and has now expanded to 400 markets across the country.
"We've done over 1 million deliveries from Starbucks and it remains a popular merchant on the platform," a Postmates spokeswoman told Nation's Restaurant News.
Locations vary. For instance, I wouldn't be able to use Postmates for Starbucks delivery in my hometown but, in 20 to 30 minutes, I could get my iced Pumpkin Spiced Latte delivered to Metro's NYC office.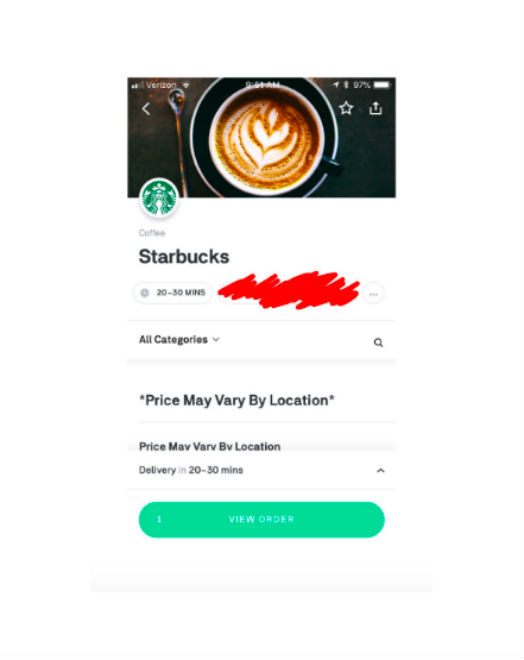 To find out if you can get Starbucks delivery through Postmates, all you have to do is enter your address and search for a nearby Starbucks location. Or, view the list of participating Starbucks on the Postmates website.
Starbucks Delivery: Doordash
Again, select locations can get Starbucks delivered through Doordash.
Download the Doordash app, enter your address and search for a Starbucks near you.
You can also see if local Starbs show up when you search for nearby restaurants on the Doordash website. Lucky for me, Starbucks delivery comes up in my hometown and near work.
May you be graced with the same odds.