Tired: Taking Instas of your pup. Wired: Taking Instas with your pup at a pop-up dog art gallery coming to the West Village called Human's Best Friend.
Described as "a pop-up experience for dogs and the humans who love them," Human's Best Friend is coming to the West Village at 15 Seventh Ave. from Sept. 15 through Nov. 12. The dog art gallery was created by award-winning designers Jason Sherwood and Brian Tovar, known collectively as LiveSight, who have wowed humans with their lighting design at the original Museum of Ice Cream, Refinery 29's 29Rooms and more.
Their first venture into the canine art world, Human's Best Friend, is made up of eight "technicolor environments" with lots of playground elements meant to be enjoyed with your four-legged bestie, with themes like The Backyard, The Dog House, The Toy Pit, The Water Bowl and The Bone Yard.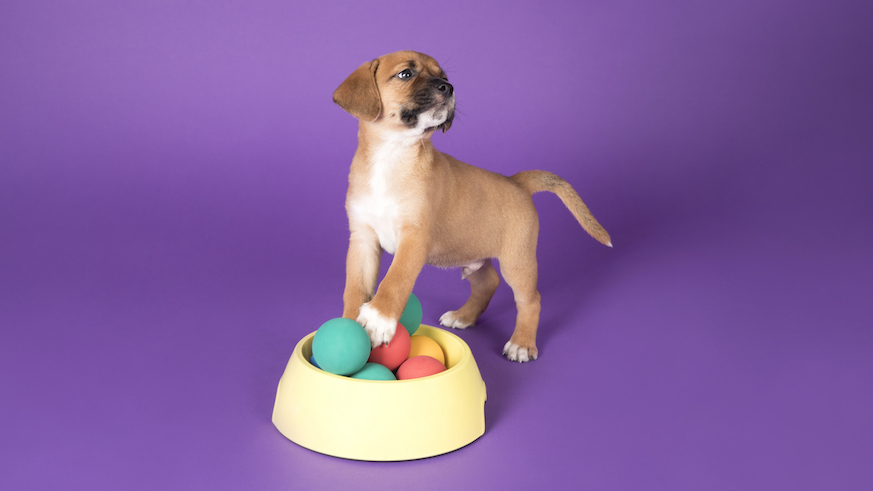 Don't have a furry friend of your own? Meet adoptable pups from one of six local animal rescue organizations: Second Chance Rescue, Animal Haven, Bideawee, Rescue City, Badass Brooklyn Rescues, The Sato Project, Muddy Paws, and Hearts and Bones. These groups will also receive 10% of the profits from the pop-up.
"As lifelong dog lovers, we're thrilled to unleash our vision for a canine-centric experience that's both fun and purposeful," the co-founders said in a statement. "Human's Best Friend aims to surprise and delight both pets and owners, and also shine a light on the joys of adopting rescues."
This is not the first dog art gallery in NYC
Human's best friend is only the latest pop-up to cultivate our pooches' art appreciation. Last summer, a doggie art gallery called Dogumenta popped up along the Hudson River at Brookfield Place. Pups could lounge on purple velour couches, contemplate modern art inside doghouses and splash in geometric pools.
And of course, every year after the humans have their turn on the catwalks of New York Fashion Week, the pooches take the spotlight at the New York Pet Fashion Show.
Human's Best Friend runs from Sept. 15-Non. 12 at 15 Seventh Ave. The gallery is open Wed-Thurs noon-9 p.m. and Fri-Sun 10 a.m.-9 p.m. Tickets are $39 with one dog, $29 without, and free for kids under 2, on sale now at humansbf.com