Whether winter bows out or now, baseball season starts March 29 — and Citi Field is ready.
The Mets face off against the St. Louis Cardinals at home for their season opener in a stadium that's offering more ways to watch the game to suit fans' desire for a more social experience.
"Our fans experience the game differently in 2018," says David Newman, senior vice president of marketing and communications for the Mets. "These social environments are critical to the growth of our game and this baseball park."
Whether it's upgrading the experience of its highest rollers or creating new ways to watch the game, not to mention giving away the most free swag ever, here's what's new at Citi Field for 2018. Don't miss our top picks for what to eat during the game, too!
New social seating zone with unlimited beer
Citi Pavilion got a major makeover, most notably getting its own bar with all the Bud Light you can drink (responsibly), as well as soft drinks from an hour before the game until the seventh inning. The right-center field lounge now has $120-$200 tickets for 60 seats — which swivel for a more social experience — and 32 standing-room fans, who have access to high top tables, drink rails and benches, similar to Yankee Stadium's Batter's Eye Deck in center field.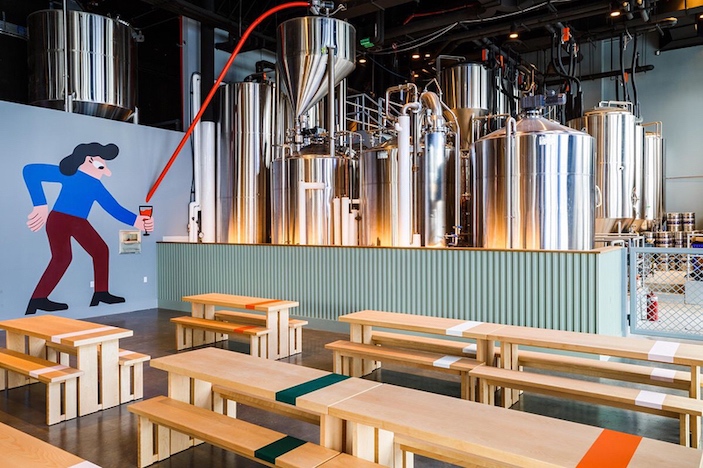 The ballpark gets its own brewery
Citi Field's reputation as a haven for craft beer lovers will grow by an entire brewery this season. Mikkeller, the Danish brewer beloved by serious beer nerds (and recently film nerds for their Twin Peaks-inspired collaboration with David Lynch) is opening a brewery tucked behind the stadium's right field. Visitors will be able to see all the fermentation tanks, where they'll brew many of the 60 varieties of beer on tap (several of them baseball-themed), plus a restaurant, all accessible without a ticket.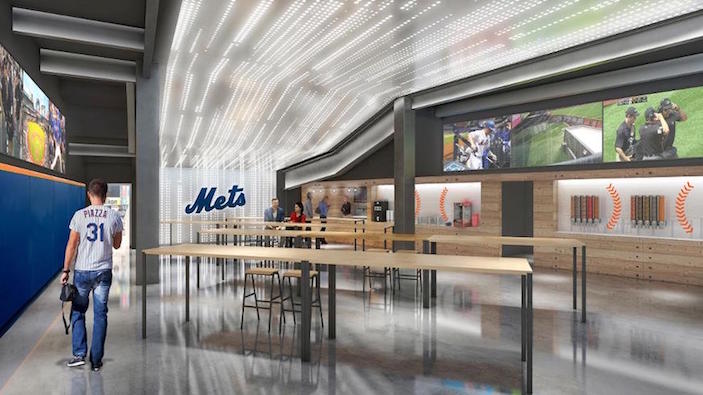 The best seats just got better
The Delta Lounge is no more — it's been revamped into the 2,200-square-foot First Data Club. Limited to the 400 seats in six rows behind home plate, the club has doubled in size and offers perks like free food not available anywhere else in the ballpark, like fresh-baked pizzas by Nicoletta by chef Michael White and its own bar. If you do want something else from the ballpark, you can have it delivered right to your seat.
More specialty liquor lounges
Cocktails continue to muscle in on what used to be solidly beer territory. Jim Beam is expanding its presence at the ballpark after opening the large open-air Bourbon Bar in the Fan Fest zone last season with the Highball Club. Located on the Promenade Level behind home plate, the signature drink will be a machine-made mix of highly carbonated soda and whiskey, served in a subway-tiled lounge.
Also stepping up to the plate if Effen Vodka, which will open a branded bar on the Exelsior Level's third base side, featuring the Effen Orange Crush cocktail as a nod to the Mets.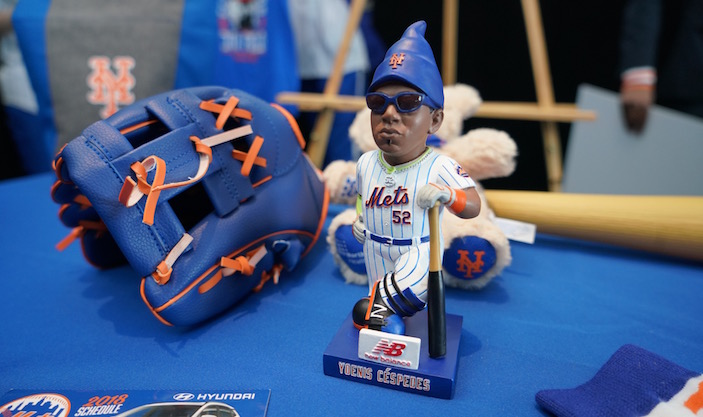 More free swag than ever before
This season, the Mets will give away over 1 million hats, T-shirts, fanny packs, bobbleheads, toys and more to fans on game days, more than they ever have before. Mark your calendars for some of the most coveted items: Build-a-Bear teddy (March 31, first 15,000 fans), Yoenis Cespedes garden gnome (May 5, first 25,000 fans), Home Run Apple Figurine (June 23, first 25,000 fans) and, returning for its second year, the Noah Syndegaard as Thor bobblehead (Aug. 4, 25,000 fans). And, of course, every fan gets a uniquely designed shirt on select Free Shirt Fridays.
When players Hit the Sign, fans win
In a new partnership with the New York Lottery, if a Mets player hits a special sign in right field, one lucky registered fan will win a starting jackpot of $10,000 on opening day (you don't need to be present at the game to win). That rises by $5,000 every game a Mets player doesn't hit the sign, for a potential $410,000 jackpot by season's end — so you're rooting for them either way.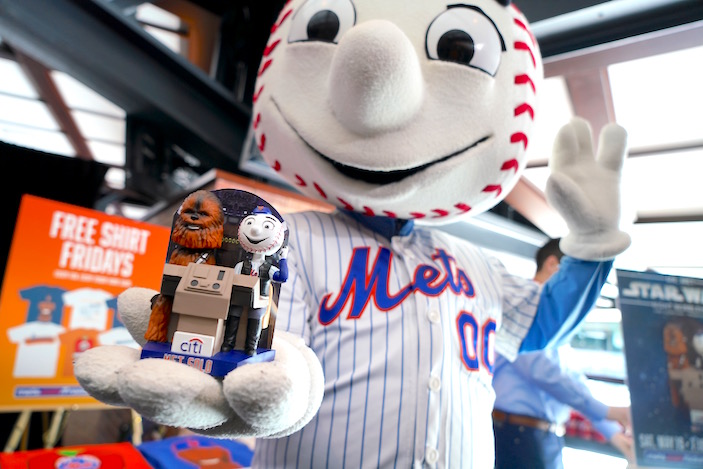 Star Wars lands at Citi Field
The team was already in with Disney on the Thor bobblehead of pitches Noah Syndegaard, so they've expanded that partnership to Star Wars. Ahead of the new Han Solo movie coming out in May, the Mets will give away a bobblehead featuring Mr. Met dressed as the hero sitting next to Chewbacca at the console of their ship, the Millennium Falcon. Be one of the first 25,000 fans on May 19 to get yours.
Bobbleheads go digital
The Mets embraced the Pokemon Go craze back in July 2016, hosting a Battle Night before the Mets-Cardinals game. This year, they're officially the first major league team to launch augmented reality add-ons to their bobbleheads, which are given away to fans. Using the Ballpark app, the bobbleheads "come to life" with a video message.