A lot of shows are getting a second wind. The Hills is coming back to MTV (minus leads LC and Kristin Cavallari), Will and Grace's sophomore revival season is hitting screens this fall and talk of a potential Gilmore Girls: A Year in the Life 2 has fans ready to head back to Stars Hollow for a cup of joe at Luke's. You can add a Veronica Mars reboot to that list, too.
Entertainment Weekly reported in August that arrangements for a Veronica Mars reboot were in the works for months between Warner Bros. and Hulu. And now, Hulu has officially announced that the revival is a done deal. 
Kristen Bell, who starred as Mars in the 2004 to 2007, three-season TV show, and creator Rob Thomas raised money to make a Veronica Mars sequel movie. The film came out in 2014.
Here, the fearless "sleuth" is all grown up, ready to leave her detective ways behind her, when she's ultimately called back to do what she does best: solve the unsolvable. 
In 2016, TVLine reports that Bell and Thomas were eyeing a limited-series reboot. "We are definitely striving to do it again… And this time around, we're not going to ask the audience to pony up for anything," Bell said at Comic-Con that year.
She took to Instagram to announce the revival news: 
Here's everything we know about the Veronica Mars reboot so far.
Veronica Mars reboot plot
The original series follows Mars, whose group of popular high school buddies kick her to the curb after her best friend (played by Amanda Seyfried) is murdered (yeah, talk about drama). She proceeds to solve mysteries in her California town, including who killed her friend, as a private investigator for her father's detective agency. She's basically like an edgier version of Nancy Drew with tougher skin and snarky comebacks. 
"Once she lost that [popular] status and she went on the outs, I wanted her to become the hero of the working class," Thomas told the Washington Post.
Mars goes to college and continues to solve crimes. 
The Veronica Mars reboot will reportedly pick up where the crowdfunded movie left off and will consist of eight one-hour episodes.
Thomas tweeted in regards to the news, "I will say this: the movie was nostalgic. The Hulu limited series isn't going to be. Hardcore So-Cal noir. One big case. Eight episodes to tell the story. This is a detective show."
The reported logline for the series, via Entertainment Weekly, reads as follows: "Spring breakers are getting murdered in Neptune, thereby decimating the seaside town's lifeblood tourist industry. After Mars Investigations is hired by the parents of one of the victims to find their son's killer, Veronica is drawn into an epic eight-episode mystery that pits the enclave's wealthy elites, who would rather put an end to the month-long bacchanalia, against a working class that relies on the cash influx that comes with being the West Coast's answer to Daytona Beach."
This investigation will include a "fallout between the affluent and working-class residents."
We're just as excited as Bell and Thomas are here: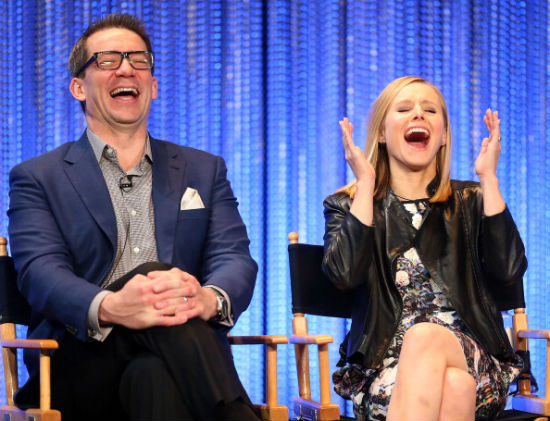 Veronica Mars reboot cast
EW reports that the Veronica Mars revival will not interfere with Bell's commitments to The Good Place. She's the only person locked in at this time. 
Enrico Colantoni will play Veronica's dad Keith, and J.K. Simmons will play Clyde Prickett, an ex-con who served 10 years for racketeering. Other confirmed cast members include Jason Dohring (Logan Echolls), Percy Daggs III (Wallace Fennel), Daran Norris (Cliff McCormack) and David Starzyk (Richard Casablancas).
Per EW, Dawnn Lewis will play police chief Marcia Langdon, Patton Oswalt will play "best pizza delivery guy in Neptune" Penn Epner and Kirby Howell-Baptiste will play Neptune nightclub operator Nicole. Clifton Collins Jr. will depict cartel hitman Alonzo Lozano and Izabela Vidovic will depict grieving resident Matty Ross.
Veronica Mars reboot trailer
The trailer for this Veronica Mars reboot won't be available until production begins.
For now, watch the trailer for the 2014 movie below:
Veronica Mars reboot release date
The Veronica Mars revival will premiere in 2019, but there isn't an exact release date yet. 
A Warner Bros. rep tells us they don't have any further news, and we've contacted Hulu for more information. Check back in with Metro, as we'll be updating this once details are made available.