Fans of HBO's award-winning and already legendary series Big Little Lies have been clamoring for new episodes ever since it aired back in 2017. So what is going on with the show right now? Here is everything we know about Big Little Lies Season 2.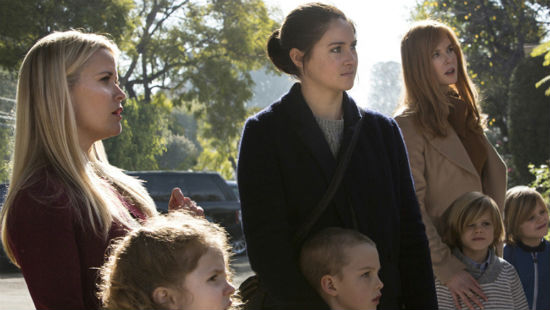 [Photo: HBO]
When does Big Little Lies Season 2 Premiere?
There is no clear premiere date for Big Little Lies Season 2 but count on it being at some point in 2019. In an interview with Vulture, HBO programming chief Casey Bloys said that the show would be "impossible to get on in 2018." What we do know, is that the show had started filming already back in March as some of the stars had shared some photos from the set on Instagram.
Who will be in the cast of Big Little Lies Season 2?
The entire cast from the first season will be returning for Big Little Lies season 2 — except for that guy who got pushed down the stairs, of course. That means that Reese Witherspoon, Shailene Woodley, Nicole Kidman, Laura Dern, Zoe Kravitz, and Adam Scott will be reprising their roles.
For those of you who haven't see the first season… we'll let you sort out who isn't returning given that information.
The big news regarding Big Little Lies Season 2 is that none-other than Meryl Streep will be joining the cast. If the world's greatest living actor joined a show like Real Rob it would be considered an exciting event. But now that she has joined Big Little Lies, the show has become like the Golden State Warriors of TV acting ensembles. With that much talent, it's just unfair.   
What will Big Little Lies Season 2 be about?
A lot of people were confused about the news that Big Little Lies Season 2 would continue where the last season (and book) left off. But in a recent interview with Hollywood Reporter, writer and showrunner David E. Kelley explained that with the participation of novelist Liane Moriarty, the show will explore some interesting new territory.
"We wrote it as a one-off and we ended it in a way that was very lyrical. But we ended on a lie. I get so protective of characters and series, too, that I don't want to damage them in any way, and I so loved how we ended year one and I thought, 'Let's just leave it at that,'" he explained. Adding "Liane [Moriarty, author of the novel Big Little Lies] wrote a novella of [new] stories and most of them we're using. But the genius one was introducing this character who's being played by Meryl Streep. It's a delicious character and I felt bringing her in was both liberating and daunting."   
So with Moriarty so closely tied to Big Little Lies Season 2 and David E. Kelly back writing the scripts, let's hope that the second season doesn't go all True Detective on us. Yeah, Nic Pizzolatto. We remember.  
Is there a trailer for Big Little Lies Season 2?
There is no trailer for Big Little Lies season 2 yet. But in the meantime, enjoy this photo of Reese Witherspoon's character getting ready to throw a big ice cream cone at Meryl Streep's head someone was able to post on twitter.
I am praying Reese pelts Meryl with that ice cream. #BigLittleLies pic.twitter.com/zA91wN9CyP

— Matt ?? (@mattybooz) August 1, 2018