"GLOW" (premiering this Friday, June 23) tells the heartbreakingly human and heart wrenchingly funny story of the Glorious Ladies of Wrestling — inspired by a real-life show of the same name that ran from 1986 to 1989.
It's a classic band of misfits story, set in the '80s, with hurdles that are as at home in that decade as this one. It stars Alison Brie as Ruth, at long last commanding a show of her own. An out of work actress, Ruth answers the casting call for "GLOW," and instantly takes her tenacity and can-do attitude to learning the lost art of wrestling. 
The ten episode series that results is both a loving and critical gaze on the decade. "GLOW" wastes no time, tackling racial boundaries and hurdles of sexism from the get go. 
At its center, the show explores the fight for identity: Each wrestler is given a persona that riffs off of cultural stereotypes. The big black woman is the Welfare Queen. The Indian-American is Beirut, a Lebanese terrorist. And Ruth, well. Ruth, after a handful of episodes, discovers an identity all her own that we won't spoil here. But trust, it similarly lacks in political correctness.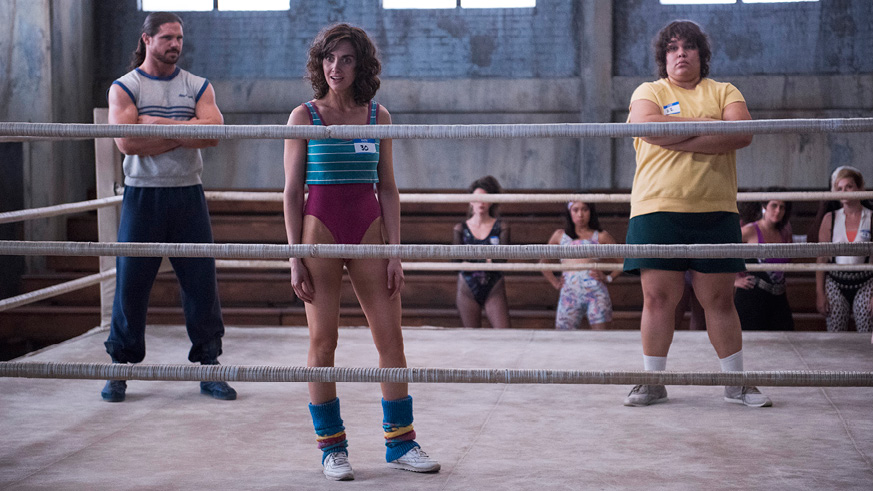 For what it's worth, Alison Brie is a very strong lead. (Light spoilers ahead.) In any other show, Ruth might be the antagonist. She sleeps with her friend Debbie's (Betty Gilpin) husband, and the consequences follow her throughout the series. In someone else's hands, "GLOW" would be from Debbie's perspective, following her on a journey of forgiveness and acceptance, reclaiming herself as a new woman. But it isn't any other show. 
Part of that is because of the women behind it. When  "GLOW " reminds you of "Orange is the New Black," that's because Jenji Kohan, the creator behind "OITNB" is the executive producer; and one of the showrunners, Carly Mensch, is an "Orange" alum.
Perhaps because of that influence, the show repeatedly asks this question: Are these women reinforcing the stereotypes forced on them by society, and by Sam Sylvia (a delightful, coked out Marc Maron), a B-movie writer/director turned prospective women's wrestling show director? ? Or are they making them their own?
Unlikely bonds are formed and the tangle of the relationships between women is tirelessly explored, making "GLOW" a very enjoyable show. And perhaps most importantly, it will make you thankful that the time for spandex leotards is long gone.
Watching Brie's vulnerable, overachiever Ruth — a character who is oftentimes frankly, the worst — also may make you wonder, why she didn't get her own leading role sooner.
Follow Rachael Vaughan Clemmons on Twitter — @rachaelclemz