Pepperidge Farm is voluntarily recalling four varieties of Goldfish crackers due to the risk of Salmonella in a key ingredient: whey powder.
The recalled items, which were distributed throughout the U.S., include: Flavor Blasted Xtra Cheddar, Flavor Blasted Sour Cream & Onion, Goldfish Baked with Whole Grain Xtra Cheddar and Goldfish Mix Xtra Cheddar + Pretzel. You can view the full list of packaging details for affected varieties of Goldfish crackers on the Pepperidge Farm website.
Pepperidge Farm advises consumers to discard of any products being recalled and is offering a full reimbursement for these Goldfish crackers.
"Pepperidge Farm has been notified by one of its ingredient suppliers that whey powder in a seasoning that is applied to four varieties of crackers has been the subject of a recall by the whey powder manufacturer due to the potential presence of Salmonella," reads a news release statement.
The recall was initiated after an investigation and "out of an abundance of caution."
No illnesses have been reported, and the company states that no other Pepperidge Farm products in the U.S. are subject to this recall to avoid any risk of a Salmonella outbreak.
View Pepperidge Farm's full statement below: 
Please take a moment to read this important message regarding four varieties of Goldfish crackers and our voluntary recall decision. For more information visit: https://t.co/Z3NHVJ2k65 pic.twitter.com/tmYvbgAU1I

— Pepperidge Farm (@PepperidgeFarm) July 23, 2018
Similar recalls due to potential Salmonella contamination
This Goldfish crackers recall comes two days after Mondelēz Global recalled 16 varieties of Ritz crackers for the same reason: their supplier recalled the whey powder used in their products. Mondelēz Global told Metro at the time that they took "this step as a voluntary, precautionary measure."
When asked if there was a link between the two instances, a Pepperidge Farm representative told Metro they are unable to disclose the supplier name, nor are they able to comment on the retraction of another company's products.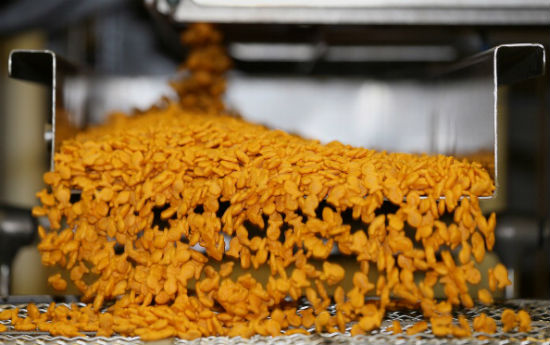 Last month, Kellogg's recalled Honey Smacks cereal after it was linked to a multi-state outbreak of Salmonella.
On July 12, the FDA warned that retailers still "cannot legally offer the cereal for sale and consumers should not purchase Kellogg's Honey Smacks cereal." They are continuing to monitor the situation.