The romaine lettuce E. coli outbreak is still top of mind for many of us, but people are also getting sick from tainted eggs. The salmonella outbreak — first announced in April — has affected 35 people across nine states, with 11 hospitalized, according to the Centers For Disease Control and Prevention.
In April, North Carolina egg producer Rose Acre Farms issued a voluntary recall on over 206 million eggs due to contamination concerns. The eggs — distributed between January 11 and April 12 to stores in nine states — were affected by both rodents and improper employee hygiene.
According to the U.S. Food and Drug Administration, a March inspection at the farm noted more than a dozen rodents. Farm employees also touched dirty equipment and their bodies without first washing their hands.
Why is a salmonella outbreak dangerous?
Unlike the romaine E. coli outbreak, there have been no deaths reported with the Rose Acre Farms salmonella outbreak. That doesn't mean salmonella isn't dangerous, though.
Symptoms of salmonella poisoning include (sometimes bloody) diarrhea, stomach cramping and fever. Though uncomfortable and unwanted, salmonella poisoning typically doesn't need medical treatment and goes away within a week.
Some salmonella outbreaks do turn deadly: About 450 people die from salmonella every year (out of 1.2 million cases), according to the CDC. The immune system typically stops salmonella when it reaches the intestines, but it does cause sepsis in some people.
Barbara Pruitt was one of those women. The Oregon woman almost died after being infected in a 2009 salmonella outbreak.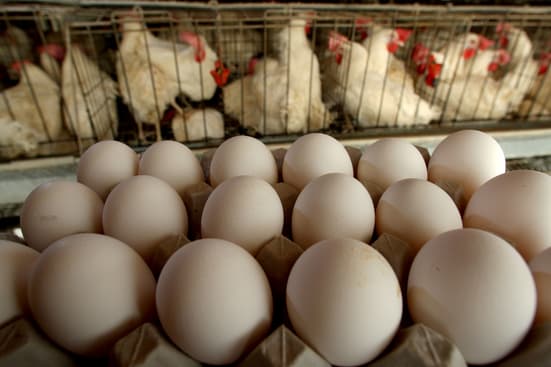 "I walk, talk and breathe medical issues all the time," she told CNN. Her symptoms started like other cases of salmonella, but worsened until she was hospitalized with septic and tachycardia (a rapid heart rate).
Doctors later determined Pruitt was poisoned by salmonella typhimurium from lettuce. She eventually had to have part of her small intestine removed and lost 40 pounds within the span of a couple weeks.
The salmonella poisoning had long-term effects, too.
"My whole day revolves around dealing with my medical issues or us working around my medical issues," she told CNN at the time. "We now plan how I can participate rather than focusing on the enjoyment of anything that we would like to do."
Salmonella outbreak 2018: Which eggs are recalled?
You can find out which eggs are recalled by visiting the FDA website's recall page.
All of the affected eggs were produced by Rose Acre Farms and repackaged under other brand names, including Great Value, Food Lion, Country Daybreak and more. The FDA recommends that you throw out any eggs that could be affected by the outbreak, or return to the store for a refund. You can also call 1-888-SAFEFOOD for more information on the salmonella outbreak.