Despite the fact that Harry Potter is a fictional character in a best-selling series about magic, butterbeer and defeating "He Who Shall Not Be Named," (AKA, Lord Voldemort — there, I said it) the world's favorite wizard still has a birthday. It's today, July 31, but how old is Harry Potter?
Do the math: How old is Harry Potter?
How old is Harry Potter, exactly?
One Metro staffer guessed 33. Another guessed 39. A third hit the nail on the head: 38.
As she explained, "If he was 12 when he went to Hogwarts [for the 1991-1992 school year], then he's 38."
She is correct. How old is Harry Potter? Today he turns 38.
Metro UK notes that you can also calculate the age of the "Boy Who Lived" based on a clue from Harry Potter and the Chamber of Secrets.
"Nearly Headless Nick, played by John Cleese in the films, was celebrating the 500th anniversary of his 'deathday' following his demise back in 1492," Metro UK writes. "This means that the Chamber of Secrets was set in 1992, and with Harry being 12-years-old in the book, he must have been born in 1980."
Harry Potter shares a birthday with the woman who penned him into existence, J.K. Rowling. Today she turns 53.
Fans took to Twitter to wish Rowling and Harry Potter a "Happy Birthday".
Happy birthday!????????? Thank you for giving us the gift of Harry and his world? I hope your day is marvellous and this new year of your life is blessed, Mrs. Rowling!???

— Hannah (@HannahHobbit6) July 31, 2018
And all across the world, we raise our glasses to the boy who lived and his author. For teaching us how to battle any dementor, death eater, or dark wizard we face. For reminding us that love is the best magic of all. Happy Birthday Harry! Happy Birthday, @jk_rowling!

— Natalie Lloyd (@_natalielloyd) July 31, 2018
HAPPY BIRTHDAY TO THE ONLY MAN IN MY LIFE WHO HAS BEEN THERE FOR ME THROUGH EVERYTHING I LOVE YOU Harry Potter #HappyBirthdayHarryPotter

— kelsey darragh (@kelseydarragh) July 31, 2018
Need a way to celebrate this year? Maybe binge-watch the films or reread the original seven books. Perhaps buy some Harry Potter décor or tickets to see Harry Potter on Broadway, what's being considered the eighth story in the series.
As it turns out, Jamie Parker, the actor who plays grown-up Harry Potter in the Tony-winning "Harry Potter and the Cursed Child," is 38 too (though he'll be 39 in August).
A Metro staffer (the same one who correctly guessed Harry Potter's age) wrote upon meeting Parker, "He, too, went to boarding school at age 12 in Scotland, where Hogwarts is located somewhere in the Highlands. They even had similar round glasses."
Here he is with costars Noma Dumezweni (Hermione Granger) and Paul Thornley (Ron Weasley):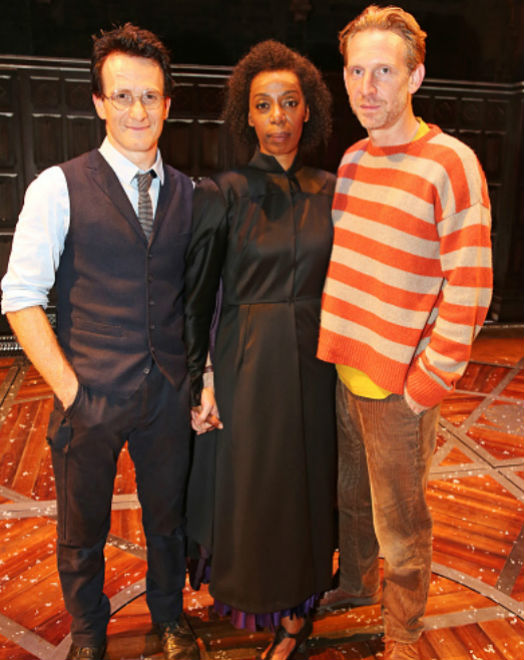 So, how old is Harry Potter? He's 38, but he'll forever be the boy who grew into his destiny and taught us how to conquer ours — because, even without magic, us Muggles can still defeat evil and make extraordinary things happen.