Even if you don't factor in all the political controversy surrounding the Olympic skier, the past few months could easily make you wonder is Lindsey Vonn going to the Olympics?
As recently as December, Vonn was nursing an injury — for which she was using her sweared-by cheese poultice — and had to pull out of the World Cup Super-G race in Switzerland. That's a serious problem considering she's training for the 2018 Winter Olympics in PyeongChang which are rapidly approaching.
Though she doesn't really have time for injuries, or the treatment necessary to heal from them, injuries sure do seem to like Lindsey Vonn.
Vonn's been competing at the Olympic level since she was just 17 at the Salt Lake City Olympics in 2002. Now at 33, injuries mean more of a set back for the four time World Cup champion alpine ski racer. But will the most recent injury keep her from making an appearance in PyeongChang? (We won't go into whether that cheese poultice is actually working or not.)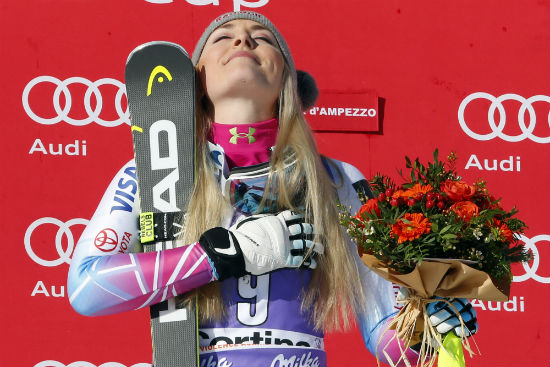 So, is Lindsey Vonn going to the Olympics?
As of publication time for this article, all signs point to yes. Just five hours ago an optimistic post appeared on the Lindsey Vonn Instagram account chronicling the skier's recent training success and excitement for the Games. "Happy with my skiing today and had a lot of fun," the Olympian wrote. "It was nice to have the fastest run in super-g and now I have a little more confidence in slalom." (NOTE: Slalom is a ski event in which competitors navigate a winding path riddled with obstacles that are usually flags or poles.)
Vonn concluded her post with a comment that seemed directed specifically at everyone wondering is Lindsey Vonn going to the Olympics: "I'm on a good track for the Olympic combined now." Now she just has to avoid injury for a couple more weeks.
A post just yesterday on Lindsey Vonn's Instagram pointed in the same direction. She shared a side-by-side image of her 17-year-old self before her first Olympic games in 2002 next to her current-day self at 33, and wrote that she's "so proud to be representing our country one more time" in "what will probably be [her] last olympics." So it seems you can stop wondering is Lindsey Vonn going to the Olympics — for this go-round at least. 2022 is another question entirely.