Curling is basically shuffleboard on ice. And if you need a reason to watch this year, we'll give you one that you may not have been expecting: pants…of the crazy variety.  
Curling has been featured in the Winter Olympics since 1924 but didn't officially join the Olympic program until 1998. For everything you need to know about the sport, you can check out Metro's guide to curling. 
The Norwegian men's team first debuted their crazy curling pants at the 2010 Vancouver Games. When a supplier shipped them the wrong uniforms weeks before the Olympics, the men did what any frantic, pants-less person would do: they turned to the Internet.
What they got added some flair to their country's colors: a red, white and blue argyle pattern that stood out from what's typically worn on the ice. And these crazy curling pants immediately drew media attention.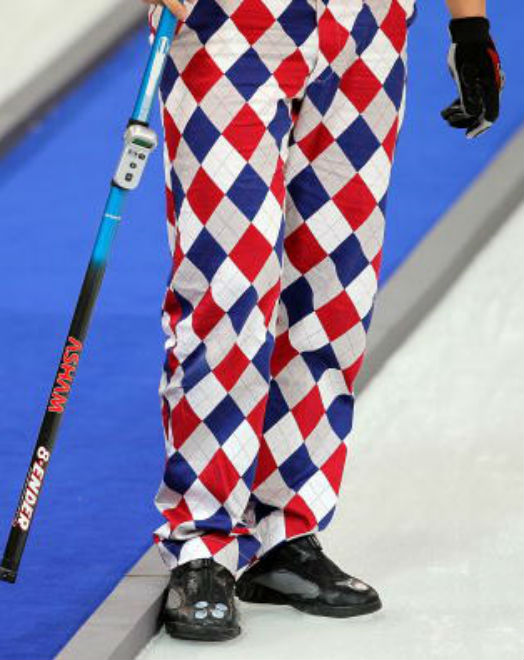 As soon as the team (and their pants) got traction in Vancouver, a Facebook fan page was created. Entitled "The Norwegian Olympic Curling Team's Pants," (because the colorful garments obviously need their own Facebook page) it now has almost 500K likes and over 400K followers.
According to TIME, Loudmouth, the global golf brand that makes these pants, saw a 40 percent increase in sales post-Vancouver, where the Norwegian team won silver. Loudmouth proceeded to sponsor them at the 2014 Sochi Games, and a tradition was born.
"It was enough to cause a stir in the curling world," Tony D'Orazio, a curler from New York who created the fan page, told The New York Times before Sochi. "For them to do what they did in 2010, it was revolutionary to curling. It took the traditions of the sport and re-energized it for a new generation."
"Curling is kind of similar to golf, very traditional," team member Christoffer Svae told NBC. "When we started playing in colored pants, it was breaking tradition. It was turning heads, for sure."
Svae and his team members — lead Haavard Vad Petersson, vice-skip Torger Nergaard and skip Thomas Ulsrud — have one rule: they all need to wear the crazy curling pants together, never alone. (Again, if you're completely lost, check out Metro's guide to curling or this 90-second Olympic curling video for beginners.)
"It's huge," Svae, the team's second, said of their sponsorship with Loudmouth. "We get funding from [them] to cover travel expenses, and also the fame we get from the Loudmouth clothes get us other sponsors in Norway, because they want to be associated with the brand we've made." And they've branded themselves all right. 
Though they didn't make the podium in Sochi, the team is back for the PyeongChang Games with 12 different outfits, and they previewed one of these patterns last month: 
They made their PyeongChang debut in a match against Japan on Feb. 14 — and their wardrobe of choice featured (you guessed it!) Valentine's Day pants. It was all about the hearts, and we're in love.
Pulling up their pants and their pride, this Norwegian team is ready to curl it out on the ice for an Olympic gold. 
Click through the gallery above to see more of these crazy curling pants from the Sochi and PyeongChang Games.
Click here for the PyeongChang curling schedule.