For over 20 years, coffee aficionados have clutched Starbucks holiday cups close to brave the winter cold.
This year, Starbucks is introducing four holiday cups it says are an ode to the company's heritage.
Starbucks holiday cups: A walk down controversy lane
In a company post about holiday cups since their 1997 launch, Starbucks writes, "Passions for the cup have run so high that even the design could become controversial."
It points to 2015 when some customers complained that the cups, plain red without holiday symbols, weren't "Christmas-y" enough.
One Twitter user wrote at the time, "Challenge Accepted! Let's put Christ back in Christmas! #MerryChristmasStarbucks."
Trump even said during his campaign for the 2016 presidential election (which focused on, for one, the "war against Christmas") that Starbucks was a culprit of reining in Christmas rhetoric.
"I have one of the most successful Starbucks in Trump Tower," he declared at a November 2015 rally. "Maybe we should boycott Starbucks? I don't know. Seriously, I don't care. That's the end of that lease, but who cares?"
According to the New York Times, Starbucks said that it had wanted to "create a culture of belonging, inclusion and diversity," and customers could "tell their Christmas stories in their own way, with a red cup that mimics a blank canvas."
The red Starbucks holiday cups returned in 2016, this time with white designs drawn by coffee drinkers around the world.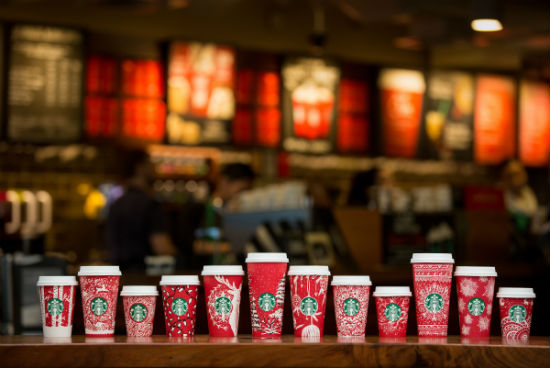 Then, in 2017, Starbucks holiday cups featured a pair of hands connected "with swirling ribbons and splashes of red and green."
The hands were seemingly gender neutral, but an ad for the cups featured a lesbian couple. Some conservative news outlets, such as The Blaze, accused Starbucks of launching a "gay agenda campaign."
"This year's hand-drawn cup features scenes of celebrating with loved ones — whoever they may be," a company spokeswoman told the Times. "We intentionally designed the cup so our customers can interpret it in their own way, adding their own color and illustrations." (I mean, there's no harm in that, right?)
Starbucks holiday cups 2018
According to a company press release, this year Starbucks designers "snipped pieces from Starbucks holidays past – a star, a branch of coffee cherries, a flame. They added doses of vintage colors and patterns, like mint green and argyle and reinterpreted them with graphic flair, and a dash glitter and shine."
The end result? Four cups: Strips, Flora, Espresso Houndstooth and Stargyle.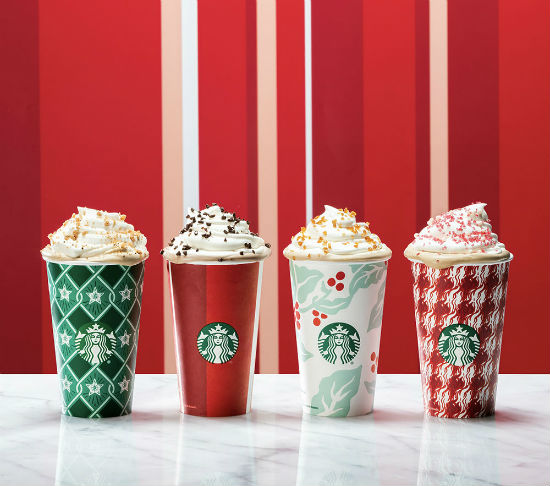 The Strips Starbucks holiday cup features "bright poppy red" and "cranberry" stripes, which pays homage to the sealed seam that runs along the back of Starbucks coffee bags. A ribbon of black, white and green is meant to evoke the feeling of gift giving.
Flora features "mint-green graphic leaves with pops of colorful bright red berries against a cream-colored background." Coffee cherries have adorned Starbucks holiday cups in the past as a festive detail.
For Espresso Houndstooth, Starbucks designers wanted to represent the intense flavor of the Christmas Blend Espresso Roast with the illusion of flames.
Lastly, the Stargyle Starbucks holiday cup showcases green and white company-inspired stars. It pays homage to the first Stargyle design from Christmas Blend 1999.
Some outlets are claiming Starbucks is playing it safe this year. However, chief operating officer Roz Brewer pointed to the fact that the design is more holiday-oriented and told CNN that Starbucks actually "listened to our customers" from last year who "loved the tradition of Christmas." 
A Starbucks spokesperson further elaborates to Metro: 
"We listened to our customers and enhanced the holiday experience to dial-up the festive cheer in our stores. Our customers told us that the return of Starbucks holiday beverages and iconic cups are a signal that the season is upon us and Starbucks kicks off their traditions. Tomorrow we'll unveil our full holiday assortment more than a week earlier than last year when Starbucks baristas will proudly wear their red aprons, holiday beverages will be served in holiday cups, and merchandise will arrive in stores."
When can I get these Starbucks holiday cups?
These Starbucks holiday cups will be in stores starting Friday, November 2 (tomorrow).
Holiday favorites Peppermint Mocha, Toasted White Chocolate Mocha, Caramel Brulee Latte, Chestnut Praline Latte, Gingerbread Latte and Eggnog Latte will also return tomorrow.
In addition, anyone who buys these holiday drinks on November 2 will receive a reusable red cup for free.
Introducing the limited-edition #Reusable #RedCup! Tomorrow (Nov. 2), get yours for free with the purchase of any holiday drink, and celebrate all season long. ✨

(US + Canada, at participating stores while supplies last.) pic.twitter.com/CucF1ksKNH

— Starbucks Coffee (@Starbucks) November 1, 2018
From November 3 to January 7, customers who bring their reusable cup to participating stores after 2:00 p.m. will get $0.50 off their grande holiday drinks.
'Tis the season.