Did you really think that the removal of Ray Ramirez would suddenly reverse the injury fortunes surrounding the New York Mets?
It's time to face it, folks. The Mets are one of the most snakebitten franchises in professional sports and it is continuing through the 2018 season as injuries are already piling up at a severely alarming rate. 
There shouldn't be too much surprise considering this is a common occurrence. Last May, we ran a similar piece titled "Meet the Mess," highlighting the notable stars that were sidelined due to injuries less than two months into the season: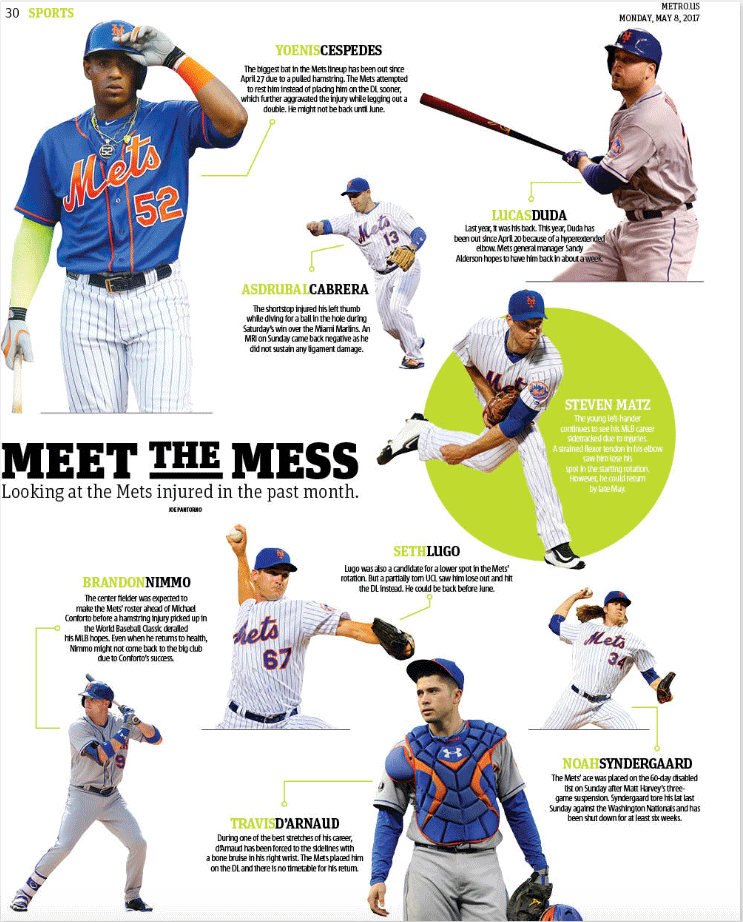 That list seems almost trivial compared to what the Mets are dealing with this year because the list is longer and even more mind-boggling. Especially because the names have piled up over the last few days:
Notable, current injured Mets in 2018
Wilmer Flores- Lower back soreness, 10-day DL (5/28)
AJ Ramos- Right shoulder strain, 10-day DL (5/27)
Noah Syndergaard- Strained ligament in right index finger, 10-day DL (5/26)
Juan Lagares- Left toe surgery, out for season (5/18)
Yoenis Cespedes- Strained right hip, 10-day DL (5/14)
Hansel Robles- Strained right knee, 10-day DL (5/9)
Todd Frazier- Strained left hamstring, 10-day DL (5/8)
Travis d'Arnaud- Torn UCL in right elbow, 60-day DL (4/9)
Anthony Swarzak- Strained left oblique, 60-day DL (4/1)
David Wright- Persistent shoulder and back issues, 60-day DL (3/26)
TJ Rivera- Right elbow surgery, 60-day DL (2/14)
There is a chance that pitcher Steven Matz might be added to the injury party after he was removed from Tuesday night's game against the Atlanta Braves due to a finger injury sustained while swinging a bat. Matz had been dealing in the month of May, posting a 2.25 ERA in five starts.