Most people would be ecstatic if Michael Caine was cast to play their father in a movie.
But it turns out that the daughter of Brian Reader, the ringleader of the Hatton Garden robbery, was horrified to learn that the acting icon would play him in the film.
Why? Because Caine was too common. 
Was Michael Caine too common for King Of Thieves?
"We got word to Brian Reader's daughter and commented that Michael Caine was going to play him," Writer Joe Penhall tells Metro. "And she was quite horrified. She thought Michael Caine was far too common,  too coarse."
"To be fair, there was a lot of talk about how eloquent and refined Brian Reader was. He came from, his wife came from Dulwich in London and he lived in Black Heath and had a nice big house. So they really didn't see him as a cockney barrow boy like Michael Caine."
During his extensive research for King Of Thieves, which included extensive transcripts from Scotland Yard, Penhall learnt that the criminals saw themselves as actors in their own story. 
"They often talk about how they all thought that one day they'll be a book or film about them. They were very self-aware as most people are these days of their myth and how it would play publicly. So the Cinematic meta playing around in the film is really there because these guys said that they were in a film and saw themselves as film stars."
"They were very self-aware and I think what we are trying to do is play with that dynamic.In their heads, these old men, who are mostly diabetic or disabled driving around in naked old cars. In their heads they were driving around in Jaguar Mark Xs, speeding around the streets of West London in a heist film of their own imaginary confabulation. 
But did Penhall speak to anyone else close to the Hatton Garden robbers during his research for King Of Thieves?
"I spoke to people close to them. I spoke to Duncan Campbell, the Guardian journalist, who actually knew the family and knew Brian Reader quite well. So as well as being a journalist he kind of became an associate of the gang or a friend of the gang."
"He introduced us to Huey Doyle, who was a minor member of the gang. He served two years, for handling the stolen goods, who kind of gave us information and talked non stop about the exploits as much as he knew."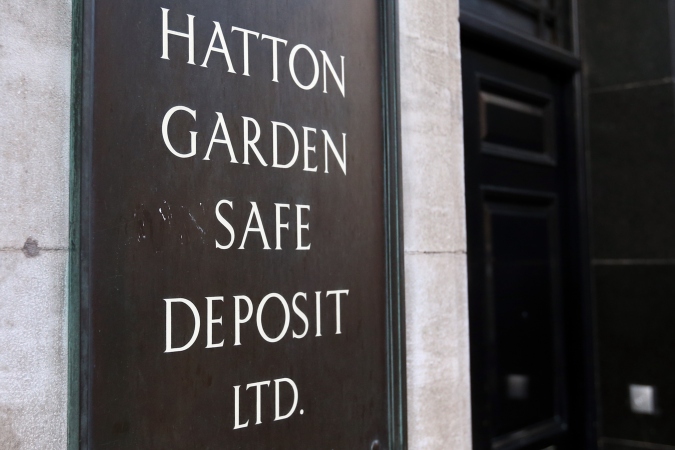 Unsurprisingly Ray Winstone, who is about as London as they come and stars as Danny Jones in the heist crime film, found out he had a connection to the thief he was portraying. 
"You probably won't be surprised to hear that Ray Winstone actually went to school with one of the gang. Most English villains Ray knows. He knew Danny Jones and he went to visit him in jail a couple of times and got his pretty unreliable version of events."
"So by in large, we actually got reasonably close, we actually got as close as you would want to get before they start becoming a nuisance."
King Of Thieves is in theaters and available on VOD Jan. 25.