WARNING: There are SPOILERS ahead for King Of Thieves. So please don't read ahead if you're yet to see the retelling of the Hatton Garden robbery.
At the end of King Of Thieves only one of the thieves manages to avoid being arrested for the Hatton Garden robbery.
Just like in real life, Brian Reader (Michael Caine), Terry Perkins (Jim Broadbent), John Kenny Collins (Tom Courtenay) and Danny Jones (Ray Winstone) are convicted and sentenced to seven years in prison in the film, while the mysterious Basil, played by Charlie Cox, leaves the country. 
Who is Basil from King Of Thieves?
There has been rampant speculation over Basil ever since the crime was committed in April, 2015. Even the arrest of 57-year-old Michael Seed in March, 2018, hasn't extinguished the speculation over who exactly was Basil. 
"We didn't really know anything about Basil," admits Cox. "Even the bits of information that we had there was always someone in the research team saying, 'Yeah but we don't actually know if that's true.' Or, 'We don't think that's true.' It's still bizarre to me that in all of the transcripts, none of the guys, they all refer to this guy Basil but they don't know his name." 
"I don't know how that, either they don't know his name or they don't want to give up his name, no one really actually knows, and there's a bit in the end of the film where it says Basil stands for Best Alarm Specialist in London but we discovered that after we finished filming."
"During the filming our understanding of the reason they called him Basil was because he spoke a bit posh, like Basil Brush, which is what we put in the film. So really with Basil there was very little to go off of."
"We didn't know his age, we knew that there were images of him, so we knew what he wore on the night of the robbery, and we knew he had long red hair, but everyone thought that was a wig, it was a disguise. That is one of the reasons he kind of got away because he was the only one who wore a disguise on the night." 
That meant that Cox could interpret the character in King Of Thieves in any way that he desired, which meant figuring out how Basil ended up working alongside these elderly thieves. 
"The way you explain him being there is somewhere in along the lines of he's very capable but he also doesn't have mates of his own, he doesn't have anyone he can take this job to because no thieves his age trust him. I just stumbled across this idea that, this guy is someone who is totally capable but he has no people skills."
"Even in the criminal world, if you haven't got any charisma, people don't trust you. He doesn't, he's kind of an untapped resource because he isn't capable and he is completely uncomfortable with any other human being, so that no one wants to kind of get in the bed with him. He's a weirdo, you can't trust him."
So does Cox believe that Michael Seed is Basil?
"I don't believe they've come to any sort of conclusion with this guy they arrested. I haven't really been following it recently, after the filming of this film, I went straight back into a new season of Daredevil so I kind of lost touch a bit. I don't know where they are in that court case, but from my understanding is they haven't come to a conclusion."
"I heard they charged someone and convicted someone saying he was the guy. I'm kind of just like, everyone I spoke to, everyone we spoke to that had some sort of communication with the criminal underground or whatever you call him, they all say he's dead not alive. And it would be very convenient if he were dead."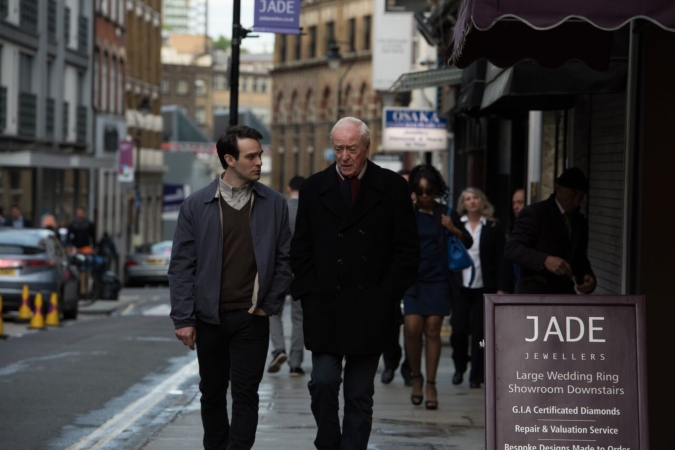 King Of Thieves writer Joe Penhall has also heard the rumor that Basil is actually dead. 
"I've heard from underworld figures that Basil the mystery man is dead," he tells Metro. "I heard that there was a hit out on him. You hear all sorts of things and you can't really control what's going to come out every few months.
There's even more mystery when it comes to the sum of money that was actually stolen during the Hatton Garden safe deposit burglary. 
"I think what people will endlessly bicker about is the sum of money," insists Penhall. "You know Scotland Yard will say £14 million worth of goods was stolen. Underworld figures have said at least £100 million. But a lot of it wasn't insured."
"Underworld people have also said a lot of the money down in the vaults was already stolen anyway, so they couldn't claim and they can't report it."
King Of Thieves is in theaters and available on VOD now.