Have you had a cup of coffee today? Chances are good, according to the National Coffee Association: About 79% of Americans reported having had a cup of coffee the previous day in a 2018 survey. Help raise that number on National Coffee Day 2018, taking place Saturday, Sept. 29 when cafes (and increasingly, cafe-bars) across the city offer free coffee and discounts on all things caffeinated.
Where to find free coffee and other deals on National Coffee Day 2018 in NYC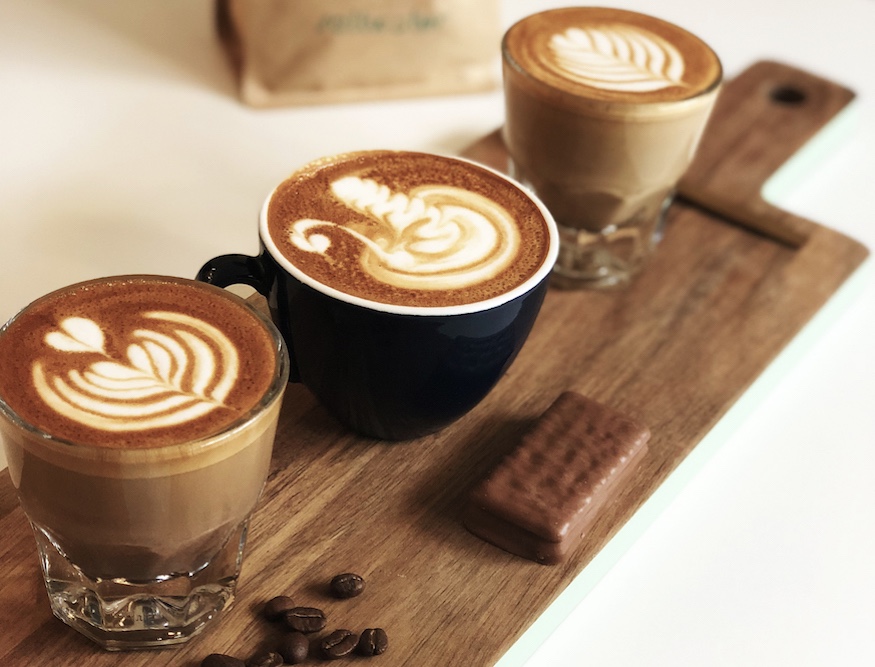 The Flat White Flight at Saltwater Coffee Shop.
This one is a day early for all of you getting out of the city for the weekend. If you're a car2go member, swing by Sweetleaf Coffee on Friday, Sept. 28 from 7-11 a.m. and show your app to the barista for a free beverage valued up to $5. Members who post a photo of their coffee on Twitter, Instagram or Facebook tagged with #car2goperk and #NYC could win $100 in car2go credit. 10-93 Jackson Ave., Long Island City
Find your way to all-day breakfast spot Hole in the Wall for a free large coffee with any purchase on National Coffee Day. 15 Cliff St., Financial District
Bring a friend to Rise Brewing Co., where every coffee-based beverage is buy-one-get-one free at both locations. You can also score 20% off products online with the code NationalCoffeeDay. 87 Orchard St., Lower East Side; 2 Great Jones St., NoHo
Commuters in Penn Station can use all the help they can get. Swing by NYC's lone Krispy Kreme location for a free brewed coffee — they've also created a special coffee-glazed doughnut available only this week. Rewards members also get a free doughnut on Sept. 29. 2 Pennsylvania Plaza
Mediterranean and Middle Eastern flavors meet at Dez, where weekend brunch starts at 10 a.m. with dishes like a cardamom waffle and vegetarian hummus bowl. Rise and shine early on National Coffee Day 2018 to be one of the first 100 brunchers who score a free cup of Devoción drip coffee. 227 Mulberry St., Nolita
If you're one of the Americans who runs on Dunkin' Donuts, any hot coffee will get you another hot coffee of equal or lesser value free.
Free cups of Bulletproof Coffee will be handed out in two locations on National Coffee Day. From 7-10 a.m. in Tribeca at the corner of Warren and Greenwich streets, the brand will have an experimental wellness hub with coffee plus its Vibe Plate and Oxygen Bar. Then from 11 a.m.-3 p.m., players at VR World can keep their stamina up with a complimentary cup.
The farm-to-cup evangelists at Birch Coffee are all about keeping the future of coffee sustainable for everyone from the people who grow it to those who drink it. On National Coffee Day, all 10 Birch shops throughout NYC will offer pay-what-you-please prices for any coffee-based beverage (drip, cold brew and espresso).
Opt for the sweeter side of OddFellows' Coffee & Cream hybrid cafe/ice cream parlor, which will be offering cups of Espresso Soft Serve for $1 all day. 55 E. Houston St., SoHo
Stock up for future caffeine cravings at Peet's Coffee, where one-pound bags of beans are 25% off, and you get a free drip coffee or tea with purchase. Get the same discount online with the code COFFEEDAY18 (limit one bag per person). 853 Broadway, Union Square
Hang onto summer a little longer at Nickel & Diner. Roll up to their standalone Coffee Counter for buy-one-get-one-free Coldbrew Softserve for $6 all day. 1 Howard St., SoHo
Make an earth-friendly move on National Coffee Day at Intelligentsia Coffee's High Line Hotel location. Buy a 16 oz. reusable cold coffee cup, and you'll receive a free cold coffee or cold tea. 180 10th Ave., Chelsea
Australian coffee spot Saltwater Coffee Shop wants to introduce coffee lovers to the flat white life with a National Coffee Day special Flat White Flight. For one day only, get three shot-size portions of their flat whites (think a cappuccino with higher coffee-to-foam ratio): traditional, maple, Milo and Australian Tim Tam. Try them for $7. 345 E. 12th St., East Village
Because you've had plenty of caffeine by now, end your day at The Flower Shop, the '70s-style American bistro with coffee cocktails. Mr. Black Cold Brew Coffee Liqueur is hooking up an all-night happy hour of $8 espresso martinis and Cold Fashioneds from 5 p.m. till close. 107 Eldridge St., Lower East Side
Prefer your coffee at home? Atlas Coffee Club is a new subscription service that lets you explore the world of coffee with a new bag of beans each month from a different country — did you know there are 50 of them producing coffee, from Papua New Guinea to Peru? Beginning at 12:01 a.m. on Friday, Sept. 28 and ending at 11:59 p.m. on National Coffee Day, new subscribers get a free bag of coffee with code AtlasCoffeeDay18. atlascoffeeclub.com