The Navajo Code Talkers were in the headlines this week because of a controversial White House ceremony. President Trump was honoring three of the surviving code talkers when he maligned Sen. Elizabeth Warren by calling her "Pocahontas." His podium was also placed in front of a portrait of Andrew Johnson, whose Indian Removal Act of 1830 forcibly relocated tribes from their lands.
Who are the Navajo Code Talkers?
Native Americans who used native languages to relay messages for the military. The practice started in World War I, when members of the Choctaw tribe passed messages along by phone. But It was more formally programmatized in World War II, when 29 members of the Navajo tribe were recruited by the Marines to develop a secret code using their tribal language and disseminate messages to troops on the battlefield.
How did it work?
After WWI, enemy forces had learned Choctaw and other Native American languages, cracking that code, but the complicated Navajo syntax — and that fact that it was unwritten — was beyond them. The Code Talkers developed more than 200 new Navajo words for military terms, and they could relay messages faster than the encrypting machines used at the time.
The program grew to 400 Navajo and added members of 14 other tribes. In every major WWII battle, the military set up two networks: English for basic information, and Navajo for anything top secret. The Navajo code proved impossible for adversaries to break, and the Code Talkers are credited with a major role in victories at Iwo Jima, Saipan and other significant battlegrounds. At Iwo Jima, the Code Talkers relayed 800 error-free messages in 48 hours. "Were it not for the Navajos, the Marines would never have taken Iwo Jima," said Maj. Howard Connor, the signal officer of the Navajos.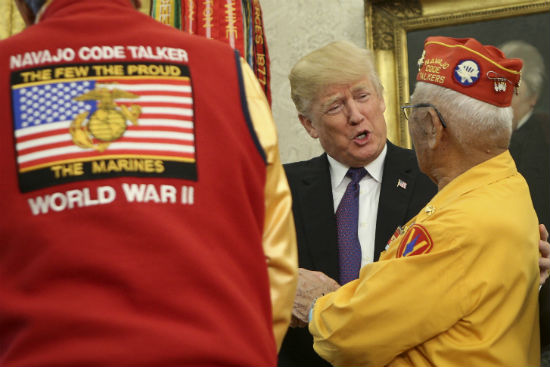 The Navajo Code Talkers program was secret until 1968, when it was declassified. In 1982, Ronald Reagan declared a National Navajo Code Talkers Day that year. In 2000, Congress awarded the original 29 Code Talkers with Congressional Gold Medals.
What's next for the Navajo Code Talkers?
Peter MacDonald, one of the Code Talkers honored at the White House on Tuesday, said his last mission is to establish a National Code Talkers Museum. "What we did truly represents who we are as Americans," he said at the ceremony. "America we know is composed of a diverse community. We have different languages, different skills, different talents and different religion, but when our way of life is threatened, freedom and liberty that we all cherish, we come together as one. And when we come together as one, we are invincible."