Summer in the city has gone on long enough, so Diner en Blanc NYC 2018 got away from it all with a magical night on Governors Island. But trying to pack a record 6,500 attendees (up from last year's 5,000 at Lincoln Center Plaza) onto ferries proved to be challenging — hundreds of guests were left waiting for up to two hours in Battery Park before getting on a boat. 
As usual, the location for Diner en Blanc NYC 2018 wasn't revealed until 5 p.m., with guests instructed to arrive at Battery Park by 6:10 p.m. Four ferries were scheduled to depart between 6:15 p.m. and 7:30 p.m. but ran late due to rough seas, according to organizers. Some attendees didn't get on a boat until 8 p.m., 45 minutes after the ceremonial napkin twirl that signals the start of the event.
Instead of waiting, some guests ended up having their picnic right on the banks of New York Harbor — among the many rules of Diner en Blanc is having to bring your own table, chairs, tablecloth, silverware, glassware and food — while others went home despite laying out $43 per ticket.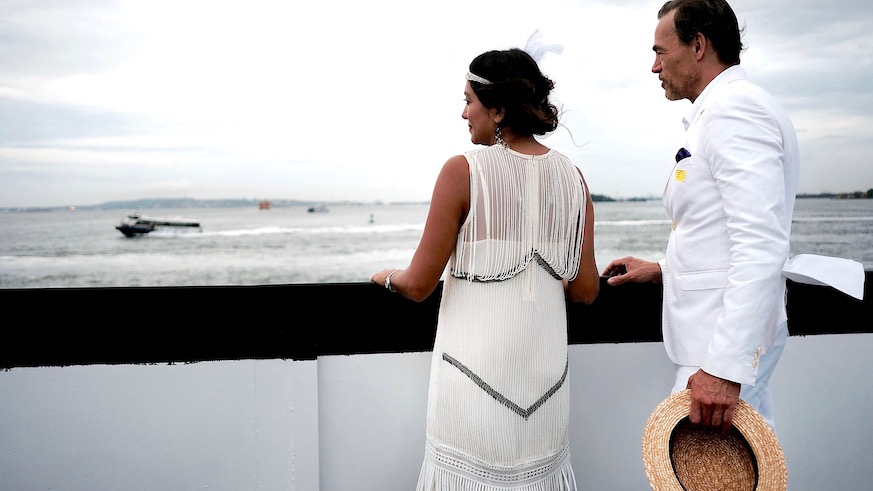 Most did manage to get onto a boat to enjoy the typically glamorous party on Governors Island, the former Revolutionary War-era fortification that's now a seasonal playground of hills, car-free bike paths, music festivals and art exhibits from May through October. Attendees at the eighth annual all-white dinner soiree brought all their own supplies — unless they opted for the picnic spread created by official event chef Marc Forgione — and set up on the Great Lawn.
With a panoramic view of the Lower Manhattan skyline as their backdrop and plenty of wine and bubbly provided by OneHope and Champagne Jacquart, the rain stayed mostly at bay as the dining and dancing went on late into the night.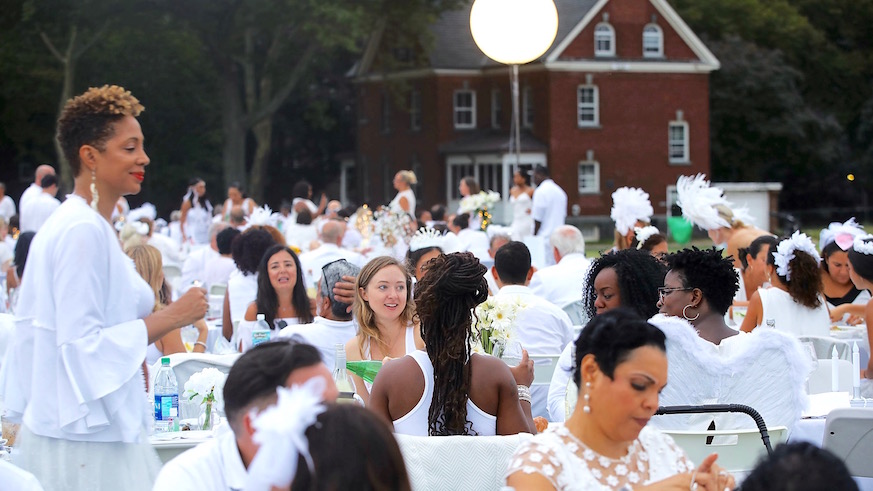 Diner en Blanc NYC is just one of many worldwide
Diner en Blanc began 30 years ago as a spontaneous gathering of friends in Paris who identified each other by wearing white. The event is now held in 80 cities around the world from Tanzania to Cuba, with over 130,000 guests.
To keep it as close to the original, Diner en Blanc is always held outdoors, with the location revealed just two hours before the napkin-waving kicks off the night, and instead of walking into just another catered affair, everyone must put in a little effort to create the atmosphere of conviviality that turns strangers into friends.
"Being outdoors adds to the spontaneity, the mystery, enjoying the public spaces," co-founder of Diner en Blanc International Sandy Safi told Metro at 2016's event at Battery Park. "This event really is about redefining the landscape of where you're at."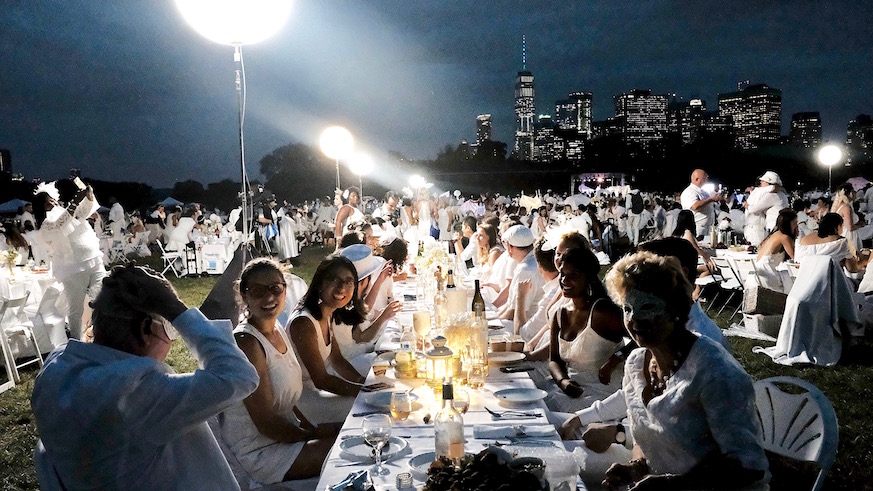 How to get tickets to Diner en Blanc NYC 2019
If you can swing tickets, it really is a truly magical night. Want to be part of the magic next year? You can sign up to join the waitlist for tickets to Diner en Blanc NYC 2019, which has reached over 50,000 people in recent years. Tickets are snapped up within 20 minutes of going on sale, mostly because Diner en Blanc rewards loyalty: Previous years' attendees get first dibs, and they can refer friends to get early ticket access, too.