Can you believe what you see? The new Museum of Illusions NYC finds 70 visual, sensory and hands-on tricks designed to confuse your eyes and surprise your brain.
The latest branch of a museum with 19 locations all over the world, the Museum of Illusions NYC is now open at 77 Eighth Ave. in Chelsea. Inside, you'll find some of the craftiest mind tricks borrowed from psychology, math, architecture and art.
There are, of course, made-for-Instagram moments like the Ames Room, which makes you seem either very tall or very small through forced perspective, and another that makes it seem like you're walking on the ceiling by gluing furniture to the wall. To really freak yourself out, try swapping stripes of your face with a friend through a two-way mirror, and make yourself seem like you're defying gravity inside a tilting room. And yes, there is an Infinity Room.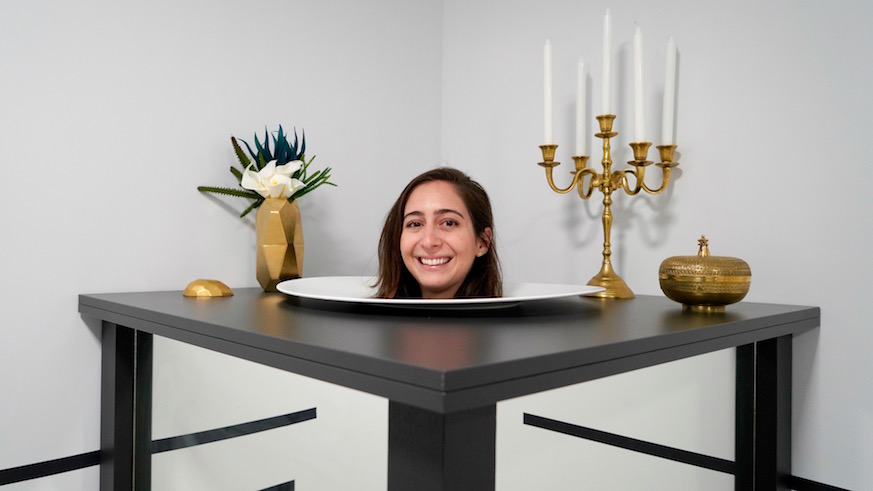 Many of the illusions are meant to delight your human brain, not the plastic phone in your hand which can't always render them: holograms, a metal plate that feels hot but is actually cold, Seeing Eye posters and hands-on logic puzzles like reassembling various shapes into a hexagon.
But the Museum of Illusions NYC, which unlike the many pop-ups is a permanent addition to the city, also requires guidance at times. The very first illusion, for example, is meant to make you seem very small sitting on a chair — but to make it work, you must stand across the room and have the illusion explained before tinkering with how high to hold your camera.
The Museum of Illusions NYC in the age of Instagram
The biggest question is, can it compete with other such galleries-as-museums? Founder Roko Zivkovic came up with the concept five years ago and opened the first Museum of Illusions in Croatia in 2015 — when creating a gallery of Instagram-made moments was revolutionary.
But in a world of constant incredible pop-up eye candy like Color Factory and Candytopia and Rose Mansion, the pleasures of the Museum of Illusions are to exercise your mind rather than doing it for the 'gram. "Fun fun fun, that is all we want," Zivkovic says. "When we hear the laughter of kids or seniors being happy to solve a game, that's it. When we hear that sound, our job is done."
The Museum of Illusions is located at 77 Eighth Ave. and is open daily from 9 a.m. to 10 p.m. Tickets are $19 for adults, $15 for kids 6-12; newyork.museumofillusions.us