Perhaps you've played GoT drinking games before. Take a shot every time someone dies. Knock back a spiked seltzer every third curse word. (All while drinking responsibly, of course.) And, maybe you're using one of the few Game of Thrones drinks now on the market.
Brewery Ommegang, for instance, created a King of the North beer in partnership with HBO this fall. 
With GoT season 8 approaching in April 2019, Diageo came out with Game of Thrones drinks of its own: a collection of limited-edition single malt whiskies inspired by the show. 
According to a company press release, the whisky collection features eight scotches from Scottish distilleries that are "each paired with one of the iconic Houses of Westeros and the Night's Watch giving fans an authentic taste of the Seven Kingdoms and beyond."
Sounds like just the thing we need to survive winter (because it's here!) and the Great War.  
Prior to this launch, Diageo debuted a limited-edition White Walker by Johnnie Walker featuring caramelized sugar, vanilla and fresh red berry flavor notes.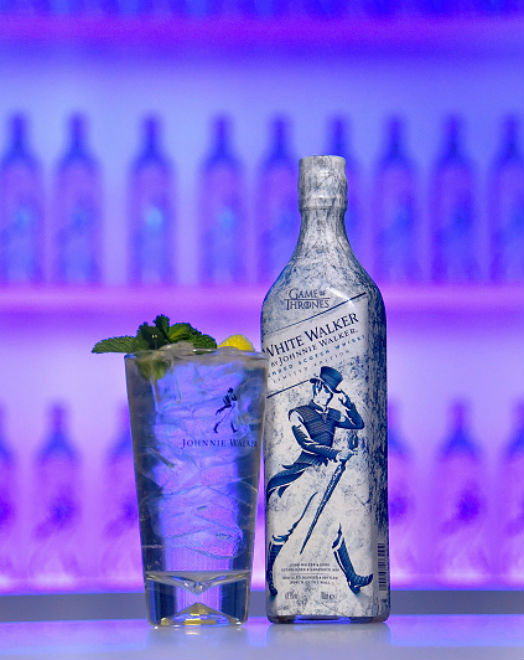 The Diageo team, including lead archivist Joanne McKerchar, worked with the Scotland-based distilleries on the collection. As for how the GoT Houses were assigned to the whiskies, Diageo made each pairing based on distillery history and geographic location as opposed to flavor.
McKerchar was brought in to authentically match the stories of the distilleries with the lore of the houses. 
"Scotland, much like the Seven Kingdoms, has a diverse and varied landscape," Dan Sanborn, Diageo's senior VP of culture and partnerships said, per Chicago Tribune. "Each distillery has its own unique character and produces a distinctive whisky representative of the local Scottish terroir."
For example, House Targaryen's Cardhu Gold Reserve represents "fierce female leadership." The Cardhu distillery, according to Diageo, was founded by a woman named Helen Cumming during the 1800s, a time when the industry was extremely male-dominated. It's fitting because House Targaryen is run by Daenerys, Mother of Dragons (AKA, the fiercest female out there).
As for the finished product, it's both bold and full of character. And, the labels for these Game of Thrones drinks each depict the House sigils. The Night Watch's bottle, an Oban Bay Reserve, features a matte black design. 
Click through the gallery above for a look at these Game of Thrones drinks.
This limited-edition collection is out now wherever fine spirits are sold. You can also order these bottles online at drizly.com. What are you waiting for?