Citi Field is the high water mark for baseball stadiums. Not just because of its open-air design that lets you see the game from almost anywhere in the stadium — their food selection is as diverse and interesting as New York City itself.
And while yes, you could get the same Shake Shack burgers as anywhere else in the city, there's some serious destination-worthy food being made in the ballpark. Here are our favorite new things to eat around Citi Field for the Mets' 2018 season.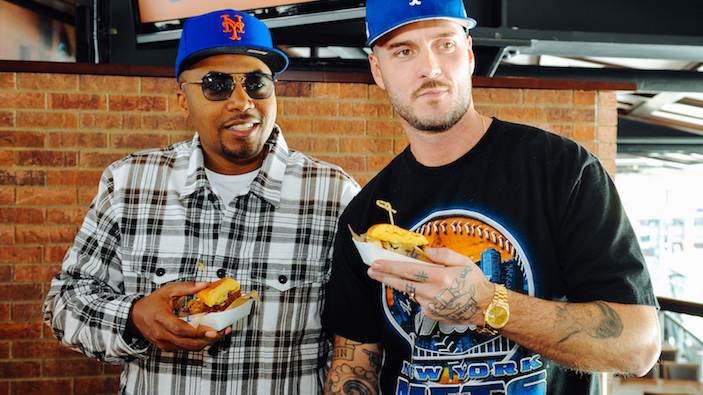 Original Fried Chicken Sandwich at Lil' Sweet Chick
Rapper Nas is bringing his favorite fried chicken sandwich to Citi Field. He's an investor in the Brooklyn-born Sweet Chick, which has four restaurants in the city and Los Angeles, but owner John Seymour cooked up a new concept for Mets fans. "All the menu items are exclusive to Citi Field," he says. There's the Spicy Nashville (hot chicken), Chicken & Waffles and the Original Fried, which he's nailed with the deceptively simple combo of lettuce, tomato and herb mayo. After a lot of trial and error, "We came up with a sandwich that's, pardon my French, so f—ing good, we thought it needed its own concept."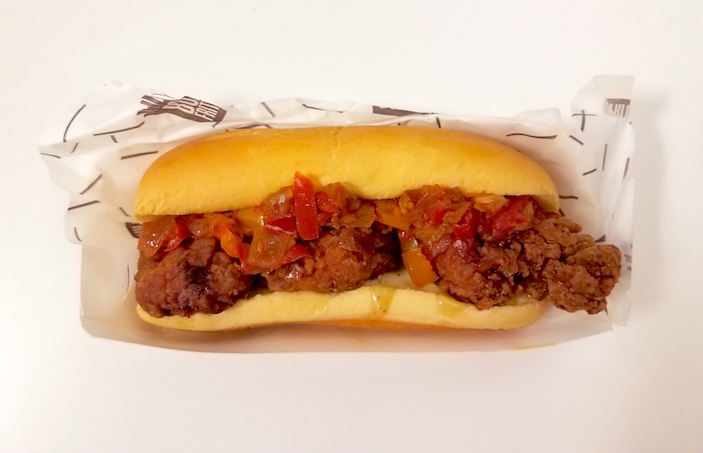 Crispy Chicken Roll at Box Frites
Belgian-style fry stand Box Frites is expanding into the hot dog and sandwich realm, and their Crispy Chicken Roll gets the highest marks: crispy chicken poppers topped with spicy peppers and a Parmesan ranch sauce on a hoagie. Executive chef John Karangis of Union Square Events, which owns Box Frites, rolled up as we were tasting to say, "This was inspired by all the ballpark sandwiches we've loved." Mash-ups can be tricky, but this one works.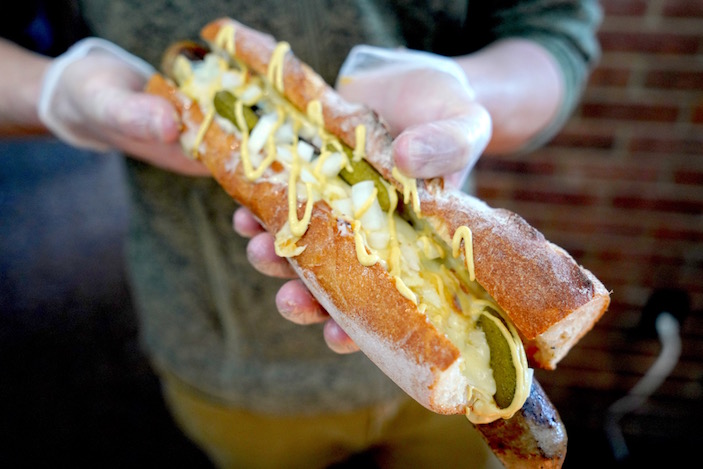 The Alpine Brat at Baked Cheese Haus
An outdoor food market favorite comes indoors. Baked Cheese Haus got the call to bring its Wisconsin-made raclette (they've been doing it for 120 years!) to Citi Field, and they've taken a ballpark classic to the next level. The cheese is freshly melted over a thick bratwurst nestled in a French baguette, topped with fresh onions, cornichons and mustard. "It's an old Swiss tradition" that just happens to mesh with what people want at a ballpark, says Jacob Croskey, manager of the Citi Field outpost. It'll take you at least three innings to eat the whole thing, so plan the rest of your day accordingly.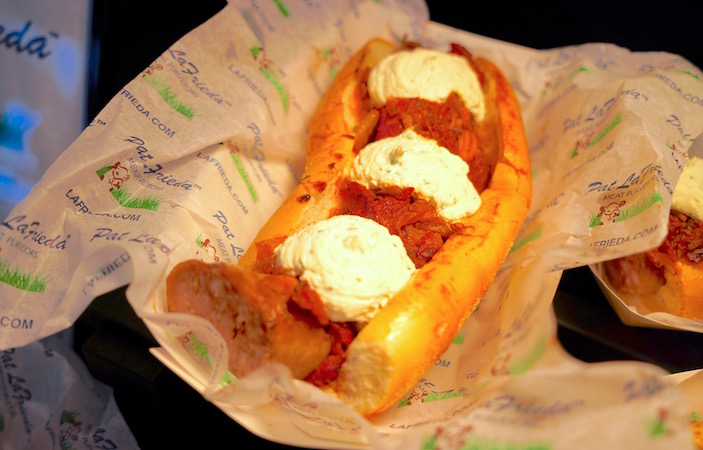 Sausage and Peppers at Pat LaFrieda's Chop House
Leave it to New York's meat man to take the basic sausage and peppers and turn it into a destination dish. At Pat LaFrieda's Chop House, an Italian sausage gets swaddled in a blend of sweet bell pepper and Balsamic-roasted onions, then topped off with giant dollops of whipped ricotta.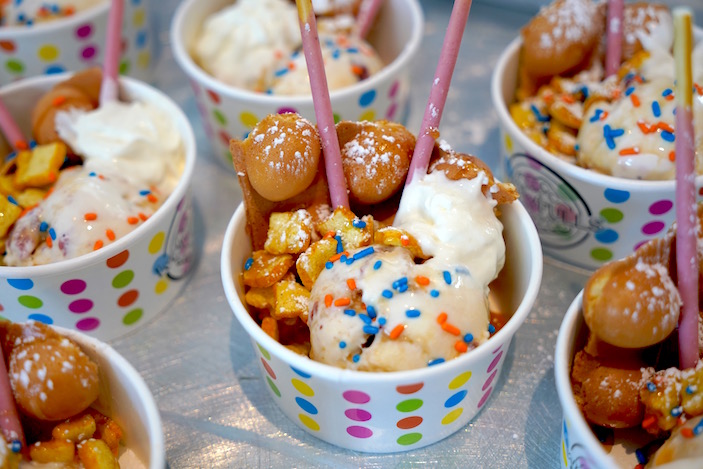 Hong Kong Egg Waffles at Wowfulls
After raw edible dough shop Cookie Do arrived last year, Citi Field continues expanding its trendy dessert options with Wowfulls, who originally brought Hong Kong's egg waffle ice cream cones and elaborately topped ice cream to Smorgasburg in 2015. Their Strawberry Fields (hah) is made with strawberry cheesecake ice cream and topped with French Toast Crunch cereal, caramel sprinkles, strawberry Pocky sticks and whipped cream.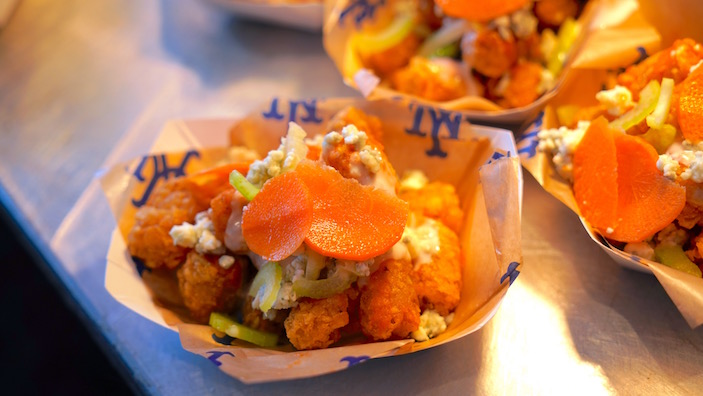 Loaded Buffalo Tater Tots at Dan & John's Wings
Dan and John's Wings flew the Bud Light Bar to have its own stand this year, and to celebrate they created Loaded Buffalo Tater Tots with a bleu cheese fondue you'll never get enough of, plus shaved carrots and celery. "A lot of places have French fries," so co-owner Dan Borowski decided to go their own way — plus, he admits, tater tots are terribly trendy right now. "We gave it a Buffalo twist because we're from Buffalo," and you'll only find the tots at Citi Field.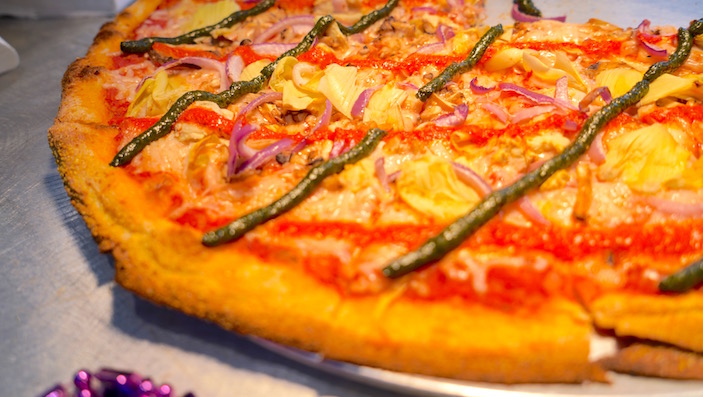 V Is for Vegan at Two Boots Pizza
Everyone may be jumping on the vegan bandwagon now, but Roberta Pettit would like to point out that, in fact, Two Boots Pizza has been serving vegan pies since 1992. This year, they're bringing their best-selling V for Vegan slice to Citi Field, made with artichokes, shiitake mushrooms, red onions, sweet red pepper pesto, basil pesto and non-dairy Daiya cheese. "To my knowledge, this is the first vegan pizza in a major league stadium," she says. "We brought this in because it's our most popular pie after cheese and pepperoni."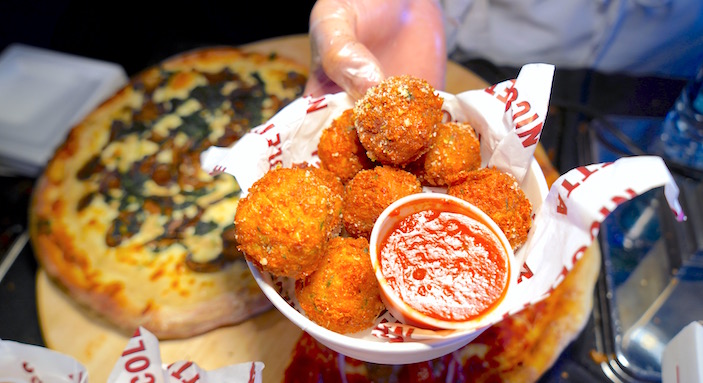 Crispy Mozzarella and Pepperoni Fritter at Nicoletta
For the high rollers in Citi Field's new First Data Club, Nicoletta by chef Michael White will be turning out over-fresh pizzas. But for the prole looking for grub in the Fan Zone, you'll find new items like loaded pizza fries and the outstanding Crispy Mozzarella and Pepperoni Fritter. Not an arancini ball, these sturdy little nubs dusted with cheese are both crispy and chewy, with chunks of Nicoletta's amazing smoky pepperoni.